Your Top Oral Sex Tech Guide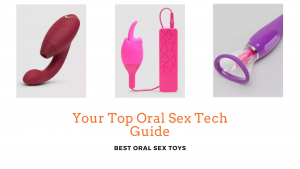 Clitoral and vulva oral sex simulators have been one of the most difficult sexual acts to replicate in a sex toy. Toys that mimic cunnilingus for years never felt like they hit the spot. The textures were off, motions wrong, and generally something just didn't quite feel like oral sex and just a bit too mechanics.
One of the first popular sex toys to produce tongue-like sensations to body parts, was the Lovehoney Sqweel. A sex toy with a series of silicone tongues on a wheel, that spun round to make a continuous lapping motion. The Sqweel didn't feel too amazing to my body, but just like the wheel it evolved and was the spark that started innovation and the quest of vulva-focused oral sex tech was set into motion.
A revolution happened: Suction was added to clitoral sex toys!
When reading tips and tricks on oral sex for women, I remember so many guides just focusing on tongue motions, none of them ever talked about sucking someone's clit – maybe it was seen too crude for women and those with clitoris to be sucked off, even though it feels good and can lead to intense pleasure.
Sex toys from Tracy's Dog, Satisfyer, and Womanizer, have all become popular oral sex clitoral stimulators. Altering air pressure over the clitoris in rhythmic motions and some come with added vibrations to heighten the experience, these sex toys can feel as if someone has their lips around your clitoris and is lightly sucking it.
When using these oral sex toys, it's always best to use a water-based lubricant to form a suction seal and reduce injury. Injury can occur from overuse, but if you are finding that you experience aggravation to your vulva too easily, it's best to seek medical advice. There are many conditions that can cause the skin to easily break, and many of these are treatable with prescription creams and lubricants.
The Womanizer X Lovehoney Pro40 is my personal favorite suction clitoral stimulator. Using Pleasure Air Technology, to stimulate the clitoris. This brand of oral sex toys offers the right amount of pressure over the clitoris and isn't too forceful when "sucking" your clitoris. Some brands I have found to be too hard and cause discomfort, but the Womanizer Pro40 is gentle yet produces intensely pleasurable flutters over your clitoris.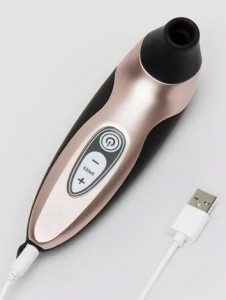 The Fantasy for Her Vibrating Pussy Pump and Tongue Vibrator Kit is next on my top oral sex sex toys list. This sex toy has a larger suction area offering less focus on the clitoris but rather the air pressure massages around the clitoral nub too. It comes with two attachment sizes and in the center, there is a tongue shape vibrator that flickers at different speeds. The main thing I like about this sex toy is being able to remove the suction chambers and just use the tongue section. The vibrators with tongue flickers and added lubricant, really do feel similar to someone using their tongue on your clitoris.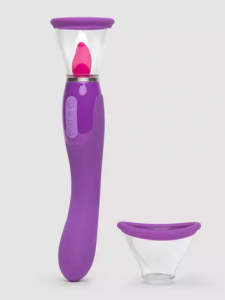 Non-suction Oral Sex Tech
There are still loads out there just mimicking the motion of the tongue. The Lelo Ora 3 is meant to be one of the best out there, however, personally, I have found it to be one of the worst. When it comes to tongue flickering sensations, sometimes putting money where the mouth is, does not pay off. Rather, cheaper can be better here.
The 10 Function Extra Powerful Tongue Sensation Clitoral Vibrator is a budget-price sex toy that can feel better than some of the more costly sex toys. This affordable sex toy offers light tongue flicks, to quivering and fast pinpoint clitoral stimulation. The tongue shape makes the device feel similar to the shape of a real tongue going over the clitoris and vulva.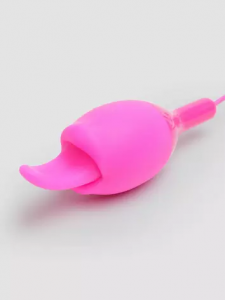 Many of these oral sex stimulators are advertised for clitoral pleasure and play, however, many of these can be used on other body parts. With the suction ones, you can use them over your nipples. The tongue-flicking ones can be used to tickle and tease anywhere on anyone.
The shape of some of these particular sex toys can also make it possible to use them during partner sex, meaning they can be wedged between bodies comfortable when getting close to another.
most suction clitoral sex toys come with removable heads. These attachments can help vary the stimulation, as well as accommodate different clitoris sizes. If you're struggling with getting a good suction with your oral sex clitoral stimulator, it's worth giving these a go.
Can It Get Better?
If you enjoy vaginal penetration along with oral sex stimulation, then there are sex toys just for this! Many of the clitoral oral sex stimulators are shaped a bit cumbersome to use alongside another sex toy such as a dildo. The Womanizer Red Duo Rechargeable G-spot and Clitoral Stimulator offering both internal and external pleasure options. This design is based on the traditional rabbit vibrator, but instead of bunny ears, you have a clitoral suction piece.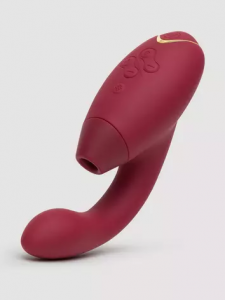 Oral sex simulating sex toys are forever evolving and each year I'm seeing more and more features added to make sensations more realistic. Is there a sensation you wish a sex toy could offer? Let me know in the comments.