Yes, Teenagers Do Need Education Normalising Sex Toys
This week there's been a big stir when sex toys had a brief moment and tie with the GCSE curriculum.
AQA recently dropped content on one of their courses due to a blog post on Zoella. The brand was used as an example within the syllabus for their Media Studies GCSE qualification and was added to the course in 2017.
Zoella is a brand created by Zoe Sugg, who started a YoutTube channel in 2009. Her success expanded into blog posts and social media accounts and became a go-to platform for many teenagers at the time to seek advice on various wellbeing topics. Naturally, as the brand grew in popularity it stayed active throughout the years and its audience aged alongside it meaning the content naturally adapted as both got older.
When AQA selected Zoella as a successful example of an influencer, I doubt they realized that Zoella's content would naturally change over time to keep with their demographic, meaning that the target audience would one-day grow-up.
The content focuses on wellbeing, self-esteem and body positivity, and more. Talking positively about sex toys and masturbation shouldn't be any different from talking about any of these other issues.
AQA defends its decision, stating that they added Zoella to the course in 2017, but it was only recently that the content started to become targeted for adults.
Sandra Allan, the head of the AQA creative arts curriculum added, "At the time, all her content was appropriate for teaching, but some of Zoella's recent content is aimed specifically at an adult audience and isn't suitable for GCSE students."
"As a result, we've removed the section on Zoella from the course, and we've contacted our schools and colleges to let them know."
The sex toy guide created by Zoella's staff included the Lovehoney Wand Rechargeable, Womanizer Duo, and a Tenga Egg.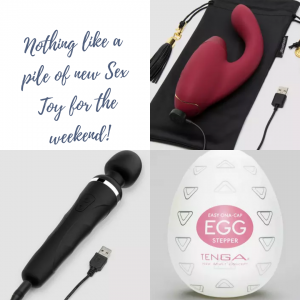 The Best Sex Toys to Spice Up Your Life in 2021 – Zoella
"I discovered that a GCSE syllabus were using the @zoella website as part of their curriculum. I was then told it had been "dropped" (not sure how one is dropped when one didn't know they were ever involved…) as some parents complained as we had posted an article listing the best sex toys for 2021 & apparently this is absolutely disgusting that 16 year olds should even be graced with such horror."
Zoe Sugg wasn't even aware of her website being included in the AQA curriculum examples of media influencers within the course.
Sex Educator Cet Jarvis from Pocket Badger, "AQA were shortsighted to not ask Zoe for her consent to be in the curriculum as she would have brought up that her site has adult content at times.". This is a really fair point, they should've spoken with Zoe before adding her site to the curriculum list and this would've opened up the discussion about current content and even future content goals, which many high-ranking influencers have.
There are already many long-running online blogs and social media accounts that cover sex toys and masturbation and are aimed at teens. Scarleteen is a sex education online magazine that has been talking about masturbation and sex toys to teens since 1998, yet they still are recommended by authority figures and organizations within the UK including the NHS. Whilst it is a sex education-focused website, there are still many high authorities in education recommending it to older teens as a resource.
"At @zoella we are a team of women who all share a joint passion for other women & subjects relating to this. We want to talk about taboo subjects, have conversations with experts, ask those less heard to use their voice & try and have a really varied range of topics to help, inspire or make people feel less alone. Things I wish I'd known as a teen myself." Continued Zoe Sugg in her Instagram statement.
Stigma and taboo can have a large knock-on effect on self-esteem, and when individuals are given poor and negative messages around sexual pleasure and their body young, it can take years into adulthood for them to overcome.
A Swedish study carried out in 2016 found that the average age of women to start to explore masturbation was 13 years old and that 43% of women were more likely to experience masturbation using a sex toy when compared to 13% of men within the study.
Many teens, particularly GCSE age, have come across sex toys and other sexual content already through more mainstream media and the internet. Whilst porn magazines in shops are covered up, sex toys are on shelves in many essential shops. Even with many platforms attempting to further censor sexual content, even sex education content on social media sites such as Instagram, teenagers still have a high chance of coming across it and often find more graphic content than articles such as Zoella's.
I asked Rachel Walker a Sex Educator about the AQA's censorship of Zoella's Sex Toy article, "Is it problematic for GCSE pupils to see a website that talks honestly about sex toys? I don't think so. Young people at this age already have a curiosity about sex – some may even be having some kind of sex – and the vast majority will already have come across porn either by accident or design which, taken at face value by naïve eyes, can present some unhelpful ideas about sexual dynamics and functions.
Ironically, the best way to combat the mysteries of sex is to start at the beginning and let people know that masturbation is completely normal, and arm them with the information they need to crack on as safely as possible, if that's what they want.
Young people this age aren't living in a vacuum. They see sex everywhere, some of them are having sex, or thinking about it or reading about it on the internet, their phones and even their school books. Take a look at the GCSE literature set texts and you'll see many themes of sex which they are expected to discuss in a mature and respectful manner. If they can manage this, I am sure we can trust them with a few web pages about sexual self care."
When AQA stated that Zoella's content was too adult for its course, it neglected to think about the actual age many women start to explore sex toys. Many who don't have access to sex toys will attempt certain sexual acts such as penetration with objects or vegetables, meaning that not only injuries can happen, but negative first-time sexual experiences can have a knock-on effect on an individual's sexual pleasure for years to come. Many psychologists, therapists, and sex coaches regularly encounter older women whose bad self-pleasure and masturbation experiences affect how they enjoy pleasure when older. Mindfulness is currently a popular method being used to reconnect people with their bodies after these disappointing and sometimes traumatic experiencing.
The thing is, if sexual pleasure and even sex toys were discussed more positively with teens, then this could be completely avoided for some.
I trained in sex education, and the past few years every course and conference I have attended has had a focus on bringing awareness to inclusive sex education. One of the main methods to do this is to not just speak about sexual wellbeing in sex education-focused lessons, but make teachers be prepared to answer questions that may come up in other subjects, to help educate and allow teenagers to make informed decisions around their sexual wellbeing. So in Science, when talking about reproduction, bring awareness to other conception methods options for those and contraception. In English when they talk about romantic relationships in Shakespeare with erotic tension, explain healthy relationships and red and green flags. With AQA suddenly removing Zoella from their curriculum I get the feeling that it could make teachers feel they can brush away any questions relating to sexual pleasure and sex toys and ignore them rather than educate.
Students already on the course would've already been asked to research the brand for their qualification. Whilst Zoella will be removed from all teacher's resources, those who already have seen the sex toy-related post may have questions about it.
Currently, in the UK the age of consent for sexual activity with another is 16, yet even in consensual relationships those of legal sexual age are still not allowed to sext each other until 18 and if caught it can lead to prosecution. The consenting age for purchasing sex toys is restricted by many retailers to 18 years and up. Yet this can put a barrier on those who identify as LGBT and wish to explore their body or a partner with the help of sex toys.
Cet Jarvis, states that when they discuss sex toys during talks some of the adults sitting in will glare disapprovingly, "I have experience with talking about sex toys with teenagers. They're curious, they're confused. Especially when it comes to LGBT sex. 'How can 2 women have sex?', and I have answered in the past with lots of ways, especially using sex toys. The other adults looked physically uncomfortable with the topic, but if LGBT sex is now going to be included it seems dumb to not talk about toys."
Sex and sexual pleasure aren't just about partnered sex, and still, there's too much of a focus in pushing education around just heterosexual penis and vaginal intercourse.
"Our main demographic is women aged 25-30 and naturally as I have got older, my audience has grown up too & the things I want to share or shine a light on have naturally aged up to suit my lifestyle alongside the rest of the team too! Although the AQA very clearly didn't research the website (they would have seen the content was much more mature: we have written about masturbation before, period sex, revenge porn and fertility just as a small example), it worries me that they think 16 year olds aren't exploring their own bodies, doing this with someone else or know what a sex toy is." – Zoella in response to AQA removing them from the curriculum.
Not only should education be open-minded about bringing awareness around sex toys and allowing teens to openly discuss them, blocking the conversation can lead to many exploring unsafe alternatives. When sex toys aren't accessible most people who are interested in using some form of device will find something and use it even if it leads to injury. This can also pan-out into later years when discussing sex toys has been made such a taboo, that even when investing in something that is manufactured to high standards, that sex toys can still be used in unsafe ways. A study based on finding from 2002 to 2010 found that young adults were more likely to receive genital injuries from sex toy misuse, the most common being caused by penis rings (34.7%), and phallic devices and vibrators (38.8%) These injuries were found to be more common in women than men! This shows that even when individuals start to gain access to sex toys as adults, that they don't always have the knowledge on how to use them safely.
Rachel Walker has even come across young people in her work who have gained injuries from incorrect sex toy use, "As with any forbidden knowledge, censoring information about something doesn't prevent it from taking place, it just ensures that people will still do as they wish, but without the awareness needed to stay safe. I've worked with several young people who had sustained a personal injury because no one would tell them how to stay safe when using sex toys."
When adults feel too self-conscious to discuss sex toys and sexual pleasure with teenagers, online places like Zoella could be one of the only safe places they feel to head to and read-up-on it all, making sure their first-time experiences are safe and help them become authorities over their own bodies and pleasure.
I personally feel Zoella's content is tamer than most of the content I write and gives a better mix of subjects discussed. The article on sex toys isn't overly erotic, and is straight to the point, "This sex toy is good for xx reasons." You're not hearing in-depth detail of masturbation, or extreme sexual acts, instead you are given basic information on what a particular sex toy is and what it does.
Currently to top things off, is that there are no regulated manufacturing standards for sex toys, and with Facebook selling pages, Etsy, wish, Groupon and Poundland, selling sex toys, it's important to educate teenagers not only on how to use these products safely but also what to avoid when a product is dangerous or causes a reaction to the skin. All of the sex toys mentioned in Zoella's article are ones that can be used safely and from reputable sex toy retailers using safe materials.
A small 2016 study on Sexually Experienced Adolescents' Thoughts About Sexual Pleasure found that when teenagers were asked "Sexual Pleasure: Does It Matter to You?" that those already sexually active had difficulty experiencing pleasure. Many also believed that women are less likely to experience pleasure when compared to men. This highlights that the orgasm gap can start a lot younger than many of us may have originally thought. The teenagers particularly highlighted the lack of pleasure in sex education as a possible factor.
Sexual pleasure and satisfaction isn't just an adult issue but can affect teenagers too. We all explore our sexualities and sexual desires differently and at different ages. Making sure you are able to have an open discussion about it is key, rather than sweeping it under the rug. Masturbation is a perfectly normal process of self-development and discovery.
Mind The Gap by Dr. Karen Gurney is a book that focuses on the gap between the science of sex and society's views on sex, many of the facts we are taught about pleasure and desire are false. Dr. Gurney's book is brilliant and well worth a read, but there is one quote that feels particularly relevant right now, "The absence of talking about the truth of sex in our families, schools and society in general makes the media representations of how sex happens and how sex should be even more powerful.". It's likely that many students studying the AQA Media Studies GCSE will come across other forms of sexual content, however, it's probably more likely to be accepted and blanked as normal due to the media's sexual presentations often being "…probably a (cis) Man and woman, it probably involved sexual acts based on this predefined sexual script (mainly kissing and penetrative vaginal sex) and it would have included very little of anything else.". Even in popular media content providers, sex and sexuality pops-up regularly but often follows the script Dr. Gurney states, in various forms of content from YouTube videos and Instagram posts. Even age-appropriate content that GCSE students may be studying containing this content (even if it is small) will leave too many unanswered questions about what is acceptable and unacceptable sexually. This could actually lead to further confusion and the desire for more answers, rather than giving a positive example of age-appropriate sexual pleasure and normalizing that yes it's ok to want to feel pleasure.
"Although we don't aim our content at teens, I don't think it's a bad thing that it's there for them to read at all & these media articles are just perpetuating the fact that female pleasure is something that we should feel ashamed of. THE VERY REASON WE WRITE ABOUT IT IN THE FIRST PLACE!

"I just want to say thank you so much for all your overwhelming support over this, it's certainly the start of a much bigger conversation and clearly shows there is still a long way to go. So we will continue to write about these things on @zoella and prove that WOMEN DO MASTURBATE & FEMALE PLEASURE IS A THING (even if we're shamed and "dropped" for speaking about it)" Zoella's Instagram post ends positively.
It's really important that a Brand such as Zoella can see the importance of masturbation and in particular female orgasm.
One of their Twitter supporters even points out how female self-pleasure is spoken about even less than male masturbation.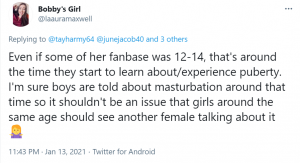 "Even if some of her fanbase was 12-14, that's around the time they start to learn about/experience puberty. I'm sure boys are told about masturbation around that time so it shouldn't be an issue that girls around the same age should see another female talking about it" @laauramaxwell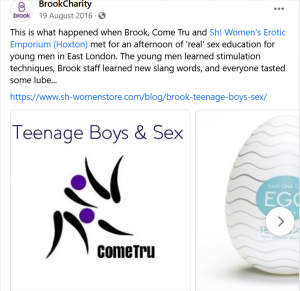 From my experience of talking about sex education with other parents, I have found more to be comfortable discussing masturbation "with the boys" or at least informing their male children of resources more often than with female children. In 2016 even Brook Charity one of the leading sexual health organizations for young people worked together with Sh! a London-based sex toy store, to produce education for teenage boys on sexual pleasure and sex toys. Whilst there are posts with female and non-binary pleasure, none of these clearly mention teenagers in them.
Sex education may be moving toward the inclusion of all, but there's a long way to go in society still to spread the sex-positive message that masturbation and pleasure are for all who desire it, regardless of gender.