Yes ebay sells sex toys and here's my experience when buying them
Buying Sex Toys off of Ebay written by Ness
Ebay is probably one of the most unlikely places you would think of when it comes to buying sex toys, but over the years I have found it invaluable particularly when trying to buy niche products.
Myth vs fact.
Myth – sex toys on ebay are secondhand.
Fact – due to ebay rules sex toys on ebay are generally brand new and often sent directly from the manufactures.
Whilst a few secondhand items do pop up, they are rare. Most of the time when buying sex toys off ebay they are from the manufactures or main importers, and in some cases directly from an independent sex toy maker.
Myth – sex toys from ebay are lower quality or not regulated.
Fact – sex toys in general have no regulations in the UK. Ebay sex toys often will be the same items stocked by larger retailers, but often not branded. Whilst some are less quality, this is purely because they are old factory stock or the items that retail companies buyers have decided not to stock.
Items worth searching for on ebay are steel BDSM items, these are generally the same stock as UK retailers but at a fraction of the price. For examples, a £20-40 chastity device from a large retailer may be under £10 on ebay. It's the same product often, but it is in simpler packaging. Only issue is that often the size for some devices and cock rings may be smaller or larger than the average, this can be because the larger retailers have snapped up the stock they feel their shoppers are most likely to order. One plus is that for items that have parts like chastity devices, you can often find them being sold separately on ebay. This means if you lose a piece, or simply need a selection of sizes for different subs, you can just buy the bits you need rather than replacing the whole item. Not only does this save you money it also helps reduce waste.
Ebay is also a great place to buy sealed regulated medical items often used in blood play or other sadomasochism activities. Needles are sealed, and the same regulated stock you'd get from medical companies, but one main bonus you will find is free postage for many of these items. Yet again saving you money.
If things go wrong it's easier to get a refund through paypal disputes. I have only had this happen a couple of times over the years and have found it easier to deal with than some larger retailers selling kink and medical items.
So what are the down sides to buying from ebay? The main issues are the waiting times, the warehouse dust on products, and possible import tax (although this rarely happens).
There are so many niche fetish items on ebay that you may not of thought existed, from long silicone vibrating sounds that are rechargeable, to vulva masks.
It's not all about small kink items from larger factories too. There are many amazing kink furniture sellers and BDSM equipment makers from the UK who sell their items at great prices and rapid shipment, so it's always worth checking before going to a larger company, as you can support a small independent maker.
What about vanilla items such as standard vibrator's? Now if I'm honest I haven't purchased many of these items off ebay, as many of them clearly aren't made from silicone.
Another area to check on ebay for items is to look through the beauty section for wellness products. Things like neon wands are often sold on there cheaply and sold as health and beauty products rather than sex toys. Again, when ordered, these are often the very same thing that large sex toy companies are selling, but they are simply in plainer boxes.
Are there any horror stories? I have only heard one, where a girl used a dildo from ebay to deep throat demo and ended up with an infection. All other mishaps I have encountered or heard I have experienced with larger retailers too as there are no regulations for sex toys as of yet.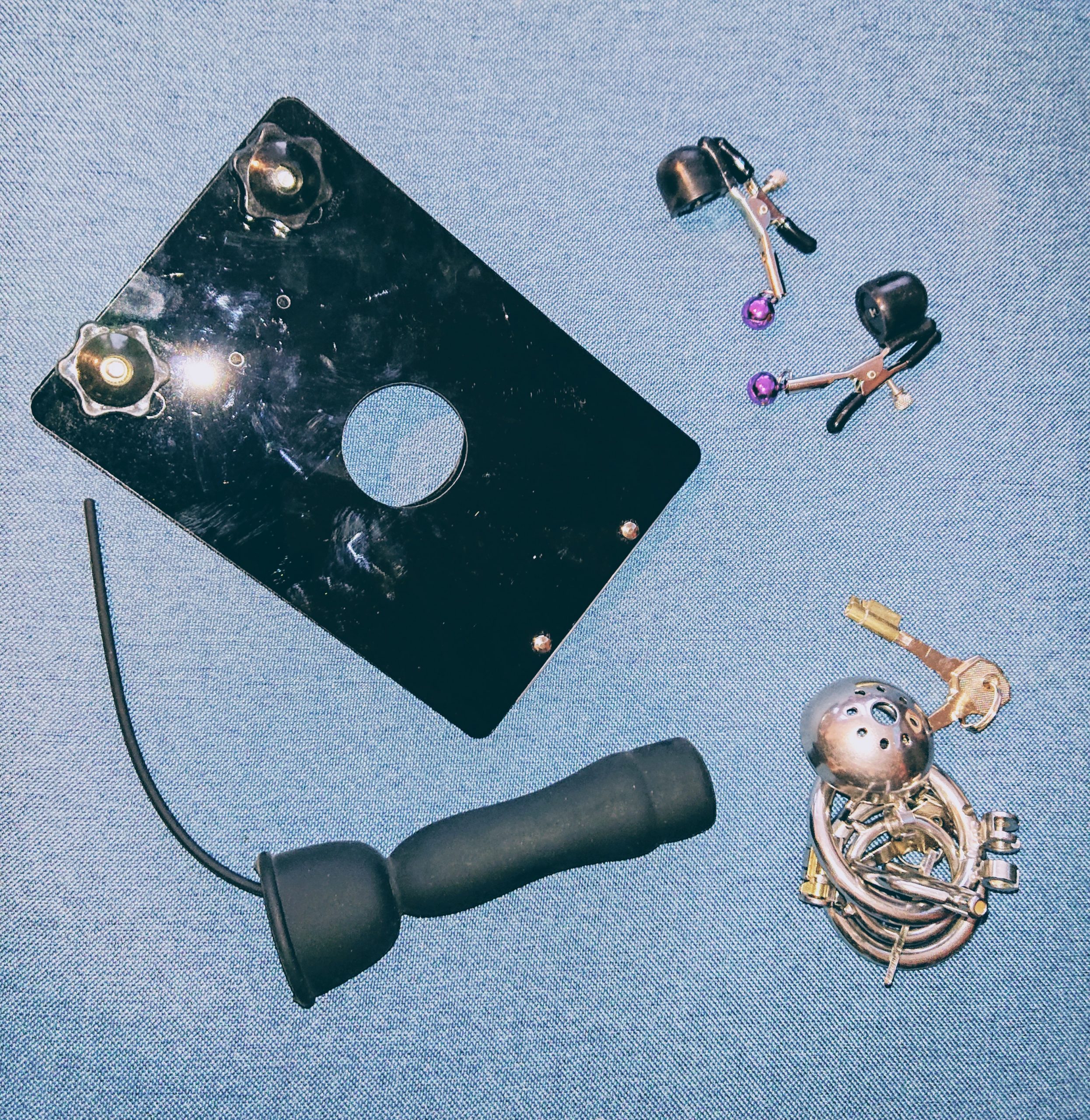 A quick example of the things I have had recently from ebay are the following:
Vibrating nipple clamps, the pair cost around £6, normal retail for vibrating clamps is often about £15. Whilst you can't change the vibrators batteries, the vibrator can be popped out of the rubber chamber, and a rechargeable standard bullet vibrator can be inserted into it. Many vibrating nipple clamps have built in vibes that can not be replaced, so this is a big win. Plus, they come with cute bells.
Next up I had a silicone rechargeable waterproof vibrating glans and urethral sound – very long-winded title, but that's unbranded items for you, their names are exactly what they are rather than some random nickname. This was under £15, and is really amazing. It's powerful, cups the glans of my subs excellently, and very easy to hold. The penises I have tested this on have already stated how intense it is. I'm even tempted to get another one and remove the sound part, as really at that price, it is a brilliant toy for penises, and there aren't many high-end ones out there if I'm honest.
Chastity device. A standard chastity device with a removable sound option. Exactly the same as one of my submissives purchased from a larger sex toy retailer, but this was only around a tenner! I think that's a mega win for certain.
Plastic ball crusher / vice clamp. Again, under ten pounds. These are very popular Femdom items and I have seen some retailers charge up to £50 for one of these simple devices. Only downside is the clear plastic had sold out, but, black is pretty awesome, but shows up finger prints more.
With ebay it is a bit of pot luck when ordering items as you never know 100% how things are going to turn up. However, ebay has been more reliable for me when shopping for random kink items than so online shops that pop up and use drop shipping. Generally, items are shipped in multiple plastic bags and a plastic envelope, they generally are wrapped in bubble wrap and or boxed too, so are often very discreet. It's worth exploring the options that are on offer particularly if you are new to fetish items, unsure if you'll like a particular product, or simply just can't afford the prices some retailers charge.