What is a FemDom Relationship?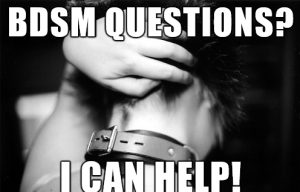 FemDom Relationship Explained
There's one thing that happens a lot when I'm online dating, and I'm certain many of you have experienced it too, and that's when people overly presumptuous.
As an individual who is into BDSM too often I get people message me thinking that they know exactly what style of relationship I want. I get many confused between a FemDom relationship and someone just enjoying BDSM during sex.
A FemDom relationship is a female-led relationship, where the other(s) involved are submissive. This can stem into different areas of life, from just the bedroom, to everyday happenings such as delegation of tasks in the house and even how those involved in a relationship act in public. It doesn't have to involve every kink and fetish out there, rather that the goal of this type of BDSM relationship dynamic is that the Dominant partner makes the main decisions.
This can be subtle, from deciding what meals are on the menu for that week, to having control on where extra finances go.
Things FemDom Relationships are not:
Being Selfish: Yes, the relationship may seem one-sided on the outside, but a good FemDom relationship will keep in mind on how to maintain their submissives partner's needs for greater mental and physical wellbeing. An unhappy or unhealthy submissive is unable to serve correctly too.
FemDoms are all sadists: There are many Dominants who are into other kinks. Sadism isn't for everyone and doesn't have to be a part of a FemDom relationship if it's not your thing.
FemDoms are only heterosexual: No, there are many FemDoms who consider themselves as part of the LGBTQ+ community.
It's all about sex: If you want it to be then yes it can be. However, many people explore non-sexual FemDom relationships and some even enjoy taking part in chastity.
You have to dress in fetish clothing: It can be fun to dress in fetish clothing and can help heighten a particular scene, but it is not a mandatory requirement when you have a FemDom relationship (and not always practical).
What is a FemDom Relationship:
Well on top of the basic definition, which is a female led relationship, it's pretty much anything you and all those involved agree within the bedroom and in general day-to-day life. The goal is to keep a consensual BDSM relationship that satisfies everyone's mental and physical well being and needs (even if that is forced denial in the form of chastity).
How do you form a consensual FemDom Relationship?
The best way to form a FemDom relationship is to start looking in kink positive social media communities and dating sites. Some of these will do some of the hard work for you by helping you match with those looking for a Dom and sub relationship within the FemDom Community leading to a successful BDSM meet.
After you're all set-up on these platforms, communication is key. Discussing your limiting and asking a potential relationship there is a good way to see if your BDSM preferences match and can help you form a functional and consensual relationship together.