What is a Crop in Fifty Shades?
While some of my readers may find this hard to believe, it is one of my most frequent search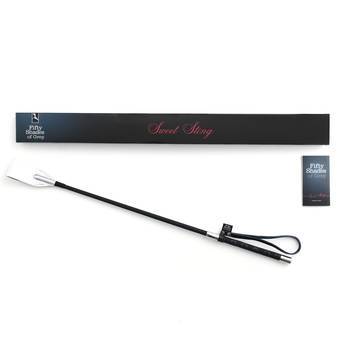 terms.
A crop is a device used to beat an individual as a form of punishment. Some people enjoy receiving these beatings (often referred to as masochist), and there are many who like to deal out impact from these devices (often referred to sadist).
You may have seen a crop before being used during horse riding – an item used in horse riding to train a horse and to control their run speed. This is the type of crop being referred to in Fifty Sade's. It consists of a long shaft, a handle, and a fabric or leather loop at its tip. The shaft is flexible and is often made from sturdy fiber glass, wood, or even a sprung shaft, which has been wrapped in leather or fabric weaving. The loop at the end of the device in riding crops is relatively short and can be made from leather, PVC or fabric. A few riding crops may have a shaped tip in the form of a hand, butterfly, or heart. While in the adult industry these are classed as riding crops, they differ slightly from the traditional concept.
These impact devices can be used to simply stroke and tease a lovers flesh with their leather / fabric tips. They can also be used in sound play, when the crop is swooping through the air and hitting a surface, the noise can send shuddering sound waves throughout a room sensually intimating a lover into submission.
If you wish to read a review of The Official Fifty Shades of Grey Riding Crop, you can check it out here.
You can purchase a Fifty Shades Riding crop here. To claim 10% off your order follow the following link here.
Article contains affiliate links.