tokidoki x Lovehoney Solitaire 10 Function Silicone Clitoral Vibrator
The tokidoki Solitaire Petal Vibe, by Lovehoney and designed by Simone Legno, is a vibrating egg-style vibrator with a Japanese style appearance. Simone Legno is a designer who focuses on Japanese-style animation patterns for various products, from phone cases to bags. It's actually rather exciting that he is working with Lovehoney, and hopefully, his designs venturing into the adult industry will help normalise sex toys and open them up to people who previously hadn't considered them.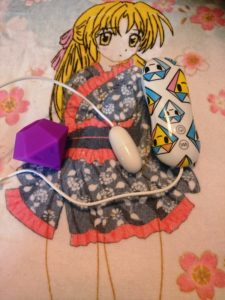 The egg vibrator is a corded battery-powered toy. Its main difference when compared to other corded egg vibes, is that it has a diamond tip silicone sheath to add a new dynamic to play. I was interested to see how the vibrations transferred through the vibrator and how it could mix up sensations during masturbatory exploration.
Normally I joke about vibrators which have been decorated in cartoon imagery – because cute totally equals orgasms…. Sadly many vibrators which look cute don't work when it comes to the physically pleasurable part. Sure they may cause visual pleasure, but it often stops there.
The Solitaire Petal Vibe is different. Like many corded egg vibes, it is a battery-powered powerhouse, and its addition of a pointed tip sheath really does help direct the vibrations to exactly where you want them. It has 10 different vibrations patterns on offer and is powered by 2 AAA batteries.
I'm an anime fan, and whilst I do like the design of the vibrator, I'm still am wondering why one of the diamond manga characters is pulling an angry face.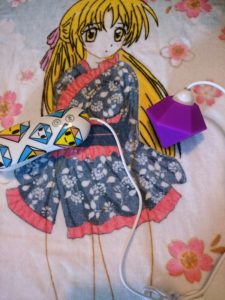 When using the vibe, I started to use its pointed tip to tease apart my vulva and spread open its lips. After slowly teasing my body, I was warmed up and wet enough to start using its tip to stimulate my clitoris. The tip was able to produce precision stimulation to the most pleasurably sensitive area of my clitoris – many women have that one spot that just feels amazing when it comes to clitoral play, and this hit mine.
I ramped up the vibrator to its third setting, letting out its most powerful buzzy vibrations to exactly where I wanted it. Due to the high-powered vibrations being smooth and continuous, I was able to orgasm rapidly. In the past, some vibrating corded egg vibes have been a bit jumpy when it came to their vibrations. However, when a continuous setting with the petal vibe was selected its motor delivered smooth consistent vibrations. The seventh setting is also another one I enjoyed greatly, particularly during foreplay as it produces a continuous wave from the lowest to the highest vibration strengths and back again.
During use with a partner, the diamond tip makes it easy for your partner to control the vibrator. Thinner vibes can be hard for a partner to direct to the spots you desire, but due to the silicone sheath my partner was able to easily hit the spot I enjoy the most and steadily keep it there even during the strongest of vibration settings.
The egg can be used without the silicone sheath. I found that its size was perfect for resting on the vulva during coitus. When the vibe is on its side, the vibrations hitting my body offer more of a rumbly and spread-out vibrations. However, with the addition of my partner penetrating me and stimulating other areas of my body it was able to add more pleasure during sex. I was rather happy that the cord is long enough so that the product can be controlled during various positions. The only issue I have with this vibe during sex is that its button controls can be a little stiff, which can interfere with the moment somewhat.
As the egg is waterproof you can use it internally vaginally. I found its size was just right to nuzzle against my G-spot. However, when used this way alone it wasn't able to lead to orgasm. Due to its small size I was able to use it alongside a dildo. The dildo was able to press it against my G-spot even more, and the vibrations from the egg were able to be transfer to the accompanying sex toy.
I have used the egg internally during sex too; however, my partner and I sometimes found that the cord could cause irritation depending on the position. When used internally during sex my partner was able to feel the vibrations on his shaft, leading to him moaning more frequently with pleasure.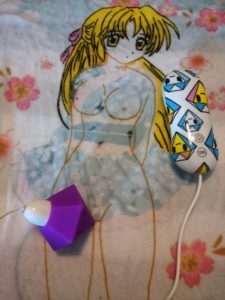 When cleaning the vibrator, the main egg part is waterproof. However, the control panel is only splashproof. To clean the product, simply remove the silicone sheath and wash the main egg in antibacterial soap. The control panel's coating means it can easily be wiped clean with a damp cloth. The silicone sheath can be submerged into water and antibacterial solution. You may want to pay special attention to the anime emoticons detailing as dirt can reside in these indentations. Allow the product to dry fully before popping the silicone sheath back onto the sheath ready for storage.
Overall, I like the tokidoki Solitaire Petal Vibe. For a battery-powered vibrator, it offers strong vibrations and a variability of patterns alongside with the option of multiple ways to use the device (from couples to solo). It's one of those vibes that whilst battery powered is still a winner, and I adore its appearance too.
Thank you to Lovehoney for sending me this sex toy for my review. Click here to buy or read more.