The Importance of Solo Foreplay During Masturbation
Solo Foreplay and Masturbation
The concept of foreplay is often one that's reserved for couples. We heard it all the time that foreplay should be something we should be doing before penetrative sex and that's often the only time you hear about foreplay mostly: couples, intercourse, and penetration. I find this concept is misleading, and it has also led to many people neglecting their bodies during solo masturbation play. If we don't know how to perform foreplay on our own body, then, how can we teach another sexual partner what we like? Sure, every sexual encounter we can become surprised by new techniques that a lover introduces you to, but without having the basic knowledge of your likes and dislikes can make it a lot harder to explore what turns you on.
Foreplay is something we can do by ourselves. It can be in the forms of mental stimulation or physical. It doesn't have to be something traditionally sexual, just something that turns you on, and stimulates and arouses you. It can be in the form of self-care rituals like taking time to sit down to a cup of tea, allowing your body and mind to relax from daily stresses and giving your mind body connection time to focus on things that bring you pleasure.
It doesn't have to lead to penetration. The end result doesn't have to even be orgasm. The main goal for foreplay is to just enjoy yourself and experience pleasure and arousal.
How do you explore the world of solo foreplay? Well, there isn't really a right or wrong way to do it. If you've found a particular way a lover has played and teased your body in the past, this can be a good area to start.
Here are some tips on what to try when exploring solo foreplay:
Map your body with your hands.
Excite your nerve ending by tracing your hands over your body. As they glide over your skin can you feel your body react? Some may find certain areas more sensitive and feel anything from flushing to tingly. Mapping your body with your hands can help you become aware of your erogenous zones. Explore from head to toe, even running fingers through your hair. The massaging contact you make will bring blood to your sweet spots, so when you find an area you particularly like massaging focus on here a little longer to intensify the sensations and help turn you on more.
Explore more with sex toys.
Sex toys can help add a boost to stimulating areas by either bringing in the additional vibrations or other sensations from a particular sex toy's textures or material. Regularly many of us will use a sex toy purely for it's intended use, an example of this is only using a vaginal vibrator for vaginal penetration. However, these toys can be used to tease other areas of the body first before you explore it's designed for use. If using a vibrator try teasing the labia, nipples, the inner thighs, or even the perineum. Experiment with pressure and even temperature too.
Mix things up with changing sensations.
Try changing the way you are pleasuring a particular are of your body by applying different masturbation and stimulation techniques. Go from using your fingertips, to your whole hand, or even add in an element of masochism between pleasurable strokes if that's something that will excite you.
Don't forget breast and nipple play!
It's very easy to forget that we can play with our own breasts as we focus on our genitals, but adding in some breast and nipple stimulation is very easy to combined whilst the other hand focuses on other intimate body parts. Even if you are a cis-male, you may find breast stimulation very exciting, don't let any false shame get in the way of your fulling exploring this area. Remember it's your body so you make the rules.
Go hands-free.
Sometimes we need to disconnect the awareness that we are the ones controlling our stimulation. Using hands-free sex toys can be the key to overcoming this mental block and allow you to fully sink into the masturbation pleasure and foreplay. You don't need to invest in something expensive like a sex machine, items like nipple suckers and clamps can be a good addition, to even trying out wearable sex toys and butt plugs. Another method to free up your hands is to use a sex toy position mount or suction sex toy.
Take away your bodies control with electrics.
Electro stimulation play can be used to turn on areas of your body that you may struggle to be woken up. It can also change the muscle response as it can turn your body into its own vibrator by making muscles pulse. Electro play may seem intimidating, but for some it can be a great way to overcome muscles tensing when mental stresses are getting in the way of progressing to pleasurable reactions you normally enjoy.
Set the mood with the right audio.
Just like touch, audio can stimulate us and turn us on. It doesn't have to be music, but if music works for you go for it. You can explore other things like having audio porn in the background. Audio porn can be a good way to explore your body as you can even follow the narrations and let your imagination go to pleasurable areas you wouldn't have thought of by yourself.
Take yourself on a date.
Just like with dating, you can take yourself on a date to find out more about yourself. This doesn't have to be purely focused on finding out your sexual passions, but becoming more aware and connected to the things you enjoy in other aspects of your life can help you learn what you find pleasurable overall. It can also help you to relax so you are ready to masturbate afterwards.
For some pain is pleasure.
Enjoying pain isn't shameful, and as long as you are safe when exploring it, go for it. Some find acts of self masochism to be a great way to let them enjoy foreplay and can lead them to experience greater orgasms. Self-masochism can be anything from solo spanking to tugging your own hair – if you like it and it gets you hot, explore it.
Talk dirty to someone.
Sexting or chatting dirty with another can help give you inspiration for things to explore. Even if you don't have someone in your life to message consensually about erotic teasing, you can find many online who will at a fee set you masturbation tasks that can lead to greater pleasure and stimulation.
Sometimes the thing with solo foreplay isn't that we just simply forget to do it during masturbation, sometimes we just don't know where to start. The mental barriers we have can greatly get in the way, if you're still struggling with self-pleasure you can either find a sex guide on the sexual pleasure your want to explore or even look into hiring a sex coach or therapist to help you to learn to love yourself. If hiring a sex coach or therapist is out of your budget or not that interests you there are also Apps on masturbation methods that guide you through pleasure techniques.
Top hands-free sex toys for solo foreplay
The Tracey Cox EDGE Optimum Pleasure Vibrating Stamina Ring £14.99
Whilst vibrations travel along the shaft of the penis you can focus wandering your hands to other locations, from nipple play to anal. The added stimulation can be a pleasant boost in adding to the erotic moment, whilst the constricting nature of the cock ring also helps you be able to last longer meaning you can enjoy more time masturbating and enjoying solo foreplay and pleasure.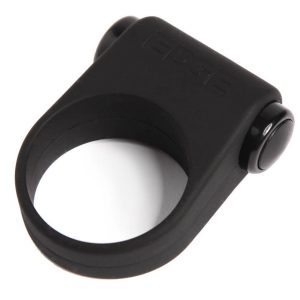 The Lovehoney Stuck On Love Clitoral Heart Knicker Vibrator £14.99
Knicker vibrators can be popped into your underwear and vibrate away on your sweet spots whilst you focus on other sexual play. Knicker vibrators have the added bonus of being small but can often be used as a hand held vibrator too to tease your nipples and other areas of your body. With knicker vibrators, once they are nestled between your labia and resting on your clitoris, you can even cheekily pull your underwear to the side and focus on penetrate vaginal or even anal play.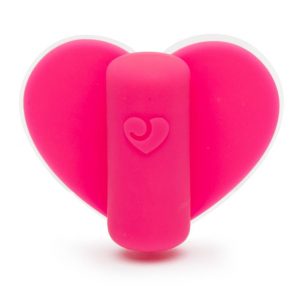 The Lovehoney Perfect Pair Silicone Nipple Suckers £9.99
The amazing thing about nipple suckers is that once they are in place they stay put. Gently sucking and squeezing the area and bring arousal to this most sensitive erogenous zone – anyone who enjoys nipple play should try these. Adding lubrication not only helps them stick better but it can help add in the realism of a wet mouth sucking on them. Some people also enjoy using nipple suckers on the clitoris to give the perception of oral sex.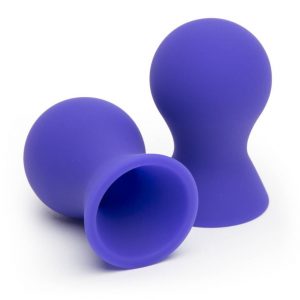 The Rainbow Silicone Realistic Suction Cup Dildo with Balls 5 Inch £29.99
If you have access to a surface that suction toys can be placed on, like a hard chair or tiled wall or floor,  they can work a treat whilst you thrust onto the dildo and bring in other sensations from hands to other sex toys. If you have two suctions sex toys you can also mix up a combination of double penetration, from vaginal and anal, to anal and having one positioned so you can live out your blow job fantasies.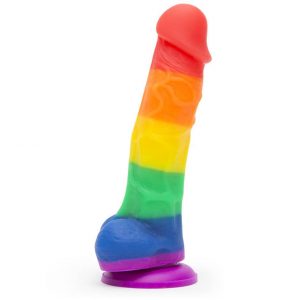 The Liberator BonBon Toy Mount £89.99
Sex toy mounts are often in the form of pillows or inflatable sex position pillows. They can hold a dildo in place whilst you straddle the cushion, meaning you can thrust down onto the sex toy with control and stability. They also let you have the opportunity to explore other stimulation as you don't have to hold the vibrator or dildo as it penetrates your body.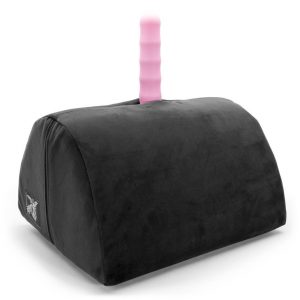 The Roll Play Small Butt Plug with Jiggle Ball and Suction Cup £12.99
Butt plugs can be worn whilst you explore your bodies other limits. Some can vibrate or have free roaming balls within them meaning the they offer extra stimulation to this form of seductive handsfree play. If you have a vibrating butt plug, you can also use it to stimulate other erogenous zones – just make sure you never go from anal to vaginal or oral without washing it first.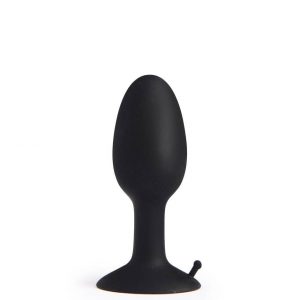 ElectraStim EM60-M Flick Electrosex Stimulator Multipack Set £159.99
Electro play is an excellent thing to explore if you have lost excitement from how your body reacts to stimulation. You will find that with electric play that your erogenous zones become alive in ways you never could imagine; it may even help wake up dormant sweet spots.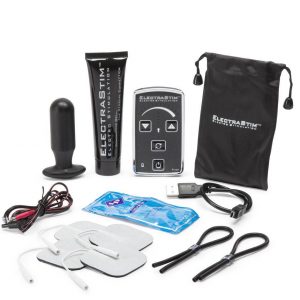 Desire Luxury Rechargeable Remote Control Love Egg Vibrator £69.99
Love eggs with remote controls can mean that you can enjoy vaginal penetration handsfree, with a remote at easy access so when you want to change vibration settings you don't get too distracted by fiddling for buttons. Vibrating love eggs can also be used externally to send vibrations through the areas that get you off the most.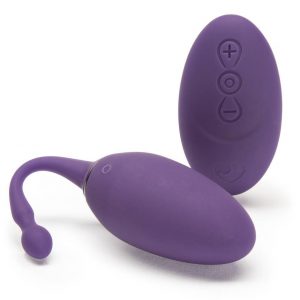 The Robo Fuk Adjustable Unisex Thrusting Sex Machine £399.99
Finally, if you just want to go all out, there are sex machines. Sex machines can lead to the ultimate handsfree experience, with multiple options for vibrations and thrusting at your disposal you can really become lost in the moment. If you can afford one of these, I can guarantee you will have years of excitement and adventures as you explore all its possibilities to the fullest.