The Dagger Strap from The House of Eros
The Dagger Strap from The House of Eros is a leather spanking paddle with a sting. Ideal for those who don't wish to add too much strength into their swing, whilst still able to produce a biting impact, when slapped against a submissives flesh. Whilst this item is made to be lightweight compared to heavier BDSM items, its handmade craftsmanship means that the product should last longer than items made of inferior materials and manufacturing.
The Dagger Strap arrives in a clear plastic bag with a House of Eros tag stapled to it. The product is made from natural vegetable tan leather rather than using a synthetic tanning process used on some leather – this means the item has a lot nicer natural leathery smell, unlike some which smells overly potent of chemicals. The House of Eros uses a unique dying method, mixing several tones of dye to produce a mixture of colours that creates a beautiful vintage style appearance. The Dagger Strap is engraved with the companies brand name, but I have been inform that custom engravings can be made if desired, meaning that they would be a lovely personalised gift for a Domme / Dom. The paddle is 15 inches in length, with a tapering dagger shaped impact surface. The handle is contoured for easy grip, and due to its lightweight body, it has some flexibility in the section leading to the products impact area.
When using the Dagger Strap, I commanded my submissive to remove any clothing, before making them stand in a position which amplified the view of their arse. Once their buttock was presented to me, I ran the leather tip of the device down their spine, before lifting the spanker into the air and landing its flat surface onto their white cheeks. The Dagger Strap swung quickly and produced a loud sharp slap, which echoed vibrantly throughout the room. Once the Dagger Strap was removed from my subs body, a red mark quickly formed where the product had impacted, and this lasted for around 30 minutes before fading. My submissive found that due to the lightweight nature of the product that it produced a pleasant stinging sensation which wasn't too over powering. The item requires very little effort to use, yet leads to beautiful marks without too much strain within my arm during wielding. This item is ideal for those who are new to spanking and don't desire intense pain produced from impact. It's also great because visually and the sound of the, seems a lot harder than it is, meaning that it's perfect for those who like to have the visual side from impact play but dislike the physical side.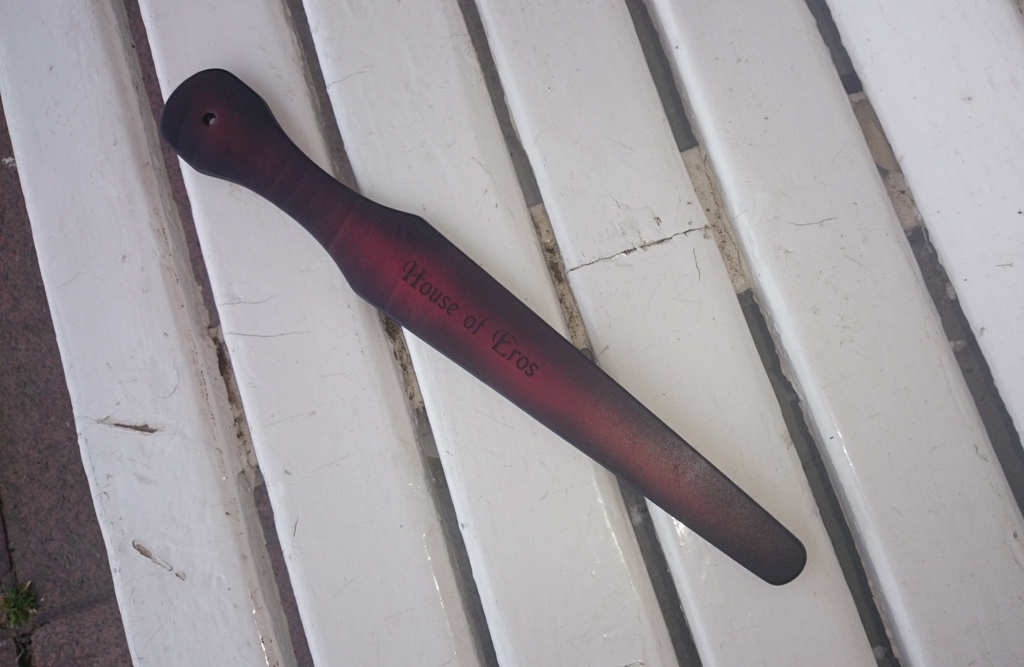 The Dagger Strap is easily wiped clean with a damp cloth after use.
Overall, I like the Dagger Straps ability to produce marks. It's ideal for those submissive's I see who wish for some marks within a session but want them to quickly disappear after a play session. It really is ideal for less masochist submissive's, but still satisfies my sadistic side more due the noise it produces and quickly appearing display of red marks.
Thank you to House of Eros for sending me this item for my review. You can find out more here.