Sex Toy Review of the Sybian Rabbit Tickler Attachment
The Sybian Rabbit Tickler is a ring attachment made from silicone that you can slip onto your current Sybian attachments. This extra part is aimed to amplify the stimulation and offer more pleasure to either the clitoris or anus.
The attachment fits on all of the attachments you can buy for the Sybian; giving you added intense tickling rabbit ear stimulation to your body. I don't have every Sybian attachment yet, however, I have found it slips onto most, although some can be easier to connect together than others. With some of the attachments it will fit with more stability than others.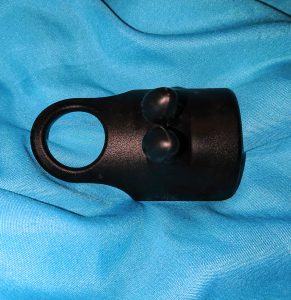 Here's my take away from the Rabbit Tickler attachment:
The attachment does rev-up the intensity of the current Sybian Attachments.
Works with any pre-existing Sybian Insertable Attachment, to turn them into dual stimulators.
It's placed perfectly and reaches the clitoris nicely, something I was worried about, but it takes into account the right placements for dual vaginal and clitoral play.
When using the spring and rotation mode, its ears offer more like of a swaying motion and feels more like a massaging / stroking sensation.
Using the solid rods with insertable attachments, the Rabbit Ticklers ears offer a quick flicker sensation more.
With either rod or spring combined with vibrations; it offers intense flutters.
It can be slipped onto other sex toys; which is an added bonus.
It is a worthwhile investment and doesn't cost too much.
I found only a few down sides and possible issues:
When the Sybian is put on high power vibrations, it likes to ride up and can catch flesh or pubic hair sometimes. This doesn't happen if you're planted solidly on the device – I just like to move riding mine.
The manufacturing seams can be a little harsh, so you really need to make sure you have loads of lube.
The silicone is a bit harder than I would normally prefer, but I know many it'll be ok with.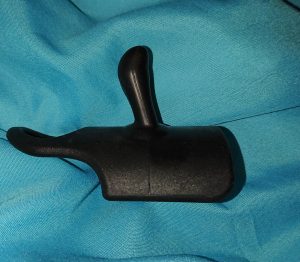 The Rabbit Tickler attachment does require a bit more lube, but, anyone with a Sybian should have loads handy anyway.
I'd recommend starting slowly with it and experimenting with it on the lower settings at first rather than cracking up the power right away.
It can be used to stimulate the perineum in those with penis's experimenting with the Sybian insertables anally. And, you can flip it around to stimulate and tickle the anus, if using insertable for vaginal use.
The rabbit is still one of the most popular sex toys people invest in, and I think Sybian have made a good move by designing this and I see it being a must-have.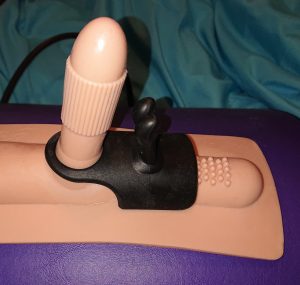 When using the Rabbit Tickler, I first tried it with the Small Sybian insertable attachment, so I could experience dual stimulation. The Rabbit Tickler's ring slipped over the Small's shaft easily, and gripped in place. After applying lubrication to the insertable shaft and the rabbit extra, I hopped onto the machine, and lipped the shaft into my vagina. The Rabbit Tickler rested directly over my clitoris, and I started with the slow massaging settings of the rotation function. I could feel some stimulation travelling through to the rabbit ears, and once my body was more aroused, I started to add the vibrations. I started slowly, with the mildest vibration setting and when I reached that moment where you just need MORE POWER, I upped the intensity. I got a little carried away at first and put them on too strong too soon, but I quickly lowered down the setting and slowly continued to tease my body with the vibrations coming through the Rabbit Ticklers ears.
The Sybian is one of those vibrators that offers a very unique climax. Some days I want to have multiple orgasms with it but struggle, and it can be a bit numbing with the flat attachments fixed in position over the clitoris. It's like my body would want more, my muscles spasms want more, but I just can't always reach more. However, with the Rabbit Tickler ears constant moving and being influenced by both the vibrations and rotations, I was able to have more enjoyable multiple orgasms with my Sybian. I could come, again, and again, and again. This makes the Sybian more tiring to use of course, but it's a worthwhile orgasmic workout, you just need to really make sure you have lots of lube in reach and a towel.
It pops off of other Sybian attachments easily and can be cleaned in warm water and your standard antibacterial wash.
Overall, I really like it, it's the piece I was missing in my relationship with my Sybian and an pleasurable attachment in my life.
Thank you to Sybian for sending me this product to check-out.