How Sperm Keyrings can help bring sex positive discussion around sexual health and wellbeing.
When I was contacted by a company which produced sexual health merchandise I was thrilled; particularly as this exact company is the creators of the fun and quirky Sperm Keyrings. If you've been to a sexual health event, or even Pride, you may have stumbled upon these little keychains before. Heck, I've seen sexual health booths have hoards of people wanting to get their hands on them, when whilst there are many other bits and pieces at larger events, people just seem to love getting their hands on these sperm keyrings above all else.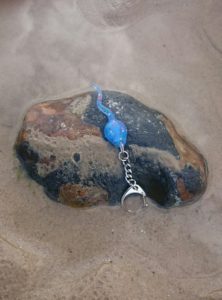 Not only are these keychains useful, but in the past, I've found my glow-in-the-dark sperm to be very helpful, particularly when I've lost my keys. The little sperm is like a beckon, making finding my keys in the dark so much easier (and trust me I lose my keys a lot so this is particularly helpful).
The company produces many sperm related items which can be used at a sexual health event and act as an icebreaker. Sexual health can be fun, and this company helps prove that.
From producing T-shirts, keyrings in multiple colours, phone charms, USB sticks, and more, there really is a large selection to choose from. You don't have to be a sex educator, or similar, to really appreciate these little gimmicks. The company makes two types of T-shirts too, one with a larger sperm across the chest and another with a tiny sperm positioned on the shirt being so discrete one could mistake it for a Nike logo. Plus, guess what, the T-shirts glow-in-the dark too, making them a fun option of attire for a hen or stag do late at night.
I did quite a bit of browsing and emailing suppliers, Stagit.ie were kind enough to send me a little bundle of their goodies, and I have to say I'm thrilled. I have shared the delight of these tiny sperms already with a few friends, donning their keychains and phones with these little sexual health mascots. A few of the keyrings I have left are going to be used for chastity keys, which I find highly amusing due to chastity bring used to control a submissives "sperm". And, the T-shirt is a lovely and comfortable shirt that rotated from either bed wear or gym wear, depending on how I'm feeling – plus I love joking how I have sperm on my boobs which makes many of my friends laugh.
These little products are sure to lead to lots of fun conversations and giggles, and if you're holding an event (from sex ed to hen party and more), I'd highly recommend getting a bundle together to give out and promote sex-positive discussions.
You can find out more about Sperm Keyrings, here.
Twitter: Spermkeyrings
Instagram: Sperm Keyrings