Thoughts on the Sex and the City reboot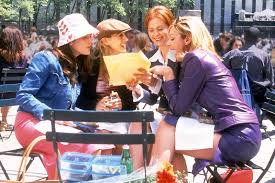 When Sex and the City first arrived on TV I was far too young to really watch it at 10. I think I remember flicking through when I was around 12 and stumbling upon it and getting rather embarrassed by the content, as back then my knowledge of sex was still unknown and education surrounding it was terrible. It wasn't until I was 15 that I managed to watch it, as my friend had purchased a copy. It was pretty fun watching him all gothed-up with New Rock boots taking the boxset to the Virgin counter and slamming it down, the staff was rather shocked, being 15 years old I, of course, thought it was rather hot.
Anyway, I proceeded to spend the next few months sneaking off to my friends to watch Sex and the City in my free time.
I didn't fully understand parts of it, even now after rewatching some of it, I feel there are areas that are too unrealistic or over the top. However, I learned some valuable lessons from the series.
Not so much about sex or relationships, but that life is hard and at times you need to push through to get what you want.
Each character had different challenges with relationships, careers, and health. There were some realistic expectations, and some that I still don't totally get but I'm sure some of you do. I also learned the importance of handwashing my bras, which drove my mother mad as she was fixed solidly on putting everything into the washing machine.
There were times when the characters had moments where their behavior was classed as "crazy", and mostly this was some cis-male overacting to someone being triggered for very good reasons. But it taught me that whilst I explored my sexuality and sexual desires as I grew as a teen, that expression of emotions that doesn't always make sense at the time to you, is sometimes a process we all have to go through at times to heal.
I remember seeing a bit of my life cross over the many characters that were shown throughout the series as if sometimes my life and a particular relationship overlapped with theirs.
The relationship with fertility issues, where the struggle of going for tests and examinations were shown by Charlotte's character as she continually tried for a family too.
The relationship where I was told I should be a housewife rather than have a career. Where Miranda's views and struggles on climbing up the career ladder were often made harder by heteronormative society expectations.
The relationship(s) were simply crap and full of toxic behavior. Carrie seemed prone to attracting people who normally would display red flag behavior, I too had a phase in my life finding myself in relationships like these.
The relationship focused on being sexually open. Samantha Jone's was very open about her desires and need for sex, even if some would disapprove, and I too found myself at times in her shoes where I was a bit too explorative for some but enough for others I dated.
Whilst there's a heavy focus on sex and sex toys in the TV series, these were not the main things I took away, as you can see. I am hopeful that the focus on sex and sex toys will be more educated than it was before. When the new series finally reboots, I know I am going to keep an eye out for what sex tech they share with us the audience, and the creative ways these items can be used, yet I have some doubt about the sexual creativity that will be shown as the mastermind behind this will not be returning. Samantha Jone's is set to stay in the old episodes, where new viewers will hardly even know of her existence unless they binge-watch old episodes.
Another character I am hopeful to see return is Stanford Blatch, who I am yet to hear whether or not will be making an appearance in the reboot. Stanford was Carrie's best friend outside her main social circle and helped lighten episodes at times that may otherwise have been rather dull. He also brought insight into Carrie's relationships that Samantha, Miranda, and Charlotte would often avoid due to fears of upsetting their friendships.
It's exciting to see whether Carrie has managed to uphold her sexpert career, as there is still a strong worldly view that after 30 careers in this area come to a halt.
Maybe this reboot will show more understanding of consent, fewer stereotypes, and more real-life views on sexuality and gender, and better sex education – sex coaching retreat anyone?
I'm looking forward to what relationships they show that may match past ones I've experienced since the series originally halted, and what new relationship troubles may overlap my future possible romances.