Review: Womanizer X Lovehoney Pro40 Rechargeable Clitoral Stimulator
Sex toy review of the Womanizer X Lovehoney Pro40 Rechargeable Clitoral Stimulator
The Womanizer X Lovehoney Pro40 Rechargeable Clitoral Stimulator is a suction-style sex toy that is meant to mimic oral sex sensations. The sex toy uses Pleasure Air Technology making pulses of air and vibrations from the motions to bounce over your clitoris. The sensations produced are different from standardised vibrations from vibrators.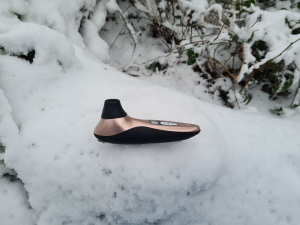 This isn't the first time I've tried oral sex toy devices using air pulsing and suction technology. In the past I have tried a few brands where the sensations have been too strong and sadly resulted in injury. When I agreed to test this Womanizer product, I was really worried the same would happen, but my curiosity motivated me to give this technology one more chance. If the Womanizer led to discomfort, I vowed I would never touch a suction oral sex toy again.
The Pro40 is a plastic and silicone sex toy with three buttons. The buttons are on/off, and two to rank up the intensity or lessen it. There are 6 different intensities you can experiment with. The Pro40 is rechargeable and it is also waterproof. The silicone head is removable making it easy to clean.
With these types of sex toys, I always recommend you use a generous amount of water-based lubricant. This will help increase suction but also make it more pleasurable.
I made myself extremely relaxed and worry-free before first testing the Pro40. A part of me was worried that it too would result in injury, or worse even rip my clitoris off with its superior technology. Once in the right mindset, I was able to sink my back and heels into the comfort of my mattress and part my legs. Fingertips friendlily tapped over my vulva and waited for my labia to be ready to open up. Parting and leaving access to my clitoris I teased my body further to make sure I was fully turned on. Applying a little extra lubrication for luck, I then placed the Pro40's head over my clitoris and pressed the on button.
Once it turned on suction was quickly formed and the product went from making strange gurgles to fairly silent.
The pulses of air stroked over my clitoris and with the lubricant I had applied it felt close to the wet flickers of a tongue turning me on further.
Interesting fact, I have spinal cord damage, and my ability to orgasm has become harder. I found the Pro40 was able to make me reach orgasm a lot quicker than many other sex toys I have tried, and it didn't even need to be put on to the highest setting to do so. This is big as I can have times using a standard sex toy and the vibrations will do very little. As my spinal cord injury heals, things are getting easier, and this sex toy is still amazing at helping wake up those nerves that are struggling from damage and inflammation.
It's that type of orgasm that makes you want more and doesn't upset the nerves like vibrations do sometimes. Meaning you can have multiple orgasms, quickly, without discomfort.
When using the Pro40 with a partner and engaging in penis in vagina sex I have found the shape of the Pro40 to be a bit difficult to position. Doggy-style seems to be the best position when attempting to use it during sex, but the suction head can be pushed out of place easily during thrusts even when holding it in position.
So, have I made peace with suction sex toys? Yes, but I think I will be sticking to Womanizer as I know some of the past brands that caused issues are still around and I'm still hearing reports from others of injury. The Womanizer Pro40 so far seems completely injury-free.
When cleaning the Pro40 you can detach the silicone head and wash it under warm water with your standard antibacterial soap. The hard plastic body of the main device can be wiped clean with a damp cloth.
Overall, I like this sex toy, and it does have similarities to someone performing oral sex directly on my clitoris. There is a function I would love to add, and that would be a warming function as it would make it feel even closer to the real-life body-on-body contact.
Lovehoney provided me this oral sex simulating sex toy for an honest review.