Review: The Vixen VixSkin Colossus Silicone Penis Extender 7 Inch
Sex Toy Review of The Vixen VixSkin Colossus Silicone Penis Extender 7 Inch
The Vixen VixSkin Colossus Silicone Penis Extender 7 Inch is a hollow dildo for those with penises to wear to offer their partner a different shape and size shaft during penetration.
Who are penis extenders for?
Those wishing to explore different shapes and sizes with a partner.
Individuals who want to fantasize about having a different shaped penis.
Those who want to role play introducing another penis into the bedroom without the emotional complications of another human being involved.
People who have erectile difficulties.
People with penises who want to feel different sensations during penetration that aren't the same as their partner's vagina or anus.
Those in chastity who were to experience orgasm denial but penetrate their partner or Mistress/ Master.
Someone who wants to change the size and texture or a dildo, or even place over a packing cock in harness.
Great for use after a play partner has ejaculated and finds they can't get an erection soon afterwards but wants to continue penetrative sex.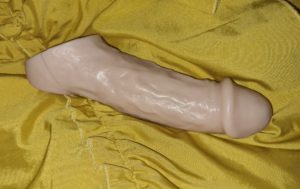 The Colossus Penis Extender is made from soft silicone. The internal canal is 5.5 inches in length and 1.5 inches in diameter. The external size is 7 inches in length. The ring to thread the scrotum through is fairly stretchy and has a good tightness once the balls are threaded through to help keep the extender stable during use. The silicone is a bit grippy but becomes slippery when plenty of water-based lubricant is used. I recommend using lubricant in the internal canal as well as over the external shaft.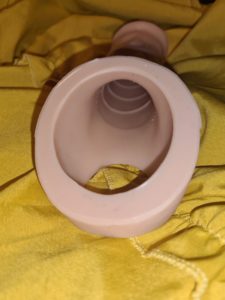 This toy is rather large and the glans can feel a bit of a challenge when inserting it into my vagina. It's not the biggest sex toy I've ever had enter into my body before, but the way it is worn and controlled by another compared with standard dildos and vibrators meant I made sure we engaged in plenty of foreplay before penetration.
I found penetration was easier when used by a lover who had an erect penis or semi-erect penis, that filled more of the internal chamber. When worn by a wearer with a flaccid penis it became a bit trickier to insert and felt a little resistant at times.
Once inserted it took a while to get use to the size and each time thrusting from my partner had to start slowly, rather than going into rough or fast sex right away.
Did it feel better using the penis extender? It was very different and allowed me to explore different sensations with my partners. The size made it feel more intense than the average size penis or dildo, but it wasn't better than when having sex with something smaller, just different. It did fulfill that desire of wanting to feel completely full at times and allowed me to explore different forms of role play with various play partners. I was also able to use the penis extender with a partner after they had experienced an orgasm during sex, so they could still penetrate me vaginally without the need of an erect penis (which isn't always possible after sex for some). This meant we were able to prolong our penetrative play and even one play partner was able to use the extender, then managed to gain an erection later in the play session, so was able to alternate between extender when flaccid or erect penis.
To clean the Colossus you can use warm water with your standard antibacterial soap. I recommend storing it once dry, in the tube, it arrives in as the silicone can attract dust and hair easily.
Overall, it's a nice way to explore something a bit different with a play partner and has loads of different reasons you can use it. It does feel like a bit of a challenge to insert so it's worth being aware that it's a large size sex toy and will need foreplay to make it more comfortable and enjoyable.
Thank you to Lovehoney for providing me with this sex toy to review.