Review: So Divine Wicked Game Magic Wand
Sex Toy Review of the So Divine Wicked Game Magic Wand written by Ness
The So Divine Wicked Game Magic Wand is a sex toy with a small wand head on one end and an insertable vibrating shaft at the opposite end. This rechargeable toy means you're able to mix-up your play with the use of only one toy rather than having to have multiple sex toys on hand. The sex toy is also designed so you can select which side you desire to vibrate during use whilst the other side's vibrations stay turned off; meaning that the vibrations don't interfere with your grip during masturbatory or even massage play.
During my sexual encounter with this vibrator, I had a few questions I wanted to particularly investigate. First off, with the toy being a wand I wanted to explore and find out whether it really was worth being called a wand due to these types of sex toys often having a high reputation of being extremely powerful. The next was to see whether or not the insertable end was actually functional in shape and length. I've tried a few two-in-one sex toys over the years and often one side is either too short or completely the wrong shape for pleasurable use. Finally, I wanted to see how easy it is to control and switch between the two different vibrating halves.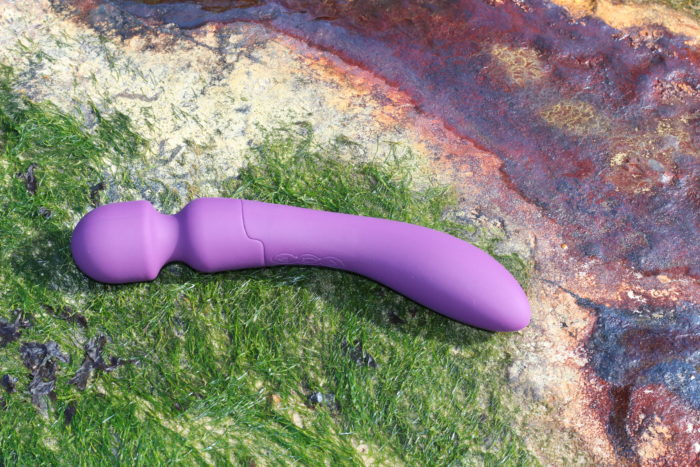 The sex toy has two functional sides a wand head and an insertable shaft. The insertable shaft is 4 inches in length (this is up to the control panel although you can insert deeper is you don't mind losing access to the buttons).  The insertable shaft is slightly curved and is a maximum of 5 inches in circumference. It has a blunt pointed tip which means it's easy to insert and the curve is ergonomic and will slip into the vaginal canal with ease. The wand head is 1.5 inches in length with a 1 inch flexible stem; it has a total circumference of 5.4 inches. The total length of the toy is just less than 10 inches long. It is made from gorgeously smooth silicone and is seam-free. There are three buttons which control the toy. An on / off button which can be used by holding it down a few seconds. Then there are two arrow buttons. Now the arrow buttons control one side of the wand each. The arrow found on the wand side will scan through the wand vibration settings when pressed and the arrow found on the insertable side will do the same for that side. Only one side of the toy can vibrate at a time. There is a total of 3 different vibration speed and 7 different patterns to choose from for each side. If you scan past the setting you desire you will either need to scan all the way through again or sometimes it can be quicker to turn the toy off and start from the beginning if the setting is close to the start. It can be charged with the USB cable provided which connects to two magnetic contact points on the product. There is an AC adaptor provided too.
The Wand Head
I've found the massage wand head side to be effective on solo upper back massages due to its ergonomic shape and flexible head. You can easily wiggle your tight spots into a relaxed and released state. During couples play and masturbatory play it has a whole new meaning. Whilst I am all for pinpoint stimulation I still get off from the sensations felt from wand-shaped sex toys, and whilst the wand side of this sex toy may not be akin to mains powered and larger sex toys, it still has is perks.
During partner play, I've enjoyed being able to glide and wobble the head of the sex toy over my partner's penis shaft. The vibrations can sometimes feel a little too buzzy for my partner however it has still led him to ejaculation.
When using the wand on my clitoris I have found that whilst it's not as strong as other it can still make me climax if I'm using it over my underwear. The vibrations are buzzy to lead me to feel an intense deep orgasm but I'm able to feel a quick pleasurable release with it and still feel it's more powerful than many standard clitoral vibrators.
Whilst to some it may seem tempting to insert the wand head anally I personally feel the stem isn't strong enough to cope with the force needed to insert a toy and remove it.
The Insertable Shaft
The pointed tip of the insertable shaft slipped easily between my labia and glided sleekly inside my vagina. The shape and silicone of this sex toy meant I didn't need too much of a warm-up or lubricant to penetrate my body. The tip slid past my G-spot and teased my cervix slightly. Lower down the shaft rested perfectly over my G-spot and as I started to slide it back and forth it applied a pleasurable massage to the area. After about 5 minutes of masturbating this way my pleasure levels peaked and my eyes rolled back as I let my body relax and enjoy the orgasm. When using the toy to achieve a G-spot climax, the shape played the major role, whereas the vibrations were only an afterthought. The insertable sides shape is perfect for penetration. The vibrations are ok, but I did find them a little too buzzy for G-spot stimulation (if they were rumbly vibrations then the orgasms achieved would have been even more mind blowing).
I've enjoyed using the insertable side as an external toy too as it offers pin-point stimulation which my clitoris often desires.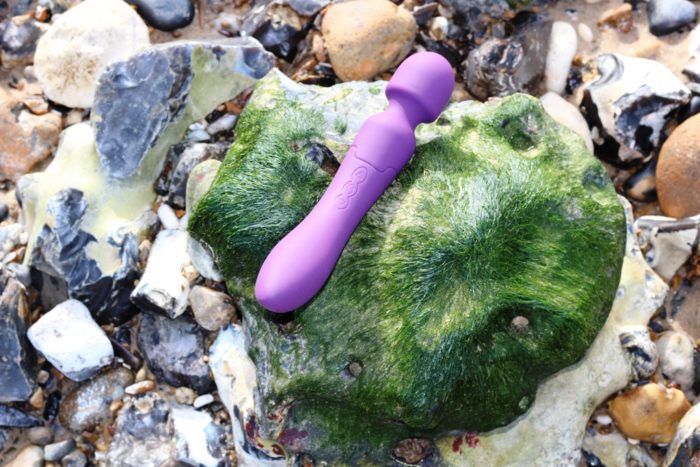 Having the option of two useable sides has really been an advantage at times particular if I want to draw out my clitoral orgasms as sometimes changing to a non-pin-point sex toy to a broader tip toy can help me last longer before climaxing which can lead to a more intense sensation. With the Wicked Game vibe I can just simply flip the toy around and continue playing without any interruptions.
Cleaning the So Divine Wicked Game Magic Wand is easy as it's made from silicone and is waterproof. Simply wash in warm water and allow to dry. The storage bag provided is a great size for storing not only the sex toy but also the cables and charging plug.
Overall, this toy works very well for what it is, it hits the right spots, it has an acceptable amount of power for its size, and it's pretty easy to control either side when needed. The insertable shaft is just right for gliding over my G-spot and the wand head is great for foreplay. I really do like how I can easily take advantage of both parts of this sex toy quickly depending on what my desires are at the time.
Thank you to So Divine for sending me this sex toy for my review. You can find out more here.