Sex Toy Review of the Satisfyer Pro2 written by Ness
The Satisfyer Pro2 is a rechargeable clitoral stimulator which works by forming suction around the nub and essentially sucks on the clitoris. This is the first time I've tried a vibrator like this. This particular type has been around for a few years now, so whilst I haven't tried one until now, I have heard very mixed reviews from people. I've heard they can imitate oral sex, which yet I haven't actually found a toy that has made this claim do so for women. People have boasted of extremely intense orgasms and even squirting. And then, there are those who just can't stand these suction-type vibrators at all. Yet after all this information at my finger tips and the vibrator, I'm still hit and miss on this toy. Actually at first I hated it.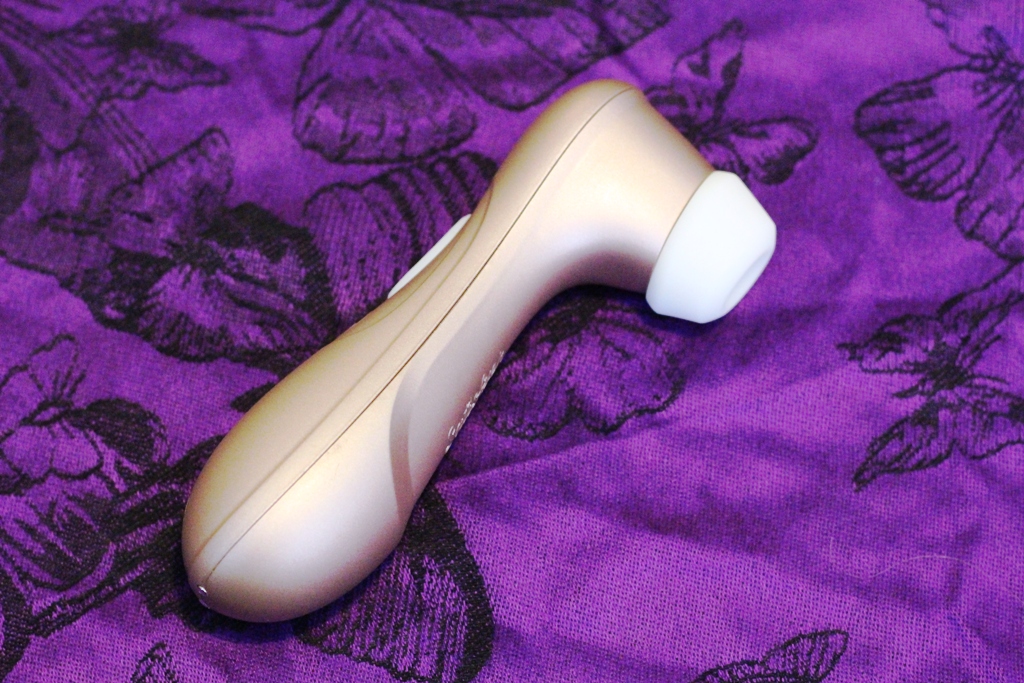 The sex toy is 6.5 inches in length; most of this is made up of the handle which is 5 inches of the total length with a maximum of 5.75 inches of circumference. There are three push buttons on the toy, one on / off button, and a plus and minus button for scanning through the different intensities of the sucking stimulation. The clitoral attachment is made from silicone and is removable, its chamber is just over an inch in length with half an inch width, and the chamber is just over an inch deep. At the base of the handle are two magnet connectors for the USB charger – I really, really, wish companies would stop using these as they get knocked easily.
Unlike standard vibrators where the sensations are created by a spinning motor, the suction is created by thin layer of silicone which bobs up and down at the top of the removable clitoral chamber. This still sends vibration-like sensations down to your clitoris however; they are very different to those created by a standard motor. I've found on the lower settings they can feel a little similar to when someone flicks their tongue quickly over your clitoris.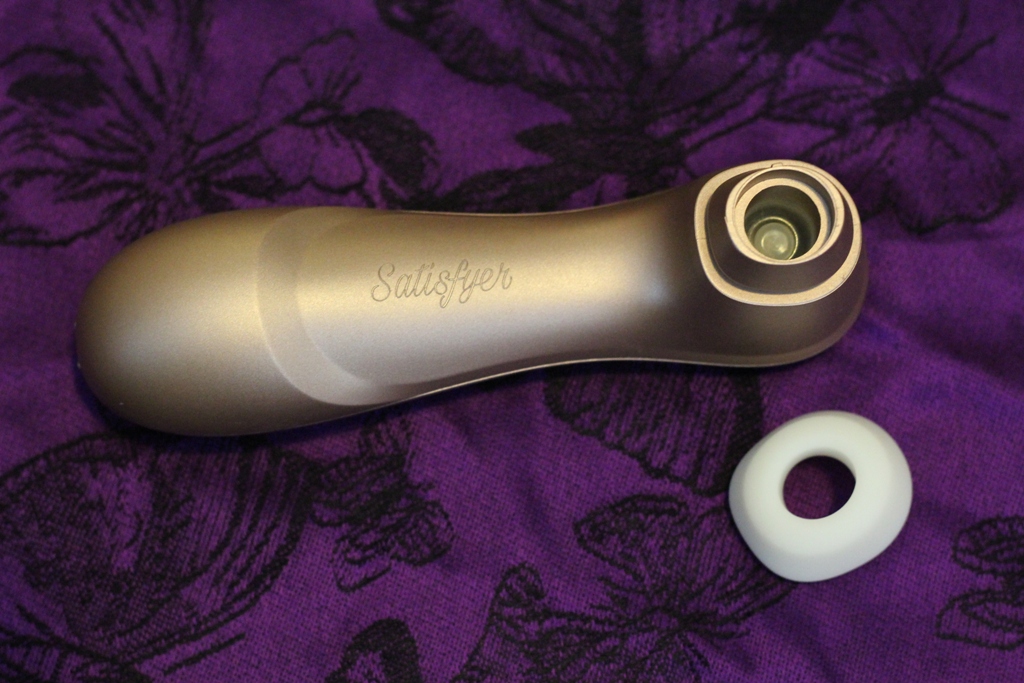 The Satisfyer Pro2 really didn't feel natural or normal to me when I first tried it. The third and fourth time I still really disliked the sensations it produced, even though it resulted in squirting 95% of the time. It wasn't until I wiggled the tip around more that I started to like it, but up until then whilst it led to me experiencing intense orgasms I hated them. This paradox was rather confusing at first, I normally really like orgasms, sure some are less satisfying than some and the ones from this toy were incredibly intense, but something wasn't quite right. I feel that part of it was down to the positioning of the toy at first, until there were a few instances where I just couldn't orgasm at all with it. Rather than an intense climax that led to flooding my bed, one day my body just wasn't having any of it. After 10 minute of the toy attached to my clit nothing had happened. Ok, I thought, sometimes it can take a bit longer for me to climax, so decided to continue for another 5 minutes as it's not uncommon for an orgasm to take up to 15 minutes. I did orgasm eventually, but unlike before, it wasn't as intense and I was somewhat disappointed. I removed the sex toy from my clitoris, and then noticed blood. Of course my first thought was that maybe my period had started two weeks early and made the tip of the vibrator became messy. But, this wasn't the case, the toy had actually suctioned so hard that it had caused my clitoris to bleed and become sore. Not only that, it had left the clitoral nub so swollen that I could see the clitoral arms raised up too. I must admit, it was kind of impressive, even with Pussy Pumps I haven't experience anything this swollen in my nether regions before.
After a few days of allowing my body to recover I decided to try the Satisfyer Pro2 again. I repositioned it to feel a bit more comfortable, experimented with the intensities, and applied lots of lubrication – before I thought I hadn't applied enough, however I found that through the next few days of testing I just couldn't get the toy to feel quite right. Shorter periods of play led to intense orgasms about 85% of the time often accompanied by female ejaculation, out of all these I'd say around 25% were pleasurable leading up to and during climax. Orgasms that happened after 5 minutes of use, I found started to make my genitals sore again even with reapplying lubrication. Eventually I came to a conclusion, it reminded me of sex without foreplay, and for me a big part of sex if the foreplay. I've grown accustom to toys which feel like they perform this stage before they result in such intense results. Wand vibrators, other clitoral vibrators, and more, they just have something about them which warm's my body up and sets it in motion for a comfortable yet intense climax, yet the Satifyier Pro2 to me was more like the inexperienced guy who is just relying on one thing and hoping that it works (often an overly larger dick). Sure it can result in good things, but often it will leave you sore afterwards and getting to the pleasurable phase can feel drawn out. There's still totally a time I crave those things for sure. Plus if I ever want to put on a quick magic show for a guy showing him the wonders of female ejaculation it's a toy I'll end up using. However, for a pleasurable experience all round, it's not a toy to use by itself, particularly after 5-10 minutes.
It has really made me think whether or not it's worth sacrificing pleasure just for the sake of an orgasm. I can see for some people, it will be enough to satisfy their needs, however, for me, I enjoy all the sensations received usually during masturbation from how I can feel my heart rate rising to the throbbing that sometimes happens in my thighs when intensely aroused. I can see in some situations where this toy could be excellent, particularly on a female submissive and wanting to force an orgasm which feels less satisfying. It would also be a great one to explore if you're looking to make your body squirt, but, personally there are more pleasurable ways to do this even if they take more work.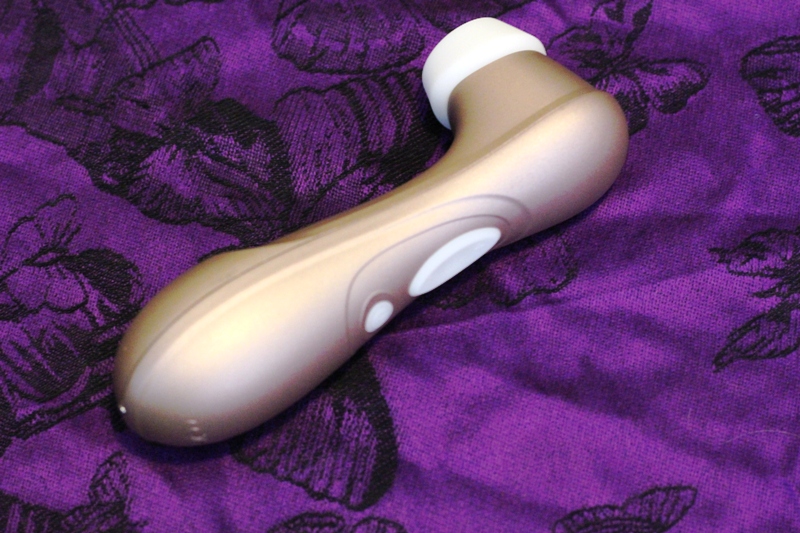 Cleaning the Satisfyer Pro2 wasn't as hard as I expected. The clitoral attachment easily pops off and can be washed in warm soapy water. After the silicone attachment has been removed the clitoral chamber can be cleaned with hot soapy water and a finger and all bodily fluids wipe off easily. The main toy can be cleaned with a cloth and antibacterial wash. I'd recommend avoiding using anything that can scratch the item as the metallic ABS can become scratched.
Overall, whilst the Satisfyier Pro2 is an amazing sex toy when it comes to female ejaculation, that's pretty much it for me. Sure it's rare for it to need to be used for longer time (even when reading other reviews I've spotted many say they reach climax quickly), but on days where my body just doesn't want to orgasm under 5 minutes or I'm just needing the foreplay experience it'll be just left in the drawer. When it comes to orgasms I want to enjoy all of it and not just the end of the show. I just feel this toy whilst yes I want to yell 'Hell yes I squirted!' it just doesn't cut it as a pleasure product. It's strange, I've been experimenting with other Satisfyer products and I seem to get on with them slightly better possibly due to them being more light weight and the clitoral attachment shaped slightly differently – reviews for these are to follow.