Review: OSUGA Cuddly Bird
Sex Toy Review of the OSUGA Cuddly Bird
The OSUGA Cuddly Bird is an oral sex simulating sex toy that uses suction to stimulate the clitoris. The sex toy also has a vibrating option, and its charging dock can be used as a quirky bedside lamp. When this suction toy arrived it really did make me wonder what set it apart from other oral sex simulators which made me very eager to get testing right away. A large part of me expected it'd be the same-old-same-old, but you know something, I found a few traits to the Cuddly Bird that other toys were lacking, and I'm going to share them with you in this review.
The Cuddly Bird is made from a combination of soft silicone, and ABS. At the base are two metal push buttons where one turns on the suction mode of the sex toy and the other switched on the vibration mode. There are a total of 3 suction modes and 4 vibration intensities to explore. It is rechargeable and the base also acts as a mood light to help set the atmosphere of the room for your erotic and intimate moments. The sex toy is splashproof but not waterproof.
What's different about its design that I like you're asking? Well, the bird shape is actually more ergonomic to hold when compared to other suction oral sex toys. Not only does this make it comfortable but its soft plushy form means my hands ache less from intense gripping which can increase the closer to climax and orgasm I get. The raised grooves down the Cuddly Bird also means that when lubricated I can still hold onto it without dropping it. The Cuddly Bird feels cuddly in the palm of your hand.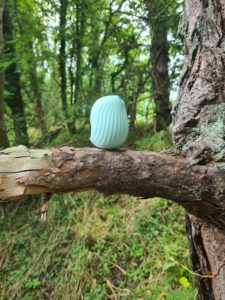 Clitoral Play
Sometimes I can struggle with clitoral orgasm, but the Cuddly Bird can guarantee an orgasm each time. It doesn't take long and can be very enjoyable. I'm also able to have multiple orgasms with this sex toy without having to take any breaks. When having multiple orgasms, a lot of the time I need to remove touch away from my clitoris for a bit as it gets too sensitive but with the cuddly bird I can just keep going. Lubricant is needed when using it on the clitoris and sometimes it can take a moment to get it positioned correctly, but when I do manage it, it's worth it.
Nipple Play
When using the sex Cuddly Bird during nipple stimulation and play I applied some lubrication to the suction chamber and then placed the toy over my partner's nipple. The Cuddly Bird nestled firmly over their nipple as I switched the suction toy on, making my play partner jump with surprise. He had never experienced a suction toy over his nipple before and was expecting it to be a bit too sensitive and possibly even painful, but all he felt was pleasure. Even when he changed position the Cuddly Bird stayed landed over his nipple, offering a slight tugging sensation from the weight as gravity pulled it down. When removing the sex toy from the area the nipple was extremely erect and hard and he took a moment to admire the effects as nipple stimulation was rare for him during his sexual encounters as normally their partners often forgot that cis-men like nipple stimulation too.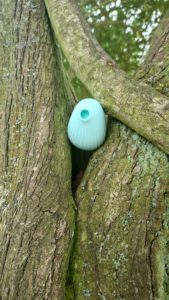 It's fairly easy to clean as it is waterproof and works very well as a bath friendly sex toy. To clean, simply use warm water with your standard antibacterial wash.
Overall, the OSUGA Cuddly Bird is a great suction-style sex toy. The only thing I wish I could change with it, is to have the possibility of using the vibrations at the same times as the suction function. I really enjoyed using the Cuddly Bird on other people's nipples too, making it a fun foreplay sex toy.