Review: Lovehoney Rose Embrace Pink Babydoll
Sex Review for Lovehoney Rose Embrace Pink Babydoll
When it comes to lingerie, I have a fondness for sets that I can lounge around in like a Greek myth goddess and sleep in if I desired. It's not just about getting something that makes me look and feel hot.
The Lovehoney Rose Embrace Pink Babydoll, ticks all the right boxes for being comfortable and extremely sexy at the same time.
The babydoll is made from a beautiful blushing pink fabric that has a pattern of printed roses and hands plucking them – this is likely a play on the phrase 'pluck her flower' meaning to pluck someone's innocence or have sex with them. The shape of the lingerie is very free-flowing, and there is ample room for bigger boobs if needed. With the way the top half is designed, with triangle-style cups, even if someone with smaller breasts was to wear the item it would still graciously fit over their body without looking baggy. Between the beasts is a hook clasp to make it easy to undo the front and give full access to the breasts. The lingerie is backless and has an adjustable under-bust. It arrives with a G-string thong which is fully adjustable too.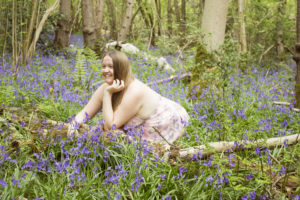 Fit
I'm currently bouncing around sizes, and am between a 16 to 20 depending on which brand I buy. I went with the 18 to 24, which fitted me nicely and still had plenty of adjustability for larger sizes. The fabric floated over my body nicely and made me feel confident. I normally don't like babydoll with a slit down the front as I generally don't like how my belly appears, but with this piece, I felt ok about myself and due to it fitting so well I actually thought I even looked good. The G-string was more comfortable than I expected and covered over my tummy roll nicely.
In the bedroom
When I wore this for my partner I left it on during sex, only taking off the G-string after extended foreplay. Their hands were able to trail underneath the fabric for cheeky little squeezes. When I was on top of them, the fabric parting didn't separate much as I moved due to how the material fell on my body. This meant it kept my belly covered until I was ready to unclip the center claps and allow my lover full access to my breasts, which they became very excited about. They confessed that they really like the piece on me and that not only did it suit me, but it looked very hot on me too. It will be worn again in the future for when we have sex.
I may even start wearing it during the (hopefully) hot summer as I write in my office as it just makes me feel that good about myself. The floaty fabric doesn't overheat you as it sensually drapes over the body, which is a bonus.
Cleaning
The set should be handwashed like most lingerie. I found due to the fabric used it doesn't take long to dry.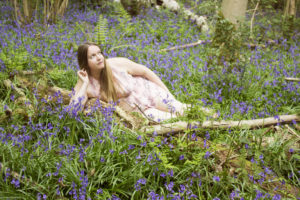 Overall, it's a really pretty lingerie set and I'm not usually someone who enjoys wearing pink, but this set suited me more than I expected. Its fit made me feel confident and the fabric also used was comfortable. It also was a winner in the bedroom.
The Lovehoney Lingerie was sent to me in exchange for a honest review.