Review: Lovehoney Jewelled Heart Metal Medium Butt Plug 3 Inch
Sex Toy Review of the Lovehoney Jewelled Heart Metal Medium Butt Plug 3 Inch
The Lovehoney Jewelled Heart Metal Medium Butt Plug 3 Inch is a steel chrome plated butt plug with a heart-shaped base. The butt plug felt like the heaviest atomic mass to ever fall into my hands when removing from the box. Its weight really makes you think the anal toy should be much larger than it actually is. When opening the product, I had a spasm in my gut as I just imagined the butt plug would just fall out as soon as it was inserted due to its weight. Keep reading to find out if I was able to keep hold of this butt plug or was too heavy for my body to handle.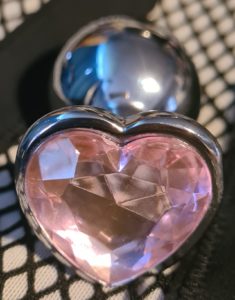 The Jewelled Heart Metal Medium Butt Plug has 3 inches of insertable length and has a maximum insertable circumference of 4.5 inches. The base is made in the shape of a heart and has a pink gem embedded into it. The anal toy is made from chrome-plated steel and weighs a whopping 239 grams.
To insert the medium version of this butt plug, I highly recommend enjoying some anal foreplay with added lubricant before you pop the plug inside your body. As the sex toy is made from chrome-plated metal, you can use silicone lubricant or even oil-based lubricant if you find that more comfortable to use when inserting butt toys.
Tip: Having trouble inserting your toy or even your finger, give your butt muscles a few rhythmic clenches to try and help relax the surrounding muscles including the pelvic floor and sphincter muscles.
Using my favourite anal lubricant, I glided a finger in and out of my anal canal and warmed my body up in preparation for the butt plug. Once my body was ready, I was able to pop the butt plug into my body fairly easily.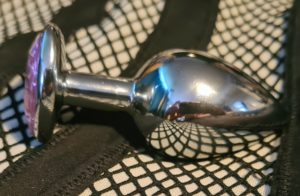 The staying put test!
Did it stay in when walking around? Yes! And I could feel the weight of the metal move from side to side as my hips wiggled during walking. It didn't fall out and felt solidly in place.
Did it stay in during sex? Yes! I tried the butt plug whilst in various sexual positions and even with hard and deep vaginal penetration the butt plug stayed put. As my lover thrusted, I was able to feel the butt plug wiggle and add to the sensations.
Did it stay in as I orgasmed? Yes! The butt plug didn't pop out during orgasmic contractions, it also didn't get sucked inside my body. It simply stayed where it was meant to throughout, even when using high powered vibrators.
Did it feel good when inside? The butt plug felt very comfortable for internal wear, however, the flared base of the butt plug wasn't very comfortable when compared to a round or t-base flared base. The pink hear may look cute but not only did I find it uncomfortable, but it also made removing the butt plug a lot harder as there was less surface area to grip onto.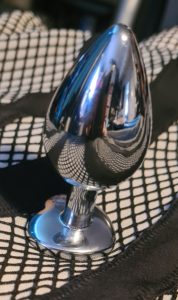 Cleaning the butt plug is very easy as it can be washed with warm water and your standard antibacterial wash.
Overall, the Lovehoney Jewelled Heart Metal Medium Butt Plug 3 Inch is a nice butt plug that can be enjoyed alongside other forms of sexual and erotic play. The base of the butt plug doesn't really make me want to wear the sex toy for a long time, but even with how heavy the metal is, I could get away wearing the plug for extended periods without it dropping out. There are two size options for this butt plug and some may find the smaller size more comfortable.
Thank you to Lovehoney for sending me this Butt Plug for my review.