Review: Lovehoney Ignite 20 Function Vibrating Rabbit Love Ring
Sex Toy Review of the Lovehoney Ignite 20 Function Vibrating Rabbit Love Ring
The Lovehoney Ignite 20 Function Vibrating Rabbit Love Ring is a rechargeable silicone cock ring with vibrating rabbit ears designed for clitoral stimulation during penile and vaginal sex.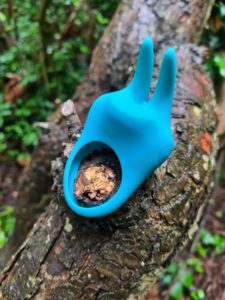 Since reaching my 30s I've been finding more and more men of similar age wanting to try cock rings when hooking up, so I've started planning to try and review more of these sex toys to help keep mixing things up in bed when using them. No one cock ring is the same, and this one buzzes and has a raised nub to add extra massaging sensations to the vulva as your partner thrusts in and out of your body.
There is one thing that's different from cock rings when comparing to cock rings from 10 years ago, they're bigger. I think when I was exploring with guys in my 20s, it wasn't that they were embarrassed about using cock rings but more that they were far too tight to be comfortable. This Lovehoney Ignite Ring seems to be a good fit on different penis sizes, offering comfort whilst still gripping onto the penis.
The Ignite 20 Function cock ring is made of seamless and velvety smooth silicone. The ring stretched nicely over various sizes of penises and stays in place when worn. There are two rabbit ears that flicker when the vibrator is switched on. Just below the ears is a slightly raised bump that can massage the vulva during penetration. It is rechargeable and waterproof. There are 20 different vibrating settings of various patterns and intensities. These vibration settings are controlled by a single push button meaning you have to scan through all of them until you get to the one your body enjoys. To turn the cock ring off, simply hold down the push button for a few seconds and it will turn off.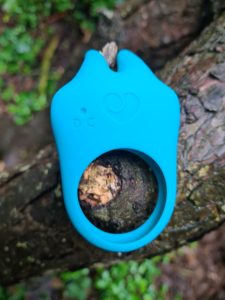 Slipping the ring over my lovers' hard cock with a bit of lubricant, was easy and it sat nicely in place ready for me to mount him. Teasing him for a while I stroked his cock and then started playing with the vibrations, when the vibrations were on, at times I would push the vibrating ears firmer down his shaft so the vibrations could be felt on his pubic area. The more I pushed the cock ring down, the more he tried to thrust towards me. After teasing for a while, I stopped the vibrator and looked into his eyes, hitching one of my legs over his body. One of his hands slipped between my legs and then between my lips where he found me extremely wet. Once my lips were parted I slipped over his penis and as I slid down, I could feel the cock rings ears nestle over my clitoris. The rabbit ears hover reached slightly, but as I thrusted and grinded on my lover, I enjoy how they would occasionally flick over my sweet spots particularly when the vibrations were on. The best bit about the cock ring was that it has a raised and slightly firm numb that massages nicely when you hump and grind, it reminded me slightly of dry humping but more intense and with penetration of course.
Remember cock rings aren't just for partnered sex but can be enjoyed during solo play. Vibrating ones can bring new and exciting sensations helping you change up your self-pleasure routine.
Cleaning the cock ring is easy as it is waterproof. Simply wash it in warm water with your standard antibacterial soap, and then allow it to dry.
Overall, the Lovehoney Ignite 20 Function Vibrating Rabbit Love Ring is a good cock ring that can be used during penetrate sex. The only issue I've found with this rabbit-style cock ring is that the ears are a little too long for my liking. The silicone and quality are great and it's brilliant in regards to fit for different penis sizes, but those ears need to be cut short a tiny bit to hit my clit.
Thank yuo to Lovehoney for providing me with this sex toy for my review.