Review: Lovehoney Gyr8tor Extra Powerful Rechargeable Gyrating Vibrator
Sex Toy Review of the Lovehoney Gyr8tor Sex Toy Vibrator
The Lovehoney Gyr8tor Extra Powerful Rechargeable Gyrating Vibrator, is a very different type of sex toy that hasn't been around really before. This sex toy combines a vibrator with a gyrator that makes the device literally come alive in your hands as it wiggles around. I have come across gyrating tech once before over the last ten years in the sex toy world, and it was aimed at external stimulation. It was a big disappointment, so disappointing that I binned the sex toy. I don't think I reviewed it, even though the company had packaged it up with wine and candles too – now that I would be grateful if more companies would do. However, the Lovehoney's Gyr8tor was different, for a start it is designed with the intention of penetration. I had hope, and I was willing to explore.
The Lovehoney Gyr8tor is a silicone sex toy with a long shaft and round base. Its length is 5.5 inches in length and its circumference is 4.5 inches. The main body of the sex toy is pretty film, so if you're after a flexible and softer insertable you may want to look at a different sex toy. On the device there are three buttons. The centre button turns on and off the gyrating function, and the two arrow buttons control the vibration options. There are two gyrating options and three vibration settings, which you can mix and max, giving you a total of 12 different options. To turn the gyrating option off, simply hold the middle button for a few seconds. To turn the vibrations on and off, hold the "Up" arrow button for a few seconds. The buttons are pretty small, but I personally didn't find them difficult to press, if anything turning the two options on and off separately was more confusing post climax due to how they are positioned.
To take full advantage of this sex toy, I found it worked best by lightly gripping the base, to allow the sex toy to have more free movement and more just cueing it to the spot you desire to pleasure the most.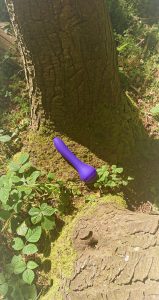 When you first turn the Gyr8tor on you have to wait a moment as the motors power-up. Once the motors are in full swing, it can look a little worrying as it rotates around quickly. It almost appears as one of those people you take home for a one-night stand and they really have never played with the workings of the human body at all, no sex ed, and only extremely terrible porn as a reference guide to pleasuring vaginas. There was a part of me expecting this sex toy to be like that person once I bucked up the courage to slip it inside my body. I had almost made up my mind that this was going to be like one of those terrible drunken one-night stands leading to the worst sexual play in history.
I can tell you now that once this sex toy slipped between the flaps of my labia and my vagina had become comfortable with the shaft, it really surprised me when I revved it up and it started to wriggle inside of my body. Massaging the walls as it rotated around and around, vibrating my vagina. I manipulated it slightly by tilting the shaft towards my G-spot and it produced continuous come-hither strokes that only a master at G-spot play could achieve. This sex toy had obvious won a gold medal at the squirting classes, as it made my body gush with juices as I squirmed throughout an amazingly powerful climax.
Could this sex toy learn more? Yes, it could develop hands to grope my breasts, and lips to caress my neck, as that is honestly one of the only ways that making that experience better could be achieved.
Sure, there could be more improvements, quieter, stronger, ultimate power! That kind of thing goes hand-in-hand with tech you like, you lust over more, you want it to be able to push you past the level of satisfaction that it had achieved previously. As humans, we're always on the quest for more pleasure, and I think with this sex tech there will be more in the future.
Can this apex of desire be used in other formations? Well yes, yes it can.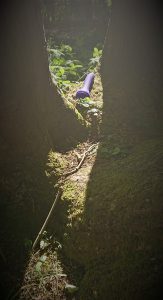 The Gyr8tor's tip can be used for clitoral stimulation. The more pressure you apply onto the clitoris with the tip, the smaller the circular massage motion is. Combined with the vibrations it can work fairly ok as a clitoral stimulator, however, I found the pressure needed for the motion I desired a little harsh. Keeping the same principle in mind for premium stimulation can work surprisingly well and my submissive enjoyed the pressure and small circular motions on the area. Those smaller, intense pressure stimulation motions can be really tiring to perform manually with fingers, but the Gyr8tor makes it effortless.
It's anal safe, but you will need a hell of a lot of lubricant for this one. It's not all about size when it comes to lube, but the motions you use, the material, and the firmness of the shaft. I found the Gyr8tors shaft to be a little too firm for lots of anal play, and personally, I prefer a thrusting motion rather than circular when it comes to arse play. Using the toy on my submissive for prostate milking though worked a treat. I was able to keep up the exact motion for ages. We've all been there in the throes of passion where the dildos, finger, or whatever you've slipped up inside yourself or another's body and you just randomly change motion due to hand cramp, then bam, the path to climax is completely lost. Well with the Gyr8tor I was able to keep the toy in the desired sweet spot for ages, leading to my submissive begging for no more pleasure whilst lusting for more.
The base of the Gyrator can be used as a way to do external massage with a wider surface. Simply lightly grip the long shaft and allow the base to stroke over your skin or your lovers body.
Cleaning the Gyr8tor is easy as the sex toy is waterproof. Simply use your standard antibacterial wash and water and allow to dry.
Contradiction for this sex toy might be a tight and overly gripping pelvic floor, where the muscles won't let the sex toy move more freely internally – if you suspect you have a pelvic floor issue, contact a woman's healthy PT or pelvic floor exercise specialist.
Overall, I like the Gyr8tor and how it takes away some of the efforts of masturbating. Sure, there are times I get more turned on by thrusting a sex toy in and out of my body, but there are also moments when really, I'm too tired for all that effort and want a decent orgasm. It's like the luxury of having take-out, all the luxury and pleasure without having to cook for yourself. It's a good choice for those interested in investing in a sex machine but can't afford one, too.
I was sent this sex toy by Lovehoney for my honest opinion and review.