Review: Lovehoney Flexy Beast
Sex Toy Review of the Lovehoney 10 Function Rechargeable Wearable Couple's Vibrator Flexy Beast
The Lovehoney Flexy Beast / Lovehoney 10 Function Rechargeable Wearable Couple's Vibrator is a wearable couple's vibrator that can bend around body parts. It has two flexible prongs that can loop, clip, and twist into imaginative ways to allow you to mix-up your sexual adventures. Whilst it is advertised as a sex toy to share, it can be used during solo play as well. It is not limited to just penile to vaginal sex too, unlike other couple's vibrators already out there, the Flexy Beast has many more possibilities for binary and non-binary genders and relationships.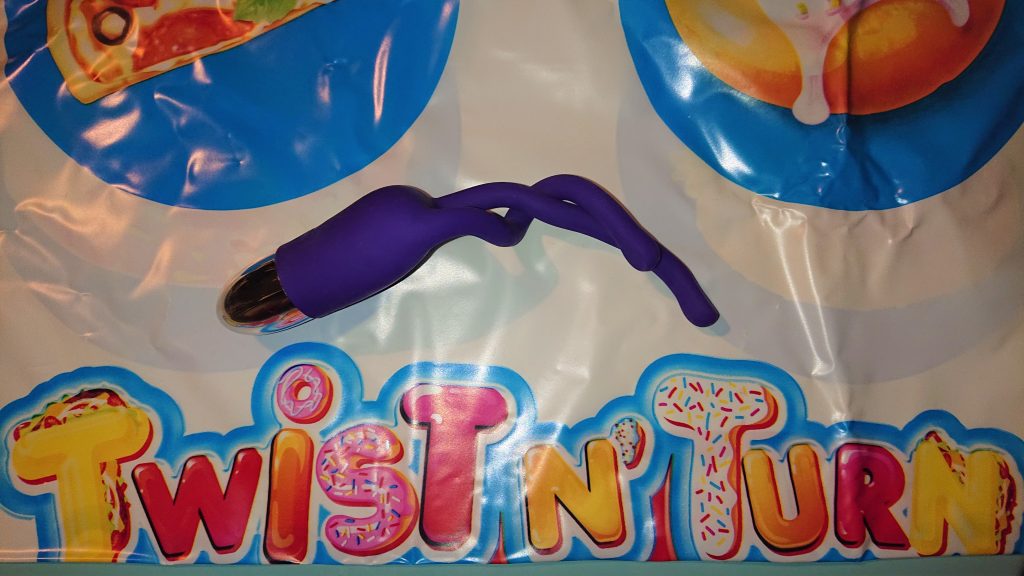 Flexible sex toys are some of the more exciting sex toys I get sent. They generally let me down when attempting to use them in their marketed ways, but I often am able to get creative, and find other ways to use and enjoy them. With the Flexy Beast, it is advertised differently, and has more options. Unlike some that state they will bend perfectly to your body for ultimate G-spot play, the Flexy Beast doesn't offer these closed-ended promises.
The Flexy Beast is made from silicone with two flexible prongs / arms. The main body of the vibrator is a triangle and firm, its tip has a silver plastic top. It looks rather alien like and in its dormant state measures, 6.5 inches in length with a total of 4 inches circumference. The sex toy is USB rechargeable and waterproof. It has a single button to turn it on and off, there are 3 speeds and 7 patterns you can scan through with this button, too.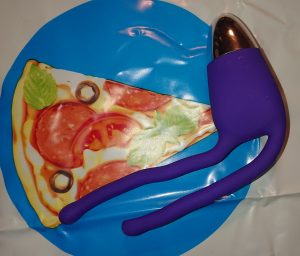 Here's some of the methods I have experimented with this sex toy:
Oral Sex / Cunnilingus: The main vibrators body can be inserted into the vagina, while the prongs are used to spread the labia and allow easier access to the clitoris.
Does it work? The sex toy was able to be inserted and prongs rest on the vulva, but I found it did not keep the labia at bay. I do have long labia, and it did offer extra stimulation during oral sex, but it also liked to move around at times and got in the way of my lovers tongue at times. Sadly, you can't change the vibrations when using it like this.
Wearable Panty Vibe: Wearing with the main body inserted vaginally and prongs against the vulva between the labia and resting on the clitoris.
Does it work? Actually, yes, it's probably the best panty vibrator I've used, as it stays in place. Added bonuses the vibrations in the prongs are pretty good, and internal vibrations are a nice touch. The vibrator is whisper quite when used like this, unlike some panty vibrators, meaning you could get away wearing this one in pubic if desired.
Wrapped on a Penis: Ok yeah, I just made that sound like a burrito, are you hungry now? Anyway, the sex toy makes out that it can be used like a wearable cockring.
Does it work? It can wrap around a penis or even a sex toy, however it has a habit of moving, particularly when vibrations are on too. When using it like a cockring it can't be used to restrict blood flow. It can add a little extra to masturbation as it gives you the option to add handsfree vibrations.
G-spot Play? Inserting the main body of the sex toy and bending the prongs to angel towards the G-spot.
Does it work? Personally, not for my G-spot. It worked nicely as a vaginal sex toy, but I found the shape and size of the vibrators main body was not right to reach the G-spot. If the shape of the body was addressed, the arms are stable enough to be bent and used without losing shape easily when thrusting, so maybe in the future the concept will evolve more for G-spot stimulation. Many flexiable sex toys lose their shape when inserted and thrusted with, meaning once you have found your pleasure spot it can go off radar easily at the height of the moment, this sex toy is a lot more stable.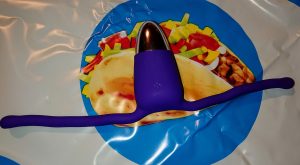 Anal: Widening the prongs to make a flared base and inserting the main vibrating part into your anus.
Does it work? It doesn't really work like a butt plug, but can be used safely when the prongs are widened for anal foreplay. Personally, I feel butt plugs designed for anal play are better at this. The flexible little toy also has a hard-plastic tip which can be uncomfortable for some. The separation between the silver plastic and silicone can also be a pain to clean.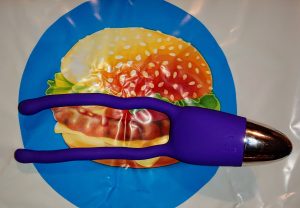 Clitoral: Prongs vs main body, you can pick and choose here and even flip it around mid-masturbation to bring a new level of excitement.
Does it work? Yes. I enjoy using either the main body vibrator or prongs to stimulate my clitoris. When using the prongs as a handle it can make it easier to rub my clitoris with the main vibrator as I can bend to perfectly towards the area I enjoy most. The prongs can feel a bit buzzier when compared to using the broader main body of the sex toy.
Tickling and Teasing Other Areas: The prongs can tickle and tease other areas, or you can use the main body of the vibrator during a massage to help arouse yourself or a lover.
Does it work? Yes, it can be a nice gentle way to wake-up the body.
Nipple Clamps? Using the prongs as nipple clamps?
Does it work? Want to add a little bit of BDSM can be exciting, the prongs can be pinched together to has a touch of S and M, but they don't seem capable of clipping and staying on nipples.
Finger Vibe: Wrap the prongs around a finger or two and use either prongs or main body to stimulate yourself.
Does it work? If you have the dexterity to wrap them around, they can add some stability to holding the sex toy during play. You can wrap them so you can still use the prongs as stimulation, or so the main body is the bit you play with.
Inserted Vaginally Alongside Penis? Basically, either part inserted during penile and vaginal sex.
Does it work? If the main body of the vibrator is inserted, then for me, it was a no (but I did try for sex toy science). The prongs can be hooked in the vagina whilst being penetrated, but I found they moved around a bit and got uncomfortable.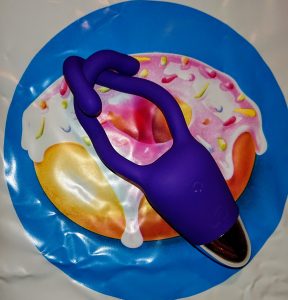 Cleaning is fairly easy with antibacterial wash and water as it is waterproof. Made sure you pay extra attention to the indentations in the silicone for the CE mark, and the gap where the silver plastic and the silicone join.
The issue with bending the sex toy, is that, once bent in and out of a shape you can never reshape it to be as it was before fully.
Final Thoughts? I'm umming and ahing about this sex toy. It's not that I don't like it, it's just I feel that it doesn't have as many possibilities as it claims. There were moments of gold and there were things I'd never do again with it, and when it touched me and held me in certain ways there were moments, I wish it wouldn't come back to me.
As a couple's vibrator it did not lead to nights of endless pleasure. As a solo sex toy, it was stronger, but I'm not sure I'll waste much time on using it again.