Review: Lovehoney Deluxe Rechargeable Mini Massage Wand Vibrator
Sex Toy Review of the Lovehoney Deluxe Rechargeable Mini Glitter Wand Vibrator
The Lovehoney Deluxe Rechargeable Mini Glitter Massage Wand Vibrator, is a small rechargeable wand massager aimed at external stimulation and pleasure. Wand massager sex toys are one of the most popular sex toys to purchase, but larger wands can be intimidating for first time sex toy users, so smaller wand sex toys are a good option for those who are curious yet a little uncertain.
The issue with downgrading the size is that some elements of power are lost when compared with a larger main powered wand vibrator. However, this doesn't mean that these small travel friendly sex toys are weaker than the average vibrator, on the contrary, they still pack a hefty punch when compared with let's say a bullet sex toy. Offering 10 intensity levels and 7 different vibration patterns you are able to go from mild soft buzzes, to intense buzzy vibrations, in a click of the button. Having the availability to adjust the vibrations from mild to intense means it's a good option for those looking for a first-time external stimulator. The rounded head gives less direct stimulations to the clitoris or other erogenous areas which some people may find too harsh when first experimenting. With a flexible neck before the vibrating head you can simply give this to a lover without the worry they will push too deeply against your sweet spots. There's another bonus to this mini wand, and that it's lightweight compared to other strong and powerful vibrators. The general rule of thumb for powerful sex tech is that they are often very hefty and bulky, but this one weights hardly anything meaning my hands don't tire quickly from use.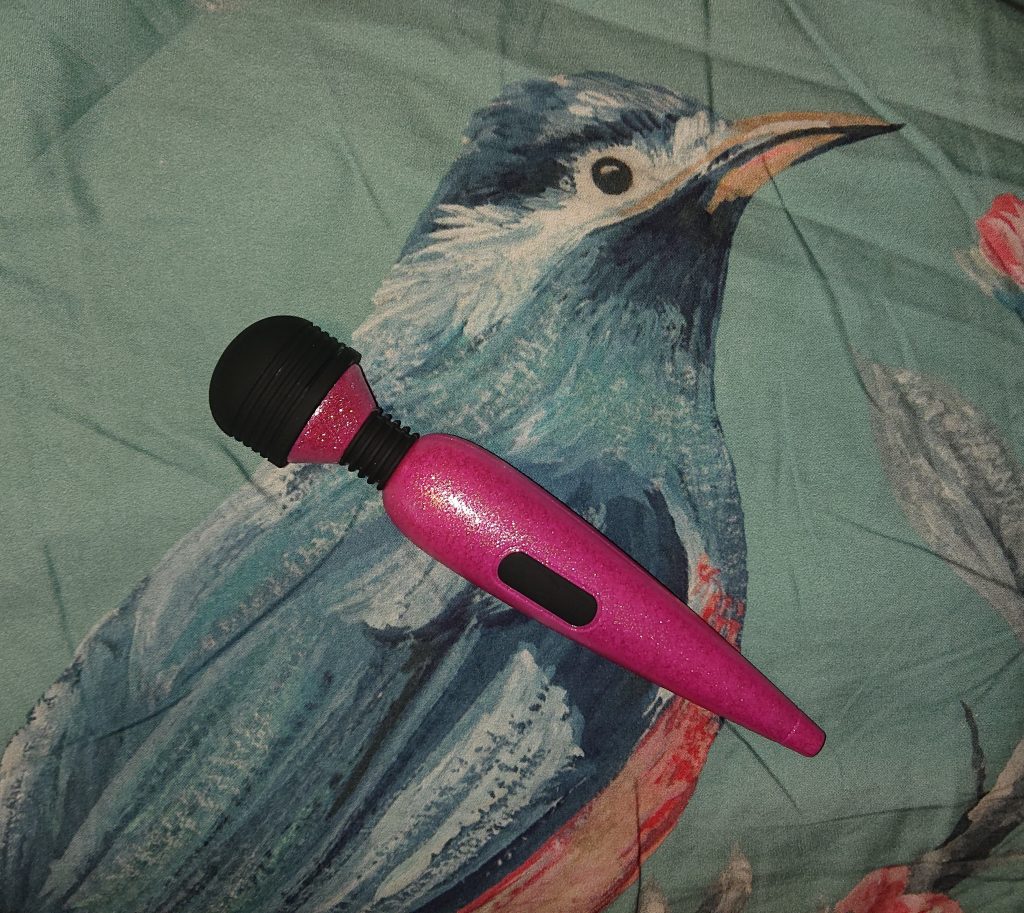 The vibrator is fairly noisy but that's often expected with the more powerful sex toys. I feel it would be tricky to use it discreetly though.
The silicone head gives you the opportunity to explore smooth surface massage over your body, or you can explore the textured groves that ring around the sides to change sensations. I found I needed to apply a good level of lubrication to my body when using this sex toys to really appreciate the intense buzzy vibrations comfortably. The silicone sleeve on the sex toys head can be popped off too, offering you the option of a smooth plastic surface to try.
The one I received to review is coated in pink glitter. At first, I felt it did make the product look a little cheap, but I learned to appreciate it as the texture meant it slipped around less in my lubricated hands. There is however more than one style of this sex toy to choose from, with plain black to iridescent metallic rainbow.
There are three buttons on the sex toy to control the intensity and vibration patterns. The control panel is very easy to use allowing you to be able to press and find the buttons without too much difficulty. One bonus about this little wands buttons that I like is that they are flush against the vibrators body meaning that I don't accidentally press them mid-flow. So many wands vibrators have controls that can get knocked when you are just reaching climax.
Wand Vibrator Stats: total length 7.5 inches, wand head 4.5 inches in circumference. Rechargeable with 60 minutes of run time at least. Splash proof.
As the mini wand massager is only splash-proof, I recommend using a damp cloth and your standard antibacterial wash to clean it. The grooves in the silicone head can be a little annoying to clean, and the neck can catch dirt, so having a spare toothbrush to clean it can help. If you're fortunate to own one, you could pop off the silicone head and place it in the dishwasher into the cutlery basket to give it a deep clean, or simply soak the silicone head by itself in sterilising solution. I really do recommend popping the silicone head off every so often as lubrication can get trapped under it.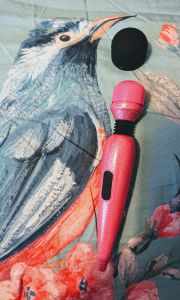 When using the Lovehoney Deluxe Rechargeable Mini Glitter Massage Wand Vibrator, I started using the head of the sex toy to massage the labia majora, slowly wobbling the head into the plump flesh. As my labia swelled, I parted the fold of skin and massaged slowly towards my clitoris. Applying more lubrication, I tilted the wand massagers head on the most pleasurable part of my clitoris and proceeded to ramp up the power. On occasion, the buzzy sensations made my nerves a little numb when placed over one area for too long, but moving the vibrator slightly helped wake up the nerves again leading to pleasurable stimulation. The Wand Vibrator wasn't as intense as a mains-powered version, but I did reach a pleasurable orgasm with it. I really enjoyed using this sex toy to explore massaging different part of my vulva as many external devices are often very pin-point and direct, or cover a wider area at once, this I was able to be more selective on where I teased but still covered a nice amount of area.
The wand massager is so light it is lovely during foreplay where you're able to glide and flick the wand over body parts and erogenous zones carefree, allowing you true freedom to tease yourself or a lover.
Overall, the Lovehoney Deluxe Rechargeable Mini Glitter Massage Wand Vibrator, is a nice little vibrator. I wouldn't compare it to a larger mains-powered wand massager, but it is comparable to powerful bullet vibes that offer strong buzzy vibrations. It's brilliant if you want a strong vibrator that's lightweight and easy to hold as some of those smaller powerful vibrators can be troublesome to keep a grip on.