Review: Lovehoney 12 Days of Play Sex Toy Advent Calendar for Women
Sex Toy Review of the Lovehoney 12 Days of Play Sex Toy Advent Calendar for Women
The Lovehoney 12 Days of Play Sex Toy Advent Calendar for Women is a seasonal gift box filled with 12 items worth over £200 for the price of just £90. The kit contains a selection of luxury items intended for those with vulvas, but many of the items can be used and enjoyed by anyone.
Worth noting that this review will have spoilers as I go through the selection of gifts behind each numbered door.
Rechargeable Bullet Vibrator
Yes, that's right! A rechargeable bullet! When I opened the door and found a bullet vibrator, part of me first thought it was a standard battery-powered bullet sex toy. I was surprised to find a USB cable tucked behind it, meaning that fiddly little batteries are a thing of the past. The bullet vibrator is fairly silent and has a selection of patterns and intensities. It has a good weight to it, meaning I can hold it comfortably as I tease my body or a lover's body during foreplay. It's a welcome addition to my sex toy collection and will get used often.
You can buy it separately here too, Lovehoney Glow Up Rechargeable Bullet Vibrator.
Orgasm Balm
A menthol-infused balm to help intensify orgasms. The balm is great for putting on the clitoris or rubbing into other erogenous zones. It works well with the bullet vibrator, but can also be used for masturbation that's all hands-on-focused. I like the balm from time to time, and you don't need to use too much at once.
Lovehoney stock one separately too, if the advent calendar doesn't take your fancy. Orgasm Balm.
Metal Jeweled Butt Plug
I remember the days when metal butt plugs were the gem-of-gem of sex toys and cost loads. They're now more affordable but the quality is still excellent, so it was nice to find one of these in the advent calendar. The weight and shape felt comfortable during use. I also liked how the kit came with an anal sex toy, as anal sex can be enjoyed by anyone regardless of sexuality and gender if they want to.
Lovehoney Jewelled Metal Butt Plug 2.5 Inch
Satin Blindfold
You may be thinking why is there a blindfold in a solo kit? Well, the kit can be used with others if you want to, but also blindfolding yourself whilst teasing your body with a bullet vibe can heighten sensations. The blindfold is comfortable to wear and fits nicely.
Lovehoney Oh! Satin Blindfold
Kegel Balls
These are solid kegel balls, so they don't jiggle like others. You can remove the balls from the silicone sling and insert into the vagina and roll them around internally with your fingers to provide different stimulation and pressure. They can be worn with the silicone sling, and the weight is a nice weight for the pelvic floor to hold in position as you enjoy the external clitoral play. Or, pop the butt plug in anally from the calendar and enjoy the kegel balls vaginally at the same time. The quality of the kegel balls felt really good, and they were extremely comfortable to wear vaginally.
Micro Battery Wand
You'll need two AAA batteries for this one. It's a classic sex toy but handbag size. The Micro Wand is fairly powerful and I like the wiggle of the head over areas of the body as you massage. It's a little noisy, but being battery powered it means you can take it on your travels even when a USB or plug socket isn't available. I like using it best for teasing the body and waking it up for more intense stimulation.
Lovehoney 3-Speed Micro Magic Wand Vibrator
Anal Beads
Again, very pleased to see another butt sex toy. Anal beads whilst designed for the butt can be used vaginally if you want to feel the ripples of the beads. Just remember to never put toys straight from anal play into vaginal play without cleaning them in-between. The anal beads have a chamber in the base which the rechargeable bullet can be slotted into, turning them into a vibrating sex toy. I found these anal beads to be comfortable to wear, as well as very pleasurable to insert.
Finger Vibe Sleeve
The finger vibrator sleeve works with the rechargeable bullet. It fits nicely on my slender fingers and has stretch to fit wider digits if needed. What I like about the sleeve is that it means I can still have the bullet in my hands whilst juggling more sex toys during play. It's nice not having to put down the bullet every time I want to use another item from the calendar at the same time.
Lovehoney Excite 10 Function Finger Vibrator
Silicone Dildo
The silicone dildo has a hollow base that can fit the bullet vibrator in and turn it into a vibrator. The size is just right for beginner anal play, particularly after using the anal beads and butt plug provided in the calendar. I found it a little short for vaginal play, but I prefer deeper penetration. The flared base works well with a strap-on too.
Nipple Clamps
These nipple clamps are great for providing tension to the nipples without going into extreme pain levels. The silicone grips pinch the skin gently, and the longer they are worn the more sensitive and erect your nipples become. I have extremely sensitive nipples and was able to handle these as well as enjoy the sensations they produced.
Lovehoney Tease Me Adjustable Nipple Clamps
Sexy Tips Cards
Basically, sex tip cards. I'm going to leave these as a surprise for you to read and judge.
Womanizer Starlet 2
It's the main gift in the sex toy advent calendar and it's worth £69.99 by itself. It's worth it and is an excellent sex toy. Even when I have orgasm difficulties, the Womanizer pulsing suction sensations always work for me. The Starlet 2 is lighter than some of the other ones in the range and more compact. It's still just as powerful as the others and I'm happy it's in the gift set.
Womanizer Starlet 2 Rechargeable Clitoral Suction Stimulator
If I could add anything, it would be, Lube! Due to the Starlet and selection of anal sex toys, I feel the advent calendar could've done with lubricant rather than orgasm balm. Remember to grab some lube before check-out if investing in this luxury treat.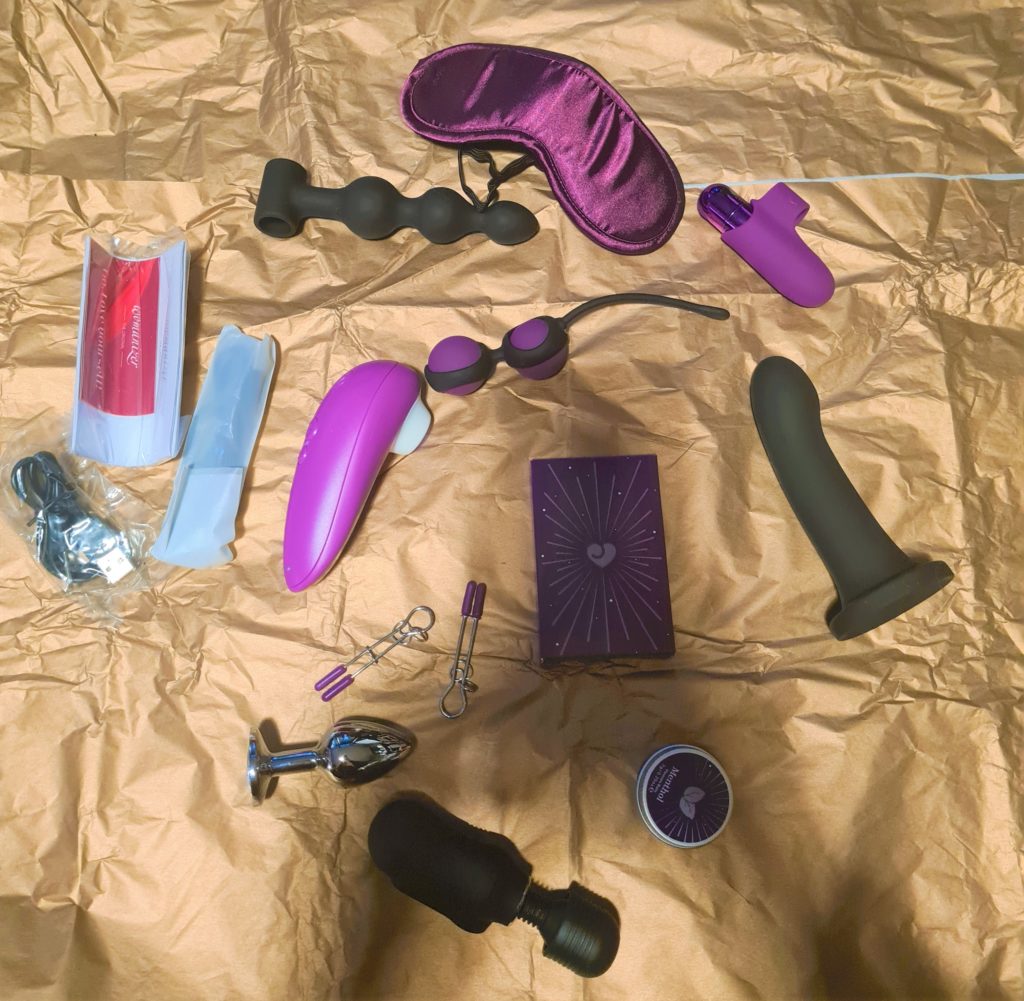 Overall, I'm really impressed with the sex toy advent calendar. Each year these just seem to get better and better, and this one being a 12 days advent calendar doesn't have to be used exclusively for Christmas. Value-wise it's excellent, and everything in the kit will be used.