Review: Loopy Bounce Sex Machine
Sex Toy Review of the Loopy Bounce
The Loopy Bounce manufactured by Lust & Joy is an inflatable ride-on sex toy with a silicone dildo. It is designed to be straddled, and whilst you sit on the sex toy, you can bounce up and down on it and the dildo penetrates your body in the process. It claims it is a sex machine, as it helps reduce the effort needed to bounce on a standalone suction-cup dildo, but personally I feel sex machines need to be more mechanical. It is a Swiss Design, which makes me think that someone has been spending too much time bouncing on their swiss ball / gym ball and then came up with this concept.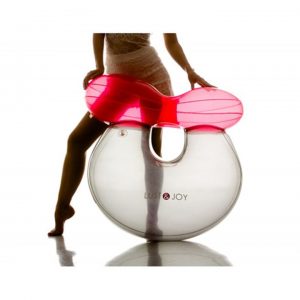 The packaging arrives with the Loopy Bounce inflatable device, a long silicone dildo, and a pump. You can get an electric pump to inflate it, which then only a takes a few minutes to erect the sex toy.
The Loopy Bounce is made from phthalate free PVC. It can withstand up to a maximum user weight of 100kgs. There are two areas to inflate, the base, and the seated area which also has a hole for the dildo to poke through.
The Lust and Joy Wavee dildo provided in 29cm in length and 4.5cm circumference maximum. It is made from extremely smooth silicone and has a flexible shaft. The tip is tapered nicely to make penetration easily. There is a flared base which also acts as a suction base, when putting this dildo on the Loopy Bounce you may want to apply a little waterbased lubricant to the suction to help it stick to the PVC.
After my son had snuck into my room and then informed me that I had a new swimming pool ring and we need to take to the beach next time we go, I was finally able to test it after chasing him for it and finally waiting for him to go to bed.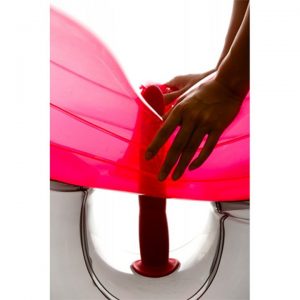 Lowering down on the sex machine was a bit worrying due to its instability, I found as I did, it rocked, and making sure the dildo was positioned right was tricky. I had over inflated the Loopy Bounce and needed to let some air out and remount it. This is the goldilocks bed trails, too inflated there's no bounce, too little inflation you're bruising your cervix, and that just right moment just still doesn't hit the spot so you need to explore more. Once I had gotten the inflation levels to the point where penetration was possible, I started to slowly move on it, soft gentle bounces, but the dildo just didn't feel as if it was suited for my body at the angle it was place. Tilting my pelvis slightly to make things more comfortable led to a sudden rock. I came crashing down and for a moment my sight was similar to a documentary camera rocketing down a mountain due to an avalanche. Noise erupted all around and the echoing of china bounced through the room. I had experienced one of the deadliest accidents a sex toy reviewer can encounter, one where a sex toy turns against its owner in a plot to destroy and injury them. But it was worse than just a bruised elbow and whiplash, two meters away it had reached my Royal Albert and destroyed my dinner plates.
I still decided to get back on the saddle and try again. I attempted the device with my legs bending towards the back of my body as well as with them bent in front of my body, but no matter which way I tried using the device it didn't have a controllable bounce. This didn't lead to falling off always, as this time I had made sure I had a surface to hold onto in front of my body, but it didn't lead to pleasurable penetration in any of the testing sessions I attempted.
Is it like a spacehopper transformed into a sex machine? Well no, not close, I would rather stick a suction-cup toy to a spacehooper and ride that, it feels safer and that it would offer more control.
Another downfall in the loopy bounce is that if you work-up a sweat, then you have that sticking to the PVC thing going on that can cause discomfort. This is made worse by it having sharp seams, which I'm unsure why it has these, as most inflatable objects I have encountered now try and smooth these out.
The Loopy Bounce is Swiss Patent Pending, please, I beg you, Lust and Joy, there are so many better sex toys you could be spending money on to Patent, save yourself and make wiser investments.
The one thing I did like is the dildo. This dildo is an awesome length for deep anal play and can be used in a strap-on.
Putting the inflatable away takes a bit of time to deflate. It is not easy to store like the box claims, inflatable objects never refit into tight boxes like this device arrived in.
Overall, I'm not a fan of the Loopy Bounce by Lust and Joy. It looped really fun, but the ergonomics of the sex machine just don't work well. I've tried inflatable seesaws when younger and they've worked better, and been safer, basically the base of this device is just too curved allowing too much motion. I asked a submissive to mount it in the hope it was just my body shape, I am a bit top heavy right now and thought maybe that could've thrown off the balance, but alas no it still had no control. This isn't a device I'd recommend, the dildo I would happily use by itself, but not the inflatable device. I am truly devastated about my dinner plates, and these will probably take a year or two of ebay trawling to replace, but I guess it's one of those sacrifices a sex toy tester has to make at times.
If you do still decide to purchase this sex toy, I suggest you have sometime like a ballet bar or surface in front of you to hold onto and help stabilise yourself.
I was sent this sex toy for free from Bondara in exchange of an honest review.