Review: Jimmy Jane EVOKE DU-O
Sex Toy Review for the Jimmy Jane EVOKE DU-O
The EVOKE DU-O is a massage wand vibrator with two functional ends. One end of the massager can be used for internal stimulation and the opposite end has a spinning head that vibrates. The spinning massage head looks like it's been based on a pizza or pastry cutter and is aimed to offer firmer pressure over the body when used without too much effort from the user. Rotating and spinning sex toys can make me wince as I've had many catch and tug at pubic hair and labia, thankfully with the EVOKE DU-O you have control over how it spins rather than a motor, so I was willing to chance the possibilities with this sex toys as I had more control over it. Rather than when letting loose a robotic vibrator's out-of-control motors spinning uncontrollably over and around my genitals, I felt I could stop the painfully unfortunate wrangles with this toy.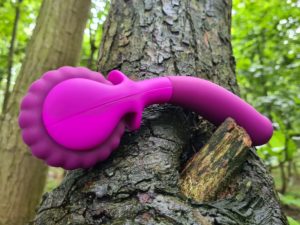 The EVOKE DU-O is a silicone massage sex toy that has dual stimulation options. One end is insertable and offers 11.5 cm length to play with. This insertable shaft is curved perfectly for the G-spot, and it even has a little flick at the end that can be used nicely on the clitoris when preparing your body for insertion. The opposite end has a bumpy wheel that spins on an axel as you glide it over the body. Both ends have vibrating motors that can be controlled separately by two pushbuttons. It is rechargeable and waterproof.
External:
When using the massager externally I used it with one of my clients during an erotic massage. With oil glistening both our bodies, I rolled the vibrating spinning head over their body and even up and down the shaft of their penis. The spinning head moved in a controlled manner meaning I was able to slightly edge my client towards orgasm with the rolling pressure of the vibrator. Using the spinning head over my vulva wasn't as intense as I was hoping, but the spinning head did not catch or cause discomfort to my labia or pubic hair – win! As you have control over how fast the spinning head moves, I found that my client who was new to sex toys was able to comfortably use it even though they were nervous.
The EVOKE DU-O still spins when you apply a lot of pressure onto its head, which made it great for not only varying erotic play but I was able to playout the tense knots in my shoulders.
Clitoral:
For clitoral stimulation, I did find the spinning head ideal. The opposite end of the sex toy has a slight flick to its shaft which is perfect for nestling over the clitoris. The vibrations are pretty powerful, however, when this end is turned on, it can seem a little noisy when not inserted.
Internal:
The insertable end of the EVOKE DU-O is suitable for both anal or vaginal play. The shaft is fairly rigid and has an intense curve to it. I found when exploring vaginal play that it was perfect for G-spot stimulation and the firmness of the toy was great in helping my body reach squirting orgasm. The only downside is that the button for this end of the sex toy isn't reachable when inserted as it is on the shaft!
As the massage wand is waterproof it can be washed in warm water with your standard antibacterial wash. Cleaning between the wheel and the main sex toy body can be tricky, I have managed to pop the wheel out partly to help, but I can't guarantee this won't lead to possible breakages.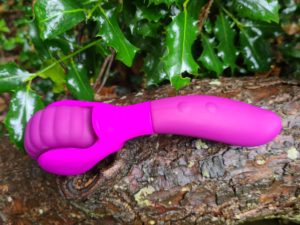 Pros: Ideal for a naughty erotic massage, with the option to dip into more than just external play. Both motors in the sex toy are fairly powerful and you have the option to explore G-spot, clitoral, anal, and massage by switching up ways you take advantage of all the sex toys curves and shapes.
Cons: Button placement is not great when exploring internal play! The noise! Cleaning can be a bit of a pain, particularly between the gaps joining the spinning head and the main massager.
Overall, the EVOKE DU-O was a sex toy I had expected to disappoint me greatly but it ended up surprising me a lot with how well it functions. It's a sex toy I will happily bring out when enjoying an erotic massage with another, and it's fairly simple for those who are sex toy novices to control. I've also found it better than foam rolling when treating my runners IT Band syndrome, so even when it's not being used in a sexual way, I'll be digging it out to sort my muscle aches and pains.