Sex Toy Review of the Hot Octopus AMO written by Ness
The Hot Octopus AMO is a rechargeable bullet vibrator but unlike traditional bullet vibrators the AMO offers both the option of pinpoint and broad surface to deliver vibrations through. Vibrator ergonomics is very important when it comes to stimulation, as some people enjoy pinpoint and intense vibrations and others desire the softer sensations from a broader smoother surface. Then there are those who enjoy mixing things up more, and the AMO means you can do this successfully and swiftly by simply just flipping the vibe over to gain a different sensation instantly – Huzzah! No more reaching for another bullet mid flow.
Here are some bonuses to having two different vibration surfaces that I just want to point out before I proceed with the main review:
Some people find mixing up the vibration sensations can help them achieve multiple orgasms. When we climax, our bodies can become ultra-sensitive from the stimulation type used to reach that state of ecstasy, making it too intense to continue. With the AMO you can quickly switch over and continue without triggering undesired sensations.
What you enjoy your lover may not, so having the option of two types of vibrator shapes, means you have multiple options to offer when engaging in foreplay, leading to a higher rate of sexual satisfaction for all involved.
Edging? Edging is the act of making yourself or someone else get close to climax but not seeing it through to the big event. Mixing the stimulation can be a big part in edging. You can focus on one form of stimulation, then changing it suddenly just before orgasm can mean that orgasm doesn't happen, but intense stimulation is still happening. Simply you want to get your lover or self to squirming point with one type of vibration and quickly change things like the type of vibrations or methods of stroking, leading to a plateau of pleasure.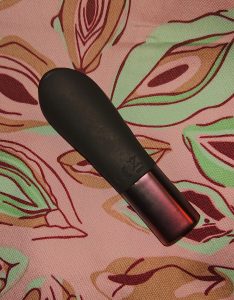 The AMO is a bullet vibrator aimed at clitoral stimulation. It has been designed with a curved tip, offering a pinpoint flick on one side and a broader, rounder, surface on the back of the curve. The pinpoint tip offers more intense and buzzy style sensations, and the rounded broader side allows you to experience strong soft rumbling vibrations. The vibrator is made from silicone with a hard-plastic base. The tip has a little bounce to it, but the device is mostly rigid. There is a small hole for the UBS charging cable, it takes a few hours to charge but offers around an hour of intense play, it also maintains charge well when in storage. There are three indented buttons found in the sides of the silicone, one button on one side to turn the device on and off, it also functions as a button to switch between patterns and stable continuous vibrations. The two buttons on the opposite side are to adjust the strength of the vibrations. The buttons are a big issue for me and probably the main thing I dislike about this vibrator. They are extremely hard to push, that even my male lovers had trouble pressing them. Also, when turning the vibrator off the vibrations can interrupt you from pressing the "off" button and holding it with the right pressure, so it can be fiddly to turn off. The back of the vibrator has a nice smooth dip for your finger to rest, giving you more control when holding and directing the pinpoint tip.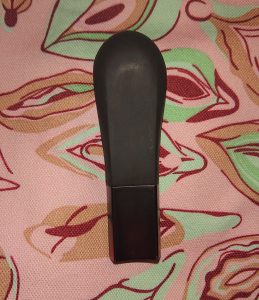 When using the AMO I gently spread my labia and glided the tip of the pinpoint over my vulva slowly upping the vibrations. With my body already moist, it glided over my most intimate curves and pleasurably stroked my clitoris. The way the tip felt against my body as it curved gently up towards my clitoris and then softly cradling it in the small dip was almost as erotic as a lovers finger tips. I was able to fully immerse myself into a pleasurable bliss of uninterrupted and fluid caresses. Allowing my mind to wandered down the path of seductive fantasies. The vibrations on the pinpoint side being so delicious I climaxed rapidly and was in such a content state that I could simply carry on with self-pleasure by switching over to the broader side and making my orgasm last longer.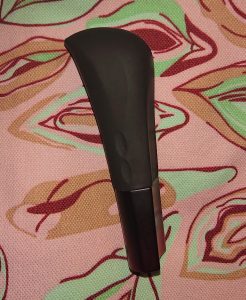 Using the AMO for vaginal penetration I was able to find my G-spot quickly with the curved pinpoint tip. The vibrations when inserted felt less intense than when using it externally and the device wasn't easy to rock, but it did add a nice dynamic to foreplay and help prepare for penetration of a larger device / penis.
The AMO can be used on a penis easily. I was able to rest my lovers shaft in the dip of the curve and easily glide the vibrator up and down with some waterbased lubricant. Unlike some bullets the lover seemed to enjoy the vibrations from the AMO more, as some bullets for some guys can be a bit too buzzy. The broader back of the vibrator offered a firm rounded surface that was able to massage my lovers perineum, which also made their erection more intense.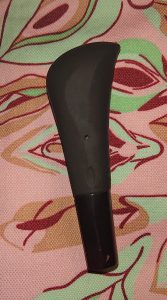 Cleaning the AMO is fairly easy, it washes down quickly with antibacterial soap and water. It is waterproof, which not only is a bonus for underwater play (its curved tip is amazing under water), but means you don't have to worry about damaging it when washing.
Overall, I like the AMO. I am actually somewhat in love with how the design can stroke my body so intimately. I would like Hot Octopus to do an AMO mark 2 but with better buttons, but that's my only issue with the device. If you like your toys to be compact and offer multiple options on how pleasure is delivered. I really think this is a worthwhile investment.
This product was sent to me for free by Hot Octopus. The review has my honest opinion and I have the right to write either negative or positive opinions of any product that is sent my way.