Review: Godemiche Silicone OffBeat
Sex Toy Review of the Godemiche Silicone OffBeat
The Godemiche Silicone OffBeat is a masturbator designed for the penis. It comes in two sizes, and I decided to invest in both the 2 inch and 4 inch length male masturbator tubes. Godemiche or otherwise known as G-Silicone is a UK based small family run UK based sex toy maker. Making items from phthalate free platinum silicone, it has quickly become one of the most recognised UK independent sex toy manufactures.
OffBeat is their first sex toy designed for using with a penis, generally, they have focused on silicone dildos that are aimed to be enjoyed vaginally and anally, particularly when worn in a harness for pegging.
The OffBeat is designed with grooves ideal for resting the fingers in during masturbation. When viewing the OffBeat online, it was this design that drew me towards it, as it looked like it would be comfortable for me to use on a partner or sub with comfort and control. I've experimented with male mastubrator during mutual masturbation, and when using them on my partner I have found many awkward to use due to their size and shape. The finally factor that swung the vote in favour of clicking purchase was that they were made from silicone, so many masturbators are made from less superior materials.
The Grand OffBeat is 5 cm in length and aimed with covering less surface area at once, meaning you can focus on just the shaft or the penis head, or, take your time stroking between the two sensitive areas. The Grand is also good for those who like to rotate smaller masturbations over the penis glans. The Venti is 10 cm long, and covers more surface area at once, so you can stimulate the main shaft and head at the same time. Both have the same hole size of 3 cm in diameter. The silicone is very stretchy yet versatile, so can accommodate larger girths, but will feel more restive.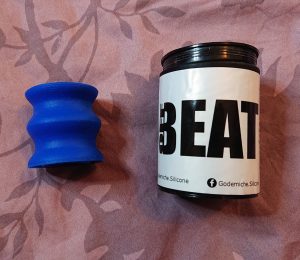 The internal hole offers a continuous raised bump texture for stimulation. As the silicone is very flexible and strong, you can turn the stroker inside-out and enjoy the rippling grooves rub up and down.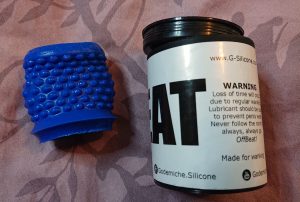 When using either of these masturbators make sure you have water based lubricant at hand.
Get Lube At The Ready!
Using It On Other
This is a mastubrator to get to use on a lover or even a deserving submissive. I can not echo how pleased I was being able to grasp the sex toy with so much ease. Too often masturbators can feel tiring to hole, but with the OffBeat I was able to use it on my lover longer than usual. Whilst they melted into the attentive strokes, I could also add unique pressure through the squishy silicone barrier to help mix-up the sensations. Both sizes of the OffBeat were enjoyable to experiment with on my partner, and were apricated equally.
The 2 inch masturbator can be worn during sexual intercourse. This can be good for people where too deep of penile to vaginal penetration can be painful, as it acts as a barrier for deep insertion. As the silicone is squishy and ribbed it almost acts like a soft springy barrier.
During BDSM play I prefer using the Grand as it has less surface area. This has so many benefits it's unbelievable. You can either focus on one area for an intense edging experience, or allow the areas of the penis shaft not being stimulated to be subjected to sadistic delights.
Lovers Solo Use
My lover liked how it the texture felt semi-realistic, and was easy to squeeze during solo play. He was able to enjoy the masturbator for long and short periods of masturbation as he could control it easily, varying the speed. They commented that some masturbators are too firm and that they slip around too much, sometimes zooming off course and sometime popping out of his hands.
When cleaning the OffBeat, you can flip the masturbator to get to the bumpy side. If fluids and dirt still reside in between the bumps, you can use a soft brush tooth brush to help. To clean the silicone sex toy, make sure you use your standard antibacterial soap and warm water.
Overall, I'm really happy I invested in the OffBeat masturbators. As they are made from platinum silicone, I am hopeful they last longer than other strokers. I'm really pleased I can control and manipulate my play partners shaft easily when using these masturbators too. I look forward to Godemiche's future when it comes to penis sex toys and hope they look into creating other textures.