Review: Glacier Glass Aura Dual-Sided Dildo
Review of the Glacier Glass Aura Dual-Sided Dildo
The Glacier Glass Aura Dual-Sided Dildo from Bondara is a large glass sex toy that offers two different textured sides for penetration. The glass is coloured in a beautiful iridescent purple that glimmers in the light. The shaft has a light curve to it and has spiralling ridges that expand at one end, and a realistic penis head at the other useable end. I was most interested in this glass dildo for the spiralling textured end, as the ridges are wider, softer, and more consistent than some other ribbed glass toys – some of my other ridged glass toys are made up of finer spirals that can feel a bit too intense at times.
The Glass Dildo, is a total of 9 inches in length with a diameter of up to 1 inch. It is made from borosilicate glass, meaning that it is shatterproof but also temperature resistant. The shaft has a slight curve to it, making it great for G-spot exploration. One end of the dildo is shaped like a penis, and the other has expanding ridged swirls. It can be washed under warm water with your standard antibacterial wash – I'd avoid using the dishwasher as some coloured glass can become cloudy and fade.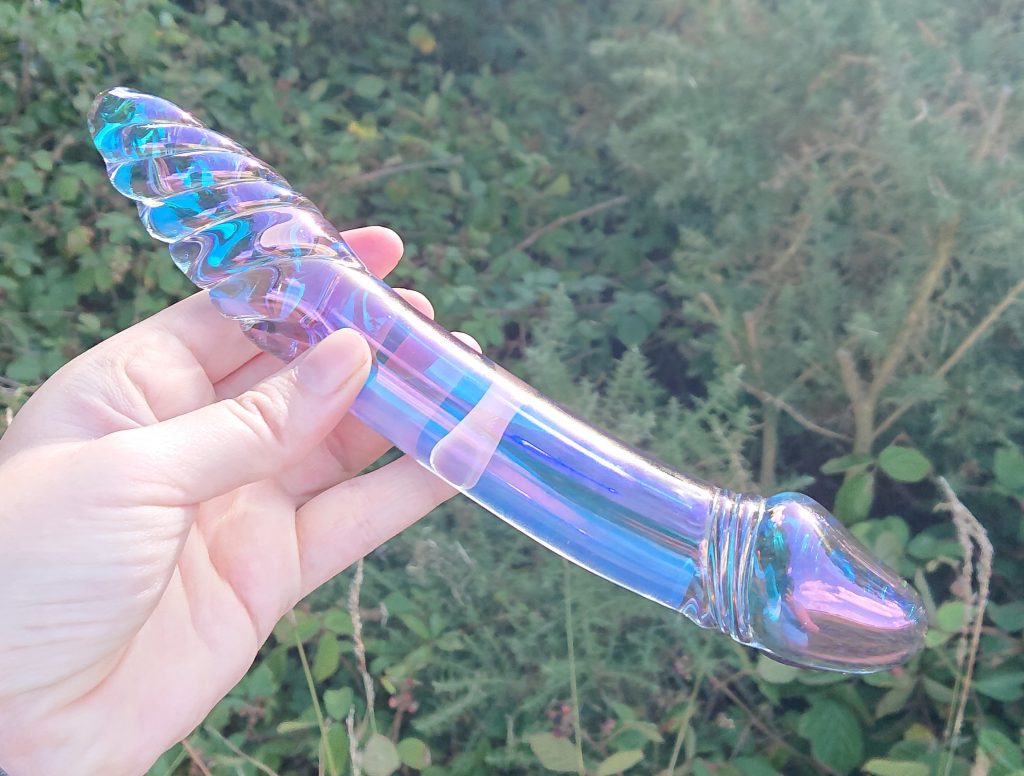 First, I explored the spiralling ridges by teasing open my labia with its tip and then flowing the swirl texture over my clitoris. I could feel the glass warm to my body as I became more aroused. Due to the slight curve of the dildo, I could easily glide the glass into my vagina. During penetration with the ridged I could feel them rub against my vaginal walls; however, it was the withdrawing the shaft to tease my clitoris every so often that really got me off and worked me up to switching to the penis end of the sex toy.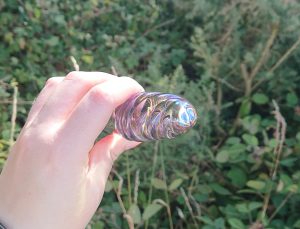 With my body aroused and work-up wanting more after the sensual teasing from the swirls, I was able to switch the dildo around to the penis end and slip it straight into my body. The head of the penis end found my G-spot straight away, and the ridged end made for easy gripping; allowing me to do a rocking motion on my G-spot. The wide surface area of the tip meant I was able to enjoy deep and intense G-spot play. The curved shaft meant I also didn't go off course and loose my G-spot once found, meaning I was able to swing into a deep moaning climax without distraction.
There's only one downside to this glass dildo, and that is that it's very heavy and my wrists ache when using it for an extended time – basically I like this piece of glass so much I want to be able to use it longer than I physically can.

Main Feature: The Glacier Glass Aura Dual-Sided Dildo is probably one of the prettiest sex toys I own, it almost appears as if it has been cut from actual crystal due to the memorizing shimmers of colour it emits.
Overall, this is a very beautiful glass sex toy whilst also being functional. It's rare to find such a pretty sex toy that's also pleasurable to use.