Review: Fifty Shades of Grey Greedy Girl G-Spot Stroker Rabbit Vibrator
Sex Toy Review of the Fifty Shades of Grey Greedy Girl G-Spot Stroker Rabbit Vibrator
The Fifty Shades of Grey Greedy Girl G-Spot Stroker Rabbit Vibrator is a dual stimulator sex toy with clitoral and G-spot focused parts. The main shaft not only has a G-spot tip and vibrates, but it also does the come-hither motion and rocks the tip back and forth over the G-spot area.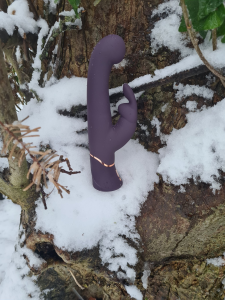 I've had a few sex toys with moving shafts, some have thrusted, others have rotated, and yes a few have rocked in a stroking motion. Yet, this technology isn't often too great, as it can be put to a halt mid-orgasm or as your body gets turned on and your pelvic floor kicks in and tighten during rhythmic pleasurable contractions. This has made me still continue to desire motion in my sex toys. It hasn't given me much hope of a sex toy with these abilities to function throughout masturbation without it stopping or weakening under my body's responses to stimulation. But I was willing to give the Greedy Girl G-spot Stroker a chance to surprise me.
The shaft has 5.5 inches of insertable length and 5 inches of circumference. It is rechargeable with 60 minutes of power. The clitoral vibrator has rabbit ears that flicker with the vibrations. The sex toy is made from smooth seamless silicone and a plastic control unit at the base with the buttons. The Greedy Girl is waterproof meaning it can be used in the bath.
I have a confession; I like this style of rabbit vibrators shape and have a non-stroking version. The G-spot version with just vibrations works wonders, particularly when I rock and twist the shaft inside of me. This made me really excited to experience the stroker version as I was hoping for similar results with less work from me.
The Greedy Girl G-spot vibe is a little larger than some other rabbit-style vibrators, so make sure you enjoy a spot of foreplay before getting stuck into insertion.
After massaging my vulva and slowly teasing my vagina I was aroused enough to insert the Greedy Girls shaft inside me. I couldn't help myself and at the start, I began to manually rock and rotate the shaft inside my body, for old time's sake. It felt darn good, but after being made aware that it could do it all for me, I caved and pressed the stroker on as I lusted for more. The shaft started bending back and forth and stroked my vaginal wall. However, it was slightly off from my G-spot, and when I repositioned it over my G-spot the motions made it change course. It didn't want to be angled the way I needed, but it did at least continue moving the shaft without getting jammed and stopping.
The moving shaft is powerful and isn't hindered by my pelvic floor grip, but it just doesn't hit my G-spot in the way I enjoy. The noise of the shaft moving was also off-putting. I think needing the shaft angled is unique to my body and that the stroker function would hit some people's G-spot well.
Cleaning the FSOG Greedy Girl G-spot Stroker Rabbit is easy as it is waterproof. Simply wash it in warm water with your standard antibacterial soap.
Overall, whilst I have a fussy G-spot that needs more of a dance and movement I still like this rabbit. This G-spot rabbit vibe works on every level for me when I don't turn on the stroker function, and if the stroker motion didn't move it slightly off my desired course it would be the best G-spot sex toy I have found to date. I think because of this, this could be the best G-spot vibrator for some out there, and if you're interested in trying a sex toy with a moving shaft, a great shape for dual stimulation and G-spot play, and strong vibrations, then this is a sex toy to invest in. You don't have to use all the functions available every time and can switch on vibrations without shaft stroking features when you don't want to feel the shaft move.
Lovehoney provided me with this rabbit vibrator for an honest review.