Review: Doxy Die-Cast Extra Powerful Wand Vibrator
Sex Toy Review of the Doxy Die-Cast Mains Powered Wand Vibrator written by Ness
The Doxy Die-Cast Extra Powerful mains powered wand vibrator in purple is one of the one most luxurious and hard wearing vibrators on the market since the Hitachi magic wand.  I had been meaning to review this wand for awhile, but every time I got it out to do one final test prior to writing it just ends up stealing me away into an orgasmic masturbation marathon session. I've lost days with this wand vibrator and our not so secret affair,  I'm certain my neighbour's know about it already,  and now I'm finally going to tell you too.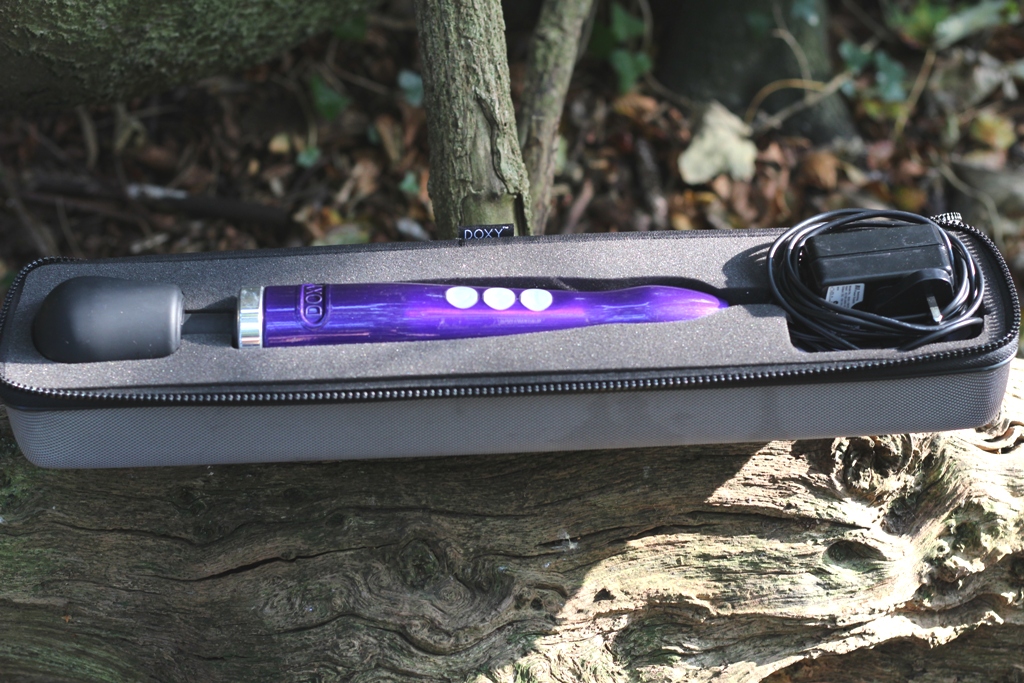 The Doxy Die-Cast really is beautiful,  I'm particularly in love with my purple version, and this product has even survived heavy abuse not just from long sessions and play,  but also when it has been left on the floor and knocked around,  and the time a sub decided to take it swimming in the washing-up bowl. It has survived and still shines as if it were new.
The Doxy Die-Cast Extra Powerful Wand is a mains-powered sex toy with a extremely long cord, the cord is 115 inches in length. The wand itself is 13.5 inches long with the handle being 9.5 inches, the neck an inch long, and the silicone head is 3 inches in length. The silicone head is a total on 7.5 inches circumference and the silicone layer is slightly squishy. The neck isn't as flexible as some wand vibrators however it feels stronger and is sealed-off more than other wand vibes. The handle is a maximum of 6 inches in circumference and has a narrower area which can be gripped if preferred. On the handle of the unit are three push buttons, an on / off button, and a plus '+' button, and a minus '-' button for scanning through the vibration settings. The vibrator offers a selection of steady vibrations as well as a pulse mode. To access the pulse mode, turn the toy on, and then re-press the on button and hold it for a few seconds, this will switch the device to a pulsating mode where its intensity can be controlled with the plus and minus buttons. To turn the pulse mode off simply use the on / off button and next time you go to play with the Doxy it will be reset to the standard vibration settings.
As this Doxy version is metal, keep in mind that it will be rather heavy when compared to plastic versions on the market.
A note on the buttons. If you've tried other wand massagers and found the buttons stiff or fiddly due to being switches or scroll dials, you will find the Doxy's silicone push buttons a lot easier to use. Also the positioning of the buttons means that I'm not accidentally tapping them during use as much as other wand sex toys.
When it comes to using attachments I have found that some will be forced off the toy when it is set to the more powerful settings, so keep this in mind if you're buying this wand to use alongside attachments.
The Doxy Die-Cast Extra Powerful comes with its own hard case coated with silver mesh fabric, with a black zip. The only thing that would let anyone know what is within is the zips pull tag which has the brand name 'Doxy' on it, and of course unless someone knows what a Doxy is they're not going to know what's hidden within. Inside the case is foam padding and compartments for the wand and the cord, you will also get a set of instructions inside too.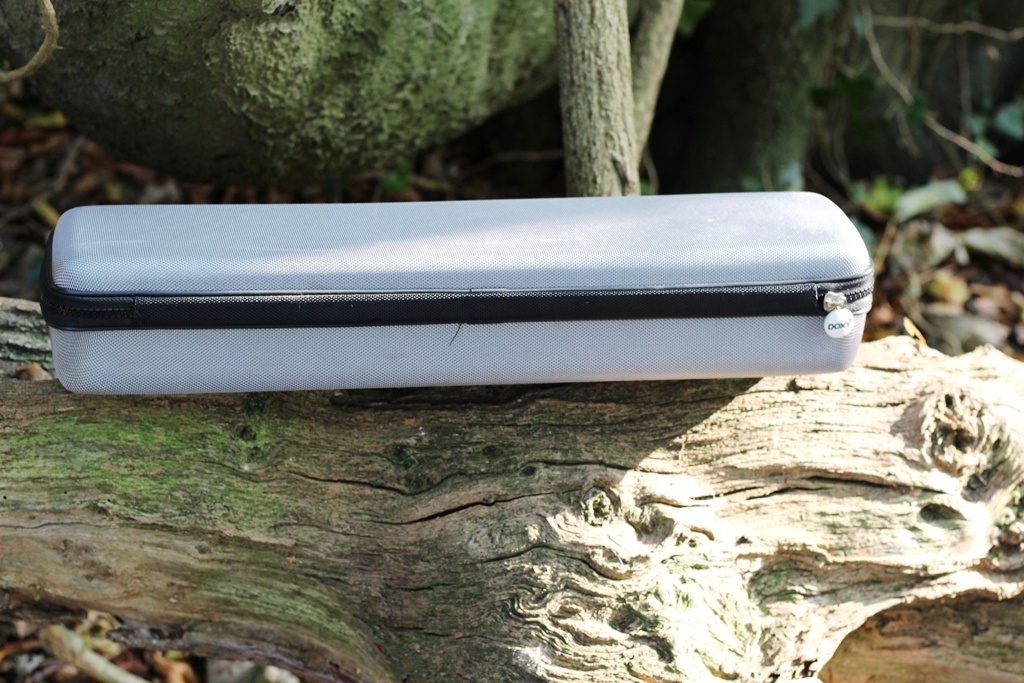 The sensations offered by this wand are superior to any on the markets, but before I tell you more about this I just need to check a few things… OK, I'm back now, are you still here reading to find out more? Of course you are! The Doxy Extra Powerful produces deep rumbly vibrations, only on the highest settings do the vibrations are having a slight buzzy feel to them, but even then the rumble sensations it produces are far more powerful and intense. I have found that while testing the Doxy that these vibrations are not only preferred by me but also my male submissives and lov-e-r-s enjoy them over the more buzzy sensation variations out there.
Then using the Doxy, I'm able to use the wand without applying additional lubrication. I generally start by massaging my pubic mound with the silicone head and then move it over my vulva and play with the vibrations for awhile as my body warms up to the sex toy. As I become more aroused the amount of natural lubrication this toy stimulates to flow out of my body is unbelievable. Once I have warmed up enough I pry open my labia and place the side of the Doxy's head over my clitoris and urethra. The closer I get to climax the more my body wants this wand, it's almost as if it wants it to merge into my body as all I want to do is press it firmer and firmer onto my clit as it throbs. With my clit throbbing so much and feeling so erect, it can feel as if it is almost trying to jump out of my body the way it starts to move uncontrollably. As the sensation continues it's not long until I reach a point where my body just lets go and I squirt. I very quickly learned that when using the Doxy that I need to lay either a towel or a masturbation sheet down before play as the amount of female ejaculation produced every time is an incredible amount.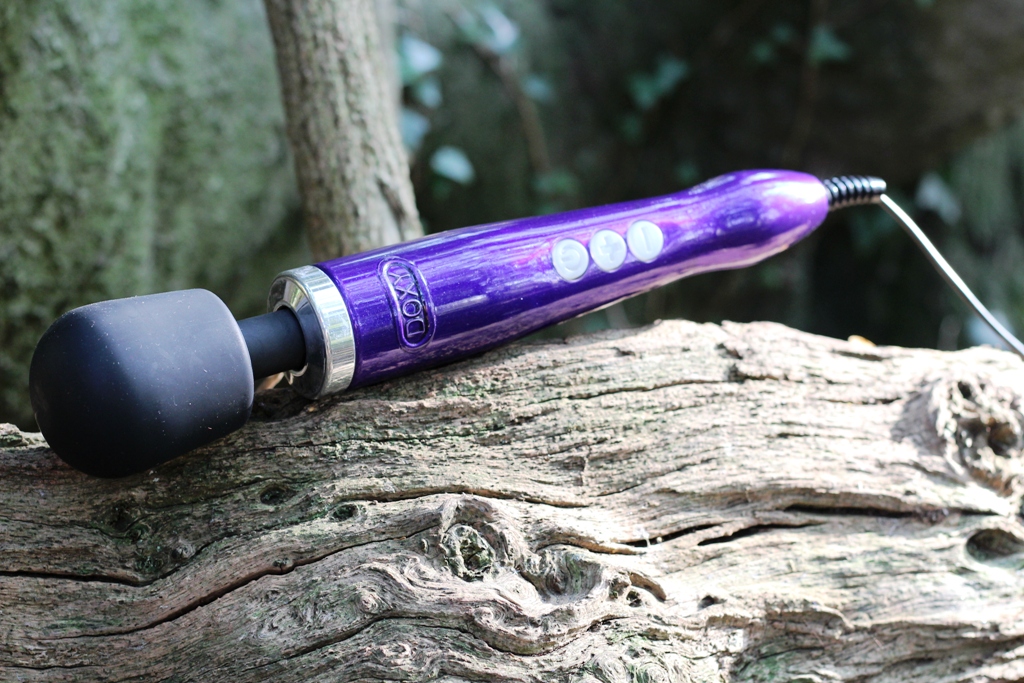 When using a dildo alongside the Doxy I have found that vibrations travel throughout them nicely even when the Doxy's head isn't placed directly onto their base but close by. My partner has even commented that when sitting at the base of the bed when I'm using the Doxy at the other end that he can feel the vibrations pleasantly travel up through his body – that is just how amazingly strong this wand is!
During sex I've enjoyed using the Doxy with my lov-e-r, the flexible neck means that it can be used in an assortment of positions from cow girl / girl on top to doggy. My partner has found that the vibrations an lead to him ejaculating sooner, although unlike some buzzy wands he's more willing and able to get an erection quickly after the previous one (sometimes when using the Doxy his penis stays erect even after he has cum).
Cleaning the Doxy is easy; simply unplug the device and wash its head under hot running water with antibacterial wash; the Die-Cast coating can be wiped clean. After the Doxy has dried you can store it in its case ready for next time. Remember the silicone acts as a dust magnet so I really recommend storing t in its case.
Overall, the Doxy Die-Cast Extra Powerful Wand Vibrator is a truly awesome toy and beats my Hitachi Wand. The style of vibrations it produces really agree with my body and I'm pleased that my lo-v-e-r-s and even subs enjoy then too when they are able to get a chance to use it. This Wand really is the one to go for if you are currently looking to buy one which is powerful. It's also fabulous if you are looking to explore female ejaculation.
I purchased this sex toy from Lovehoney. You can find the whole Doxy range here.