Sex Toy Review of the Dame Arc
The Dame Arc Rechargeable Silicone G-Spot Vibrator, is a sex toy I was really excited about due to its shape resembling a similar appearance to some of my past firm favourite G-spot sex toys. Before it arrived, I was thinking; "Finally, it's that one design, but done slightly better than those old sex toys.". This is a shape I had been waiting for a long time to be modernised as before when experimenting with similar it always resulted in a good G-spot orgasm but needed some improvements such as more power and length. Whilst the Dame is manufactured by a totally different company when compared to those versions of old, I had hope that the future had worked in favour and that this sex toy would level-up those past G-spot orgasm experiences.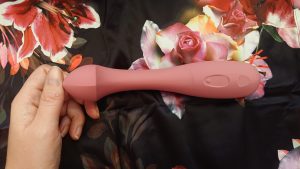 What is the Dame Arc G-spot Vibrator? Well it is a silicone sex toy with a curved shaft and tip focused on G-spot pleasure.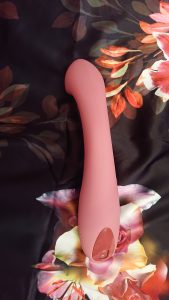 The Dame Arc is made of a firm curved shape coated in velvety smooth silicone. It is a total of 7.5 inches in length and 4.75 inches in circumference. It had a sudden curve at the tip of the sex toy aimed at G-spot stimulation. The vibrator is rechargeable and offers 10 vibration settings. The Dame Arc claims to have powerful rumbly vibrations, but I personally find them rather weak and lacking the rumble element. The vibrations are controlled by three buttons, a on / off button, and an up button and a down button. The buttons are really nice to use and work well with the contours of the fingers to offer comfortable pressing.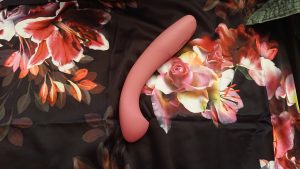 When using the Dame Arc, I took my time to warm my body up with foreplay. I teased my vulva with the tip of the sex toy and it's streamline tip helped naturally part my labia. I could feel the vibrations massage my vulva and helped arouse my body ready for me to slip the tip of the vibrator into my vagina. As the vibrator curved into me, I could feel it near my G-spot. I was able to position the tip of the dildo so that it rested onto my G-spot, but when I started to get a good rocking rhythm it slipped to the side. No matter what I tried, the sex toy just wouldn't stay on my G-spot and would slip around. The sex toy's curve is ideal for G-spot play and the sex toy being rigid means it should be great at causing the right type of pressure needed for G-spot orgasms. However, the tip itself isn't flat and wobbles around during use. This sex toy would benefit from a flatter tip. After many unsuccessful and slightly frustrating attempts to stimulate my G-spot, I slipped the vibrator out and continued using it for clitoral stimulation. Considering that this is designed to be an internal sex toy, I really enjoyed using it externally and found that it led to a really enjoyable clitoral orgasm.
Want to know the best bit about this sex toy?

The Dame Arcs buttons, are some of the best buttons I have ever used. They're easy to press, but due to the way they are designed it's also difficult to accidentally knock them.
Cleaning the sex toy is easy as it is waterproof. Simply use your standard antibacterial soap and warm water to wash it clean.
Overall, the Dame Arc is a nice vibrator which I enjoy using it to pleasure my body externally. It does need improvements though and for the price tag it currently sells at I feel it is pretty overpriced. If it does get a power upgrade and better tip to its design, I can see it becoming a very promising and powerful G-spot sex toys. However, at it's current build and functionality it is just lacking a bit when it comes to being a good internal sex toy.
I was sent this sex toy for my review from Lovehoney.