Review: Cloud 9 F-Slider Ride-On Sex Chair
Sex toy review of the Cloud 9 F-Slider Ride-On Sex Chair
The Cloud 9 F-Slider Ride-On Sex Chair is a sex machine which uses your body to help propel and rock a dildo into you as you straddle the device. There are many sex machines on the market today but most of them are designed to be electronically powered, the Cloud 9 F-Slider Ride-On Sex Chair is purely operated by your kinetic power and force.
What I was most curious about this sex machine was whether or not the rocking power would be enough to get me off? Many sex machines boast of high power, being faster, and offering stronger sensations but the Cloud 9 F-Slider Ride-On Sex Chair if different and a part of me immediately expected it to be closer to the natural rocks of love making with another human. For some this actually may be a selling point for it when it comes to being a fulfilling experience for them.
Would this sex machine rock to the rhythm of my sexual desires and fantasies? Does it take away the robotic and unnatural sensations of a mechanical electronic machine? Was going back to the Victorian style designs of steam-punk style cogs and pressure chambers for sexual implements the real way forward in modern sex technology that I had been lacking in my life? Keep reading this review to find out!
Packaging and all that st00f
The sex machine arrives in a large sturdy box with images of the device and content on. This box is really study as it has to withhold the sex furniture inside, so if you have a mate that's doing a house move donate it them, I'm sure their new neighbours won't mind as they unpack their belongings.
Once the Styrofoam padding is removed from the box you are able to carefully pull the sex chair out, it will rock as you do this, so keep this in mind and make sure you have plenty of space to put it on the ground. Inside you will also find a set of basic instructions explaining how to fit the attachments and handle, as well as a fabric sheet included to protect the item from dust and hide it just like a magician's cloak works. It comes with a dildo….
Let me tell you of the device's discreet modesty cover. This has to be the most amusing disguise I have ever seen for an erotic item. Due to the handle still popping up even when covered, the cover accommodates this bit of the machine making it somewhat even more phallic. No one will ever suspect this implement of sexual lust and erotic stimulation residing in the black sheet cover, drowning it out amongst all your other household furniture. If black fabric is a bit blame you could always invest in some Poundland craft supplies and add some fuzzy pompoms to it help make it fit in with the rest of your décor – NO ONE WILL EVER SUSPECT A THING (trust me I'm a pro at this).
The handle isn't attachment upon arrival and you will need to put this on with the provided Allen key, once it is on it is easiest to just leave the handle on the sex machine.
There are three styles of attachments provided, one is a vac-u-lock connector, another a standard plug attachment to slow into bullet vibe chambers on some dildos, and two pieces of stretchy silicone rubber that together hook onto the dildo pedestal so you can use a flared based sex toy. To connect the vac-u-lock connector and the plug-into-dildo adaptor you must use the provided screw connector to fit the one you wish to use onto the dildo mount before you add your chosen dildo. Connecting the attachments may take more than just screwing them with your hands, and an Allen key is provided to help remove and secure parts.
The Cloud 9 F-Slider Ride-On Sex Chair is advertised as silent and apparently the gears and mechanics don't need any extra care, however, I am yet to find a fully silent sex machine. It does produce some noises (not just from me), when in use, but compared to electronic thrusting devices I have tried this nose is hardly noticeable.
The device can be wiped down fairly easily, but if you are using a lot of lube or produce a lot of bodily fluids during your sexual escapades you may want to put a towel or mat underneath it.
The sex machine has three depth settings which are controlled by two knobs at the front. Simply you slide the knobs up or down the three levels of the letter 'F', known as the "F-slider".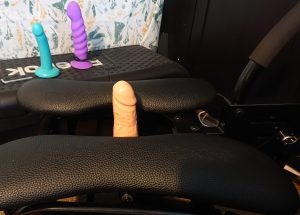 This is a public announcement: Ditch That Dildo!
It often fathoms me as to why these are provided with most vac-u-lock compatible sex machines. The dildo provided has been around in circulation for loner than I have been reviewing, I regularly think to myself, that the ones arriving with every vac-u-lock sex toy kit is just an excuse to get rid of old stock. These phallic penis style pieces of "soft plastic", just isn't great and is very porous. Not only did I have one in my start-up career as a professional wanker, even with cleaning it very rapidly discoloured and became manky. To this day these shouldn't exist, and even when I pulled this new one from its sealed protective packaging to awaken it, it burned – I'd like to note that I did dramatize this a bit and wish it had been filmed as I echoed throughout my flat "My hands, they burn, they're on fire!", almost akin to a vampire dipping their hands into a well of holy water. Some may interpret this as me being unholy and clean through all my deviant acts maybe, and if so, maybe these dildos should be the new way to torture the unclean. Plastic burning aside, this shape of dildo just isn't great for many sex machines due to how straight it is. With a sex machine that works with a rocking motion too, there is some curvature happening as the dildo glides up and into you, this means straight dildos aren't right and you really need a sex toy that's slightly bent. Even a slight kink a third of the way up would be better for pleasurable G-spot and P-spot input, avoiding bruising thrusts.
I did try and test this dildo out with a condom covering it, but with it being so straight I found that it was difficult to slide it into my body with rocking even when I was warmed up. It didn't work with either of my natural vaginal or anal contours, and regularly stabbed into my vulva and pubic bone.
So, if you get tempted to purchase the silicone version of this dildo for your sex toy, you may want to look for one slightly different in shape that will offer a more pleasurable experience.
The bonus to this sex machine is that you have multiple ways of attacking dildos and vibrating flared based devices. So, you aren't just stuck with just vac-u-lock devices, but you can explore various silicone dildos which have a vibrator bullet hole changer with one of the extra attachments with the F-slider, or you can opt for a flared base sex toy. This is also handy if you already own a lot of sex toys, as there's a possibility you won't have to buy more to use with the sex machine.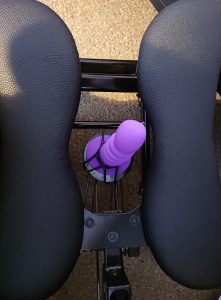 Testing the Cloud 9 F-Slider Ride-On Sex Chair
When testing out the Cloud 9 F-Slider Ride-On Sex Chair I opted for a flared based silicone dildo with a slight natural curve to it. After selecting the bottom setting of the F-slide options I straddled the machine and cautiously rocked forward on it, using the handle to stabilise my body. On the bottom setting I found I wasn't able to the glide the dildo into my body like I would when mounting a partner's penis, and due to the handle I wasn't able to tilt my pelvis more forward like I would when finding the hole becomes difficult with a lover. I was able to easily get off the device and change to the middle setting.
Using the middle setting was much more enjoyable, I was able to slip the dildo into my vagina and slowly thrust it in and out of my body without jabbing myself unpleasantly. Starting slow I could feel how the sex toy had a delicious rhythm which hand thrusting or even electronic sex machines lacked, offering a more realistic experience to the sensations. It did still have some differences though, as my thighs and legs were positioned differently that when having sex cowgirl. Normally my feet would either be under my buttock and I'd bounce and rock on my lover. Or, sometimes they'd be in front of my body with bent knees when I wanted more precision and depth. This sex machine brought me back to the younger days when I first started exploring sex and having to be discreet, often my then partner would be sitting on a chair with their flies undone and I'd thrust away on him – there were a few broken chairs from this. It made me realise I need more chair sex in my life, not just with this sex machine, but with my lovers.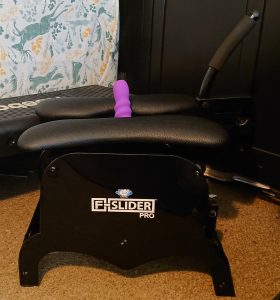 Exploring anal with the sex machine I set the dildo up on the top setting of the F-slider as this was easier for penetration. I was a bit harder to just slip the dildo into my body anally with just thrusts and it did need a bit of guidance. Whilst even with plenty of lubricant being used it did feel rather strange compared to slipping a dildo into my body with hands-on masturbation. The sex machine didn't feel as natural to me when compared to anal sex with another, but normally I enjoy anal in other positions.
Do my submissives enjoy the device when using it anally? Yes, yes, they do, but I have found they're less fussy when compared to me and the position they take dildos up their arse. One sub did say that he rather enjoyed the sensation and it reminded him of a previous forced bi and feminisation session he had where he played a submissive dressed in female lingerie and experienced anal penetration whilst performing cowgirl tricks (as he called it).
Use Between Couples / Multiples?
The use of this contraption has a great fetish vibe to it going on. I love how it can be used by a submissive with only from the commands of my voice, rather than using a remote to control their pleasure I am pushing my submissives buttons from start to finish with mental and vocal stimulation. Forcing them to mill for their pleasure through every thrust and jerk, I can also bring into the equation my bull whip or crop to drive their motion to go faster, with a cup of tea being held in my other hand. Rather than pumping iron with the sex machines handle, they are literally pumping dick into them.
There's a possibility of two straddling the padded seat whilst one is being penetrated due to the devices ability to withstand a good amount of weight, however, it does result in some hilarious outcomes. It's not really a sex toy where you can experience double penetration unless you use a double-dildo, which you can get as a vac-u-lock device.
Pro Tip: Sex machines are great if you enjoy watching your partner masturbate or have sex, and could help you act out a cuckholding fantasy without having to introduce another person into your private play.
Mobility, comfort, disability, and orgasm dysfunction
Bonuses for the Cloud 9 F-Slider Ride-On Sex Chair is that it is a comfortable height, some ride on sex toys can be a bit low and feel unconformable to mount. The leather-like padding also is warm to touch, unlike some materials that can be shocking cold when bare flesh is pressed against them.
The rocking motion is easy to get started and has a relaxing feel to it. The effortless swaying back and forth on the device also can feel very therapeutic and has actually helped in reducing lover back pain and SIJ pain. If you're someone who has spinal or hip options this may be worth looking into. I have hip dysplasia which actually can make me a pro at straddling as my hip can come out of place accommodating various sized bodies between my thighs, but this sex machine didn't lead to hip popping, and actually helped my body perform the thrusting motions without injury. The back and forth mechanics for the device may also help those who are struggling to perform pelvic tilts.
Sometimes I can't always orgasm on my back and the Cloud 9 F-Slider Ride-On Sex Chair is a better option when compared to some other sex machines for me. There are a lot of sex machines that are designed for people to be lying down, whilst there are a few that can be adjusted, many still need to be positioned low to the ground or awkwardly propped up on a higher surface. I like how the F-slider changes this whilst also giving the upwards curved thrust motion similar to a human between my thighs would. Sometimes going back in time is a way forward in sex tech.
If you are a sex toy manufacturers or designers, listen to me!
Please start testing your machines with various dildos, not just this one that you all seem adamant to send everyone! Learn about human anatomy, how the vagina and rectum have curves, and need insertable that are designed for these bends and twists when being thrusted into!!
There are two main things I would change about this machine if I could, one ditch that crappy dildo, and two add cut-out handles in the Perspex so it is easier to move it. The sex machine may be a good option for you if you have mobility issues but due to its weight and the way it swings as you lift it, you may find it best set-up permanently in a corner of your bedroom so it's accessible. If you have issues with your hands you may struggle using the vac-u-lock and other attachment that inserts into a dildo and choosing the 0-ring device option may be the easiest.
Overall, my verdict for this sex machine is that it is actually better than some electronic plug-in ones I've explored. The down side mostly being that it isn't compact, but whilst many sex machines may advertise that they can be broken down into smaller segments some of the storage bags for these adult products are bigger than the Cloud 9 F-Slider Ride-On Sex Chair even in storage. The thing I like the most is that it really is effortless during use, and I don't tire as quickly when I use it when compared to riding one of my lovers. I can just keep on rocking back and forth on it all day if I wanted, reaching multiple orgasms, and curing my back pain. I may even have it as one of my regular exercise routines.
The Main Question You're been asking: Is it worth the price?
If I'm honest, it could be cheaper, but it is comparable to other furniture items already out there. One plus is that it won't cost you a penny in electricity.
Thank you to Lovehoney for sending me this sex machine for my review. All items provided for my reviews get my unbiased opinion.
Do you have a sex toy you would love for me to review? Email me at the_nymphomaniac_ness@hotmail.co.uk
Related posts:
Sex Machine Bag Review
LoveArc Rocking Suction Sex Machine Review