Review: CELLMATE Chastity Device
Sex Toy Review of the CELLMATE Chastity Device
The CELLMATE Chastity Device is an app-controlled cock cage that can be controlled on your phone over long distance. Traditionally chastity devices are locked via removable padlocks or key systems that require you to be physically in the same room as another as they take passion of the key. There are some who also practice chastity via long distance Domination and keyholding, but generally the Dominant will send a specific lock to the submissive to use, or a submissive will ship a key off to the keyholder, with the CELLMATE you no longer have to wait for the postal service before you start your exploration into chastity, you simple just need the wearer to have the device and connect it to the mobile app, to start enjoying the pleasurable and frustrating world of having your penis caged.
Sex technology when it comes to apps and long distance control hasn't actually excited me much in the past when it has been about controlling vibrators, that's something I'm rather content on being able to control myself rather than a long distant lover, and generally find that with a vibrator there are often only one or two vibrations modes that get me off so it doesn't make sense confusing my senses by letting someone switch up settings too often. This has meant that when it comes to long distance sex toys, I have often avoided them, but this is different. Chastity is something that I enjoy inflicting (or in some cases rewarding) on to another, yet locks and keys can be a pain at times.
Here are scenarios where traditional key locks have failed:
Key's get lost. I have bolt cutters for this and luckily have only had to use them once, although I do like to have them there as a visual prop when discussing certain things in my Dom / sub sessions.
Locks can fault and get expensive. I learned long ago that cheap locks just weren't worth it, not only can they jam at times, they can be picked easily. Generally, when buying locks, I opt for higher range ones, so it can get costly if you have multiple submissives locked at once, and even more expensive if they don't send you but your lock if done over long distance.
Some padlocks are just the wrong size for the device you have at hand.
Some padlocks make some noise when the submissive wears them. Whilst often not that noticeable, I have had the odd sub be super on edge trying chastity and freak out about it.
In sessions with lubricated hands, other devices to hold, and buttons to check, messing around with padlocks can be a pain.
Some have inbuilt locking systems made from cheap brass and wear quickly.
A few are Allen Key locks… many have these in their tool box so can lock.
Also, if there's an emergency and no quick access to a kay, them your submissive may have some awkward explaining to do.
And finally, for long term wear, you just can't keep up with the hygiene upkeep if you're long distance unless you are using numbered plastic locks that can be replaced, otherwise your submissive has to have a key on hand at times.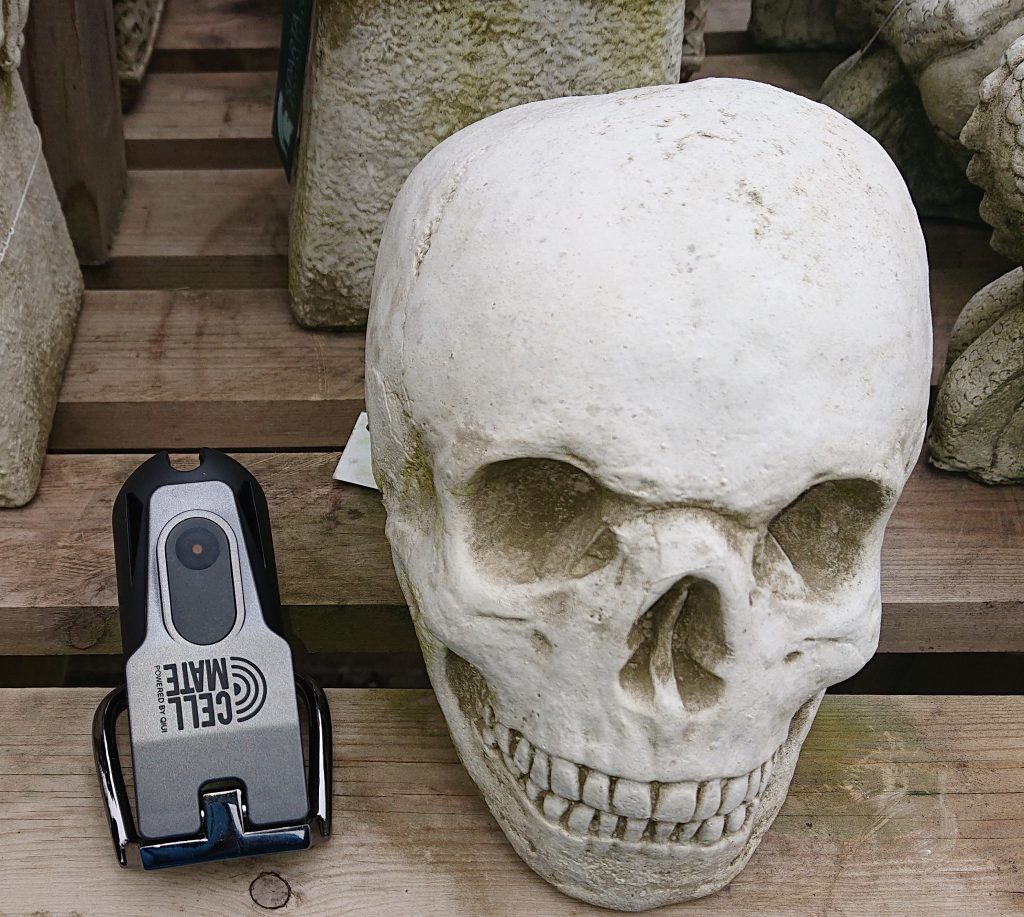 The App:
To use the device, you need to download the app, the apps logo button will not say CELLMATE, and be labelled as a more discreet image and name: QIUI. When the cage arrives, it arrives with the pin locked in place., only the app will be able to unlock this. The app connects to the chastity cage via Bluetooth. Once you have the app on your phone you can connect the device by pressing the button on the cage, and clicking the connect button in the app, making sure the cage is close by it will flash red, once connected it will glow solidly. Once the device is connected another person can download the app and set-up a user name, when they have done this, the original app and device user can then accept a friends request from them, and from there you can decide who has key holder privileges and who is the one losing control while caged.
Nothing can take away how cool it is to watch this device unlock once you have pressed the unlock button on the app. Make sure device is turned on too when you want to unlock the device so it can connect to the app, however, the one unlocking can be using the app on their phone miles away and it will still work, as long as the wearer has both the app and the device on too. The pin simply slides out on the press of the app button. It even makes this amazing robotic noise that you hear in sci-fi movies as doors become unlocked by some hacker way off in the distance.
Let's talk about timer quickly. The timer option allows you to set months, days, hours, and even minutes. I personally don't recommend using the time though, as there is no way to change it once it is set. There is no fail-safe.
Why do we need a fail-safe?
I've had a few comments saying that if there was a fail-safe that a timer would be pointless, and that it wouldn't be true extreme chastity play – this is bollocks! A fail safe is important on so many levels. The most obvious one is, without a fail-safe, I am letting an App Controlled device have control over my whims as a Dominant. A fail-safe is also important for these scenarios:
I have a wet or lubricated hand when applying my settings on my phone for the CELLMATE, then Bam! It's accidently set to some ridiculously long time where I have no option to change it.
Work commitments of my submissive change, they plan a surprise mental detector search and they can't have the device on as it may set it off, it's set to timer, and there is no option other than go through the humiliation, which whilst entertaining on many levels, I need my sub to still have a job at the end of the day.
Health reasons. There are so many reasons health can play a part here and mean a device is a bad idea and needs to come off quickly or for an appointment. I've had subs be called up for MRI appointments becoming available suddenly and they need their device off, to one submissive having a reaction to antibiotics that caused testes and penile swelling (and not in a fun way).
It doesn't actually fit! Your subs been playing the wicked step sister approach and lied that it's all comfy and snug as they are just loving the attention from pleasing you – you know who you are Mr Suck-Up-subby.
I get bored and I want to incorporate some other style of play or task.
The battery runs out – who knows on this one, it is one of life's great questions that I could possibly discover one day, when I do, I will don it a funky name and you will thank me.
You have a falling out with your submissive, they start another relationship, they want to go swimming, they have to race 250 miles on a bike for a charity and the god darn bicycle seat didn't factor in chastity devices (HOW DARE THEY!).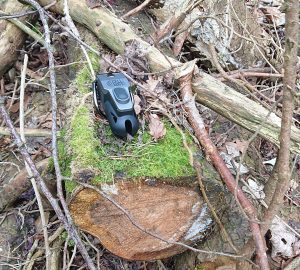 The Fit:
The Cellmate comes with two sizes of rings to choose from to rest under your submissives scrotum. I'd say during testing the product that the smallest fitting is suited to most average sized penises and scrotum and the larger option is great for those a bit bigger. The rings are contoured to fit against the pubic mound nicely, meaning that there is minimal rubbing during movement.
When fitting the device, I found it easier to put on my submissives when compared to some other shapes and sized chastity devices. Whilst I did use lubricant to put the penis into the chastity devices chamber, the whole fitting process was easier and lead to minimal pinching. The way the device is designed I also found that when using on submissives with pubic hair, that the hair did not get in the way, whereas other devices pubic hair really needs to be trimmed or completely removed to make putting on the item easily.
If your submissive is an average size you may find that they have a little bit of growing room in the penis chamber, but this isn't much, just enough that it can make it more comfortable for long term wear.
Once the ring is clipped into the main change, you or your submissive can simply push the locking pin in place. There is no way of manually pulling out the pin, there is a very small electronic screw where the pin is, which may lead to release if unscrewed, but, the flesh of the pubic mound on most submissives would get in the way of unscrewing such a tiny screw.
Design-wise. This is actually my favourite device shape to put on and remove from a submissive. After testing it on a few submissives too, when the right ring has been fitted, a few have stated that it is the most comfortable one they've worn, which is a bonus for long-term wear.
Cellmate and CBT:
Cock and ball torture is often used alongside chastity device wear in domination sessions. Some cages allow for some access to the flaccid penis or the ball sack, meaning clamps, needles, and other forms of torture can be applied at the same time. The Cellmate doesn't allow much access to these areas for additional forms of play as it is such a good fit against the wearers body.
Cleaning?
It's fully waterproof, and even the plastic and fittings are easy to clean. Let's be honest here, things that spend a long time around the groin area can get extremely manky. There are some who really get off on this, but personally I don't, and I like the fact that it doesn't house as much grime as some after wear so if I'm removing the device it's not as messy as some. For some scenes removal of a chastity device has ritualistic elements and can be very emotionally when building a Dom / sub relationship. To help maintain hygiene if the submissive is wearing the device long-term I always recommend removing once a week to do a clean. Due to the device being app controlled the keyholder will know when the chastity cage is locked or not. If you are using the device long distance, you can facetime them via video call and instruct them on their cleaning and make sure they do put the device back on.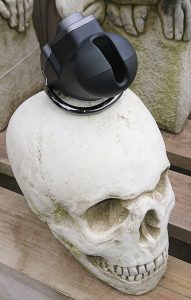 Using the Cellmate:
When initially testing out the Cellmate, I did a trail-run with one of my domestic submissives. Fitting the device was extremely easy and once it was all locked, I sent my sub off to perform the normal daily tasks, but with some extra challenges added into the mixture to truly test the comfort of the device. So, when he was sent shopping, he was commanded to run to the shops, for example, so I could really tell if it was going to be a comfortable device to wear during all activities, and it was. Some submissives always come up with excuses for not wearing cages, and sometimes sporting activities is one of these, well this device didn't rub or get in the way of running, and just for fun I threw in some burpees in the mix when they returned. The cage stayed in place and didn't jangle. When out, even though they were wearing fairly tight-fitting clothing, no one noticed the device under his trousers. It didn't jut out stupidly like some which makes the penis look as if it's some terrifyingly unnatural erection.
Basically, the Cellmate is discreet and I doubt it will get in the way of daily activities, other than masturbation and erections…
During sessions I have used the device with the timer, but only if I know my submissive well and am 100% satisfied with their mental awareness and ability to cope that once it's on, that's it for the next hour, and it will not be removed until the session time has ended.
Longer term, this device is one that only loyal and regular submissives may use longer term. The general rule of long-term chastity is that the sub purchases the device which I select for them, as too often you have a submissive state, they are interested in returning to complete their fetish journey but don't. Using it long term has meant that both the wearer and I have more of a routine in place when it comes to cleaning and checking in. This really does have its advantages as the submissive seems to take the whole experience more seriously, but also it doesn't eat into my personal time or other submissives time. When using long distance, I opt for using video call to oversee my sub, set either tasks of humiliation or cleaning at the same time, incorporate blackmail-role play, and more. It's a lot more fun just clicking the app to open the device than having to get my sub to mess around with keys, and complex locking systems, that resemble a Japanese puzzle box.
The CELLMATE, is probably my favourite chastity cage to use with my submissives, unless I am looking for a CBT chastity device (electric or spikes in the mix), or I need my submissive to be able to pass through metal detectors or x-rays then they require a plastic cage. It may seem costly, but it is an excellent investment, and I haven't come across many cages that fit multiple submissives as well as this cage does. The design is spot on. Now I can just hope that if they make an upgraded version that they add a fail-safe option in the future, then I will feel more comfortable with using the timer.
Thank you to MEO for providing me with this chastity device for my review. All items sent in exchange of a review are written in an honest and unbiased manner.