Review: Blowmotion Warming Pulsating Rechargeable Vibrating Male Masturbator
Sex Toy Review of the Blowmotion Warming Pulsating Rechargeable Vibrating Male Masturbator
Blowmotion Warming Pulsating Rechargeable Vibrating Male Masturbator is a sex toy designed for those with penises. I was sent this sex toy by Lovehoney after more of my male clients started asking about sex toys they could explore. This Blowmotion product not only vibrates and pulsates but its dual-density silicone heats up automatically during use.
The more sex coaching clients I take one, and the more adult work-related ones I meet, I have become painfully aware that many cis-males have never used any kind of sex toy – EVER!
The inner chamber of the Blowmotion Masturbator is 3.5 inches in length. Some of the individuals I have used this product on have said they'd love for it to be slightly longer. The chamber is fairly wide and is suitable for small and larger girth penises due to the flexibility of the dual silicone. Inside the chamber at the end are some raised textured bumps for added stimulation. There is a pulsing plate, that pulses up and down at various speeds depending on which setting you select. The vibrations can be used separately to the pulse plate or together. There are 6 different vibration intensities and 6 different pulsing settings. The sex toy is controlled by two buttons, hold the on/off button for a few seconds, then you can either use it to scroll through the vibrations or activate the pulse plate with the other button. The masturbator automatically heats up during use.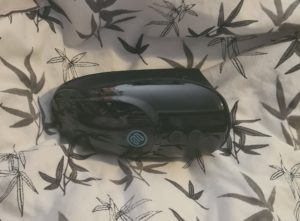 I've tried this vibrating masturbator on a good few people and they all enjoyed the sensations. One did comment that they wanted a longer chamber and vibrations further down the product for a more intense experience. The blowmotion masturbator is easy for me to use on another and I enjoyed how I was able to manipulate different pressure through the dual-density silicone. As I squeezed the silicone sheath over my test subjects' cock, I was able to feel it twitch and get hard through the silicone too. I enjoy getting this type of feedback from those I'm playing with as it helps me know I am doing things they enjoy, but also it helps turn me on too.
You're wondering if they managed to cum through using the Blowmotion vibrator? Well, some of them did and some didn't. The overall takeaway from their experiences was that they all enjoyed the sensations the sex toy offered, and some liked it as a way of foreplay and as part of edging. The two different sensations from the pulsing and vibrations helped them last longer when they altered between them, rather than when compared to a sex toy that just offered one sensation.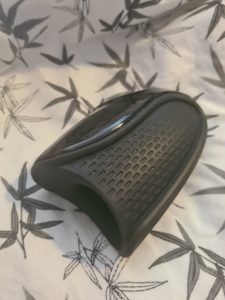 Cleaning the Blowmotion is fairly easy. It's splashproof and the chamber can have some liquid added to it to help clean it, but I'd mostly recommend using a damp cloth with warm water and antibacterial wash.
Overall, I liked introducing a few individuals to the Blowmotion Warming Pulsating Rechargeable Vibrating Male Masturbator. It's always great to find a penis sex toy I can use on others easily as so many are so bulky. This Blowmotion sex toy is easy to hold and squeeze, and even with its compact size, it offers so many different sensation choices for me to play around with when using on others. Because of the different sensation options from the pulsing plate and vibrations, it felt like was able to offer more elements of surprise during play, compared to devices that offer fewer sensation options. This was clearly apricated when I saw the guy's faces react and change to the pleasure the toy gave.