Review: Bestvibe Automatic Inflatable 7 modes G-spot Anal Vibrator
The Bestvibe Automatic Inflatable 7 modes G-spot Anal Vibrator is a silicone vibrator that is safe for anal play that inflates and vibrates at the push of a button. Inflatable sex toys are pretty big, but there are still very few that are made from silicone, many being manufactured from latex. The few silicone inflatable sex toys I have encountered over the years have been manual pump, with either a long tube attached to the main device with a hand pump, or the hand pump being awkwardly positioned within the handle making it hard to use during solo play. The Bestvibes sex toy is not only automatic at a push of a button, it vibrates too, which is a big game changer in sex tech and something many who love inflatable sex toys have been craving after for years.
When receiving the Bestvibes Automatic Inflatable Vibrator, I was really interested in seeing how well the device inflated, past silicone devices had been a pain to inflate as the material has had less flexibility and often the insertable shaft or bulb has had manufacturing seams that irritate. I was also excited able the idea of it offering vibrations alongside its vibration modes as often I would be left using another sex toy alongside an inflatable, meaning that I would be juggling controls, which can be off putting at times.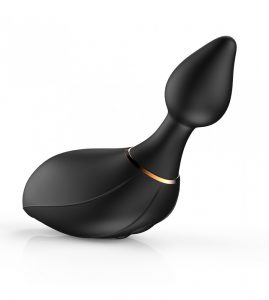 The Bestvibe Automatic Inflatable comes packaged in a plain black box and inside you will find the sex toy, a charging cable, and instructions. Yep, that's right, this product is rechargeable! Sex tech has really come far over the years and I'm happy that inflatable tech is moving away from old fashioned hand pumps or lots of disposable batteries.
The vibrator almost resembles a black swan with it's shape. It appears very elegant when compared to the standard fetish inflatable sex tech already on the market. The black silicone is incredibly smooth. There are two buttons on the device, the smallest button is the On / Off button but also acts as an emergency deflate to a size down if you progress to too large a setting too soon but want to keep playing. The next button allows you to cycle through the 7 modes on offer. These modes offer a variation of vibration patterns and inflation size.  The bulb of the sex toys circumference starts at 1.2 inches of circumference. When in the start mode it has a tapered tip for easy insertion. There are three sizes of inflation: 1.8 inches, 2 inches, and 2.4 inches of circumference. It doesn't go as large as some inflatable sex toys, but it still offers some nice variations between these modes, and one setting even pulses between the sizes in rapid progression.
When using the Inflatable sex toy anally I made sure my body was warmed up and aroused. With inflatable sex toys I always apply more lubrication externally with finger play as the device you use stretches the surface area of the tissue surrounding it. The tip of the bulb inserted into my anal canal with ease. The handle of the device also made penetration easier due to how it is contoured to fit in the palm of the hand perfectly. As I turned on the settings the noise of the device startled me a little as it buzzed to life and started to inflate. I could feel it quickly expand inside of my body, whilst it was inflated, I was able to wiggle the vibrating internal shaft and direct stronger vibrations to my sweet spots without reducing inflation. After enjoying the first setting I explored more of the settings. Whilst changing the setting the bulb deflated quickly and gave me a little cold tingle on my taint, as air was released from a valve at the base of the shaft, while this can be surprising, I know some may really enjoy this accidental form of extra pleasure. The sex toy may not go very large, but seriously the pulsing inflation setting is amazing, and pretty much everything your mind goes to when you see an animated throbbing cock in some terrible henti porn that makes you wish real penises throbbed that much.
Experimenting with it vaginally, I could feel it expanding inside my body. The throbbing settings felt amazing massaging my vaginal canal and when I reached climax, I was able to turn on the larger inflation setting and feel the pulses of my pelvic floor from climax contract against the sex toys shaft as it expanded in me as if it was saying I needed more.
Trying it on a submissive was probably the most exciting thing for me as I love how inflatable sex toys make their eyes bulge with pleasure as the toy gets bigger and bigger. This may not be my largest inflatable sex toy, but I love how easy it is. Anything that can make my life easier in a BDSM session is a winner, and my submissive seemed perfectly happy and satisfied with the sensations it provided him anally. I also loved how the vibrator could be wiggled onto his prostate to make him groan even more through his ball gag.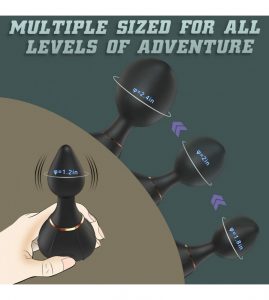 When cleaning the vibrator, make sure it is fully deflated beforehand and turned off. Simply wash in warm water with your standard antibacterial soap and allow to dry.
Overall, I am surprised, and I am not surprised easily. When Bestvibes first contacted me, I was a bit doubtful about their products, but for once I have been proven wrong. My only real issue with the sex toy is that it is very loud. Also, I know many who will want a bigger version. But as inflatable sex tech goes, it's pretty good.