Rainbow Pride Sex Toys 2020
Rainbow Sex Toys 2020
This year I'm really missing all the rainbow colours that normally start filling the streets during Pride month. It's made me go on a hunt for everything rainbow, and that includes sex toys. I have seen some amazing sex toys decorated in rainbow Pride colours that I just wanted to share with you all. There's a nice mixture of items, from dildos, to multicolored bondage gear to be found.
Rainbow sex toys can be used by anyone who wants to enjoy and celebrate LGBTQ+ adorned with rainbow patterns.
Bondara's Shiny B!tch Holographic Faux Leather
The Bondara's Shiny B!tch Holographic Faux Leather range, is a vegan friendly bondage gear collection, offering glitzy metallic rainbow items at affordable prices. The collar and cuffs can double as wearable accessories as you celebrate pride. In celebration of pride, combine your love of spanking and flogging, by swishing rainbow glitter impact devices through the air during your kink play whilst your submissive gagged with a holographic rainbow ball gag.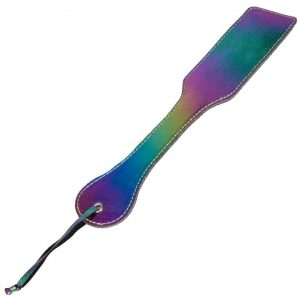 Bondara Pride Rainbow 14 Function 2 in 1 Wand
Want something magical, then a rainbow magic wand if a must. Bondara have released their double ended rechargeable wand in rainbow colours specifically for Pride month. With one end offering strong rainbow powered vibrations for external play, and, the other end you can literally dip the rainbow and all its power inside your body. You'll want to be loud and proud with this powerful sex toy.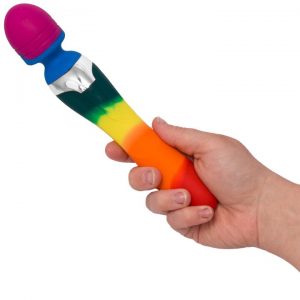 Rocks-Off RO-80 Rainbow 7 Speed Bullet Vibrator
The RO-80 is one of the most long-standing bullet vibrators out there, and it is now available in rainbow colours. This bullet vibrator was one of the first external sex toys to adopt the pin-point tip, allowing for intense and direct stimulation.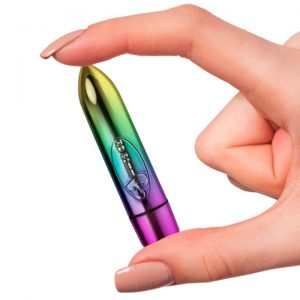 Glacier Glass Aura Collection
These glass sex toys offer a lens of rainbow colours when looked through within the light of day. As light reflects through their shaft a rainbow forms giving a ray of hope. Added bonus is, they're also functional whilst being pretty.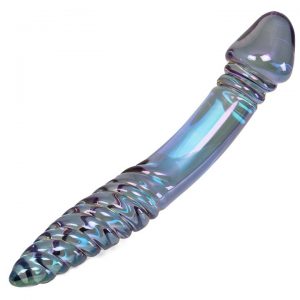 Bondara Pride Rainbow's End Dildo
In the official Pride Flag colours, this dildo is made from body safe silicone, and has a suction cup base. Meaning you can ride this sex toy with pride, by placing it on a chair, wall, kitchen worktop – you have full freedom to explore the rainbow home whether you desire and it can stick. The suction and ball base also mean's it's great for anal play and pegging, so you can even share the love.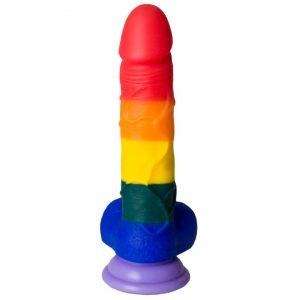 Rainbow Silicone Curved Suction Cup Dildo 6 Inch
With a curvy rainbow shaft to explore, this abstract rainbow dildo is a great example of how pleasure can look and feel aesthetically satisfying. The dildo offers a suction base meaning that you can put it on a surface to ride and enjoy, or press the suction base together with another suction sex toy, to make a double ended dildo.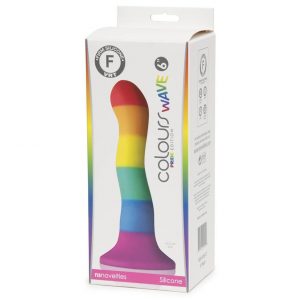 Bondara Faux Fur Rainbow Tail Butt Plug
The Bondara Faux Fur Rainbow Tail Butt Plug has a fluffy rainbow tail on its end adding extra stimulation between your thighs as the rainbow faux fur brushes against you. Ideal for those who want to wear the rainbow colours during pet play or are involved with the furry culture and want to dress in the Pride colours for a change.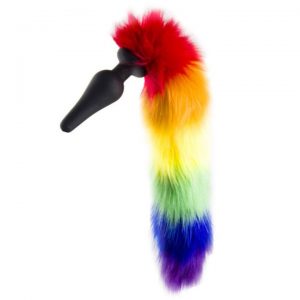 Lovehoney Super Soft Silicone Rainbow Butt Plug
This liquid rainbow silicone butt plug is so smooth that you can pop it inside your body for anal enjoyment with ease. With a suction base, you can explore using the plug as a shallow penetration ride on sex toy, or simply wear throughout your Pride day celebrations.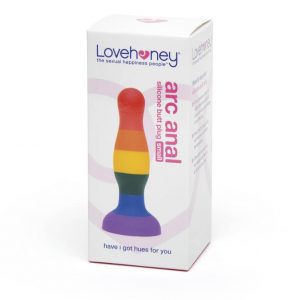 Any sex toy can be used to celebrate Pride rainbow or not, but some of these rainbow sex toys have even tempted me. If you prefer to celebrate a different Pride Flags colours, there are loads of sex toys you can invest in and combine the colours to match your given flag. The key is to enjoy Pride no matter how you celebrate – but I think the freedom of sexual expression is very valid and enjoyable.