Sex toy review for Quickie Cuffs, written by Ness.
Quickie Cuffs are silicone handcuffs that have no latches, hinges, or need for keys. They simply slip over your subs / lov-e-r-s hands and restrict their movements instantly. I was excited to test these and see if they'd actually work. Often with bondage quick solutions can lead to a quick and effortless escape, and I wanted to see if these would at least challenge my subs during wear and keep them restrained without slipping off unlike other quick BDSM remedies I have tried in the past.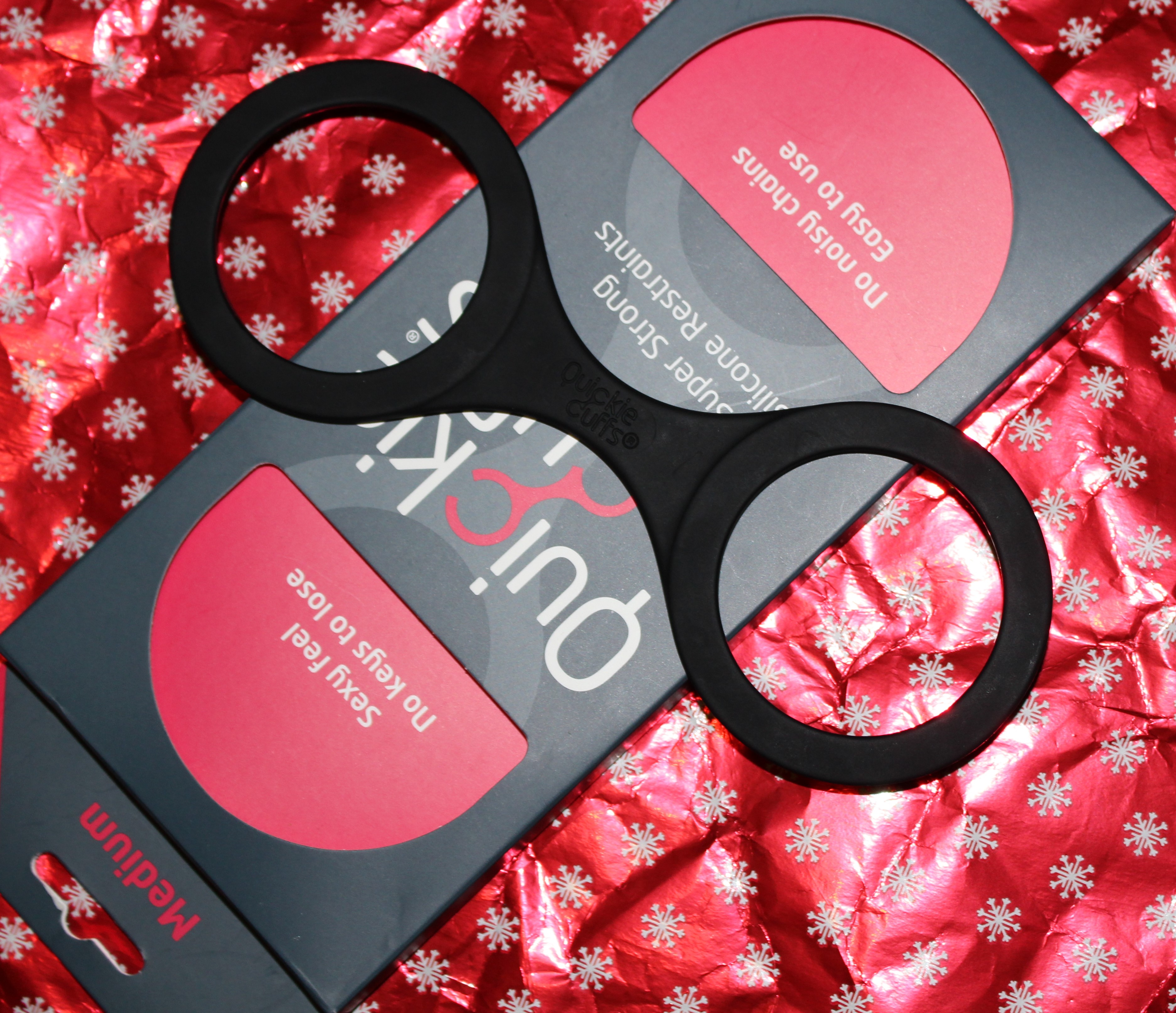 They arrive in tastefully presented box with user information dotted around on it. The first thing I noted when removing these from the box was how light they are, unlike chain and or leather handcuffs these are as light as a feather, meaning they'll be great if you or a submissive have weaker wrists and normally struggle with heavy duty BDSM gear. The silicone used is smooth and velvety meaning they don't rub when slipping over the skin. The wrist holes are very flexible. The pair I received are the medium size which allows up to 6.5 inches in circumference – f you have large hands and or wrists I'd highly recommend getting the larger set, and I am personally considering getting the next size up as the medium is a tad tight for most of my male submissives.
During use I'd recommend your submissive put these on themselves as it can be a little fiddly fitting them over another person's wrists. I'd also recommend these as a safe option for self bondage as you can slip them on and off alone, and if they are a bit tight simply use some water-based lubricant to help easy them on and off. If need, the silicone can be cut, and the cuffs themselves aren't overly expensive so it wouldn't be as bad as cutting a pair of cuffs worth more, or having to suffer the embracement of getting the fire brigade out to cut metal cuffs off you or your partner.
Even with the ability to remove them yourself, my subs did take some time trying to free themselves from them.
The greatest advantage of these cuffs for me is that they are handbag size. You can even fold one half through the other cuff to make them compact enough to fit into a pocket if needed. As they are silicone they can also pass through airport security easily (however I'd still avoid taking these to Dubai due to them having the product logo engraved into the middle making it clear they are handcuffs).
The cuffs stretched over my submissives hands and immediately restricted his movements. I challenged my submissive to try and wriggle them off, however, they stayed locked around his wrists confining his movements – only when he used the opposite hands thumb and fingers was he able to stretch these over his hands and off. I tested the endurance of the cuffs and forcefully pulled the centre of the silicone handcuffs, they still stayed wrapped around his body. The cuffs stayed comfortably around his wrists over a session. Unlike metal chain cuffs he didn't experience any unwanted sensations such as the cold from the metal or the chain catching arm hair. He also found that as they were flexible it was easily to get comfortable in different positioned where heavier and solid cuffs would make uncomfortable.
Cleaning the cuffs is fairly simply. They can be placed onto the top shelf of the dishwasher or washed with warm water and antibacterial soap. You may need a soft bristle brush to clean the engraved logo area as the grove ca catch dirt.
Overall, whilst these aren't as secure as lockable cuff / buckle cuffs I still feel these have a place in my collection. Sadly I can't pack my dungeon into portable size, yet I like how these offer a bondage option and I'm sure they will be packed into my bag when I next host hotel sessions.
Thank you to Bondage Bunnies for sending me these cuffs to review. You can find out more here.