Pegasus Silicone Butt Plug with Bubblegum Tail
The Pegasus Silicone Butt Plug with Bubblegum Tail is a pony play plug which may appeal to those who have unicorn fantasies and or My Little Pony fans. The plug is made by Ns Novelties, and is medium in size with a curled bubblegum pink faux hair tail. Some of my most fun FemDom experiences have been in the realms of pony play, from being driven in a pony play cart, to simply just straddling a submissive's back as they trout around on all fours in my living room.
So, for me, a pony play plug has to be able to be put through its paces and stay comfortably in play during rigorous activities. Many pony play plugs are made from glass or rubber, the Ns Novelties one is the first I have tried made from silicone. If I'm honest we need more pet play plugs made from safe comfortable materials, so I was quite interested to see if this one would stay in snugly. The silicone butt plug isn't the main attraction for this plug, and it really grabs people's attention more than traditional plugs due to its fairytale style bubblegum pink tail. The tail gracefully curls towards the floor and really does help bring fantasy play alive. With the weight of the tail a pony plug has to be built with this in mind so that it'll stay in position whilst moving, as well as while being groomed.
Would this plug not only be cute but also functional? Well, keep reading and find-out.
The Plug arrives in a white box with a picture of the toy on one side and a cut-out window showing you the actual product you receive on the other. The box has various written information found on it. Ns Novelties have called this particular plug 'Unicorn Tails', however, you may find it titled differently on some retail sites (such as Lovehoney). Inside the plug is resting in a plastic clam shell. While the box isn't discreet, you may wish to keep it so you don't get the tail too tangled whilst storing it.
The plug is made from silicone, whilst it is still smoother than some silicone toys, it can still drag when used anally and not enough lubricant has been applied. The insertable part of the plug is 3.5 inches long, including the just over half an inch long stem. The widest part of the cone is around 4 inches in circumference. The plug has a rounded pointed tip for easy insertion. The toy has some flexibility to it, but during use it really isn't noticeable. The base is round, and whilst it can bend, it doesn't fold comfortably between the buttocks. Flowing from the centre of the base is a curled pink faux hair pony tail which measures about 18 inches long.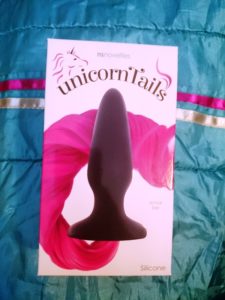 After selecting my pony I made sure they were relaxed and applied an ample amount of water based lubricant to their anal orifice and my gloved hand and slowly teased their anal canal so it would be able to fit the plug comfortably. This isn't a plug to just shove up your pony's bottom as it is larger than some, plus the silicone can drag a bit when dry – you don't want to startle your pony before you start your play scene. Even with adequate warm-up, the plug wasn't the easiest to insert. The silicone needed a lot of lubricant added to it, and the round base wouldn't sit comfortably between my submissive's buttock.
Once finally in, the base was too rigid to be comfortable when my sub sat down and it just kept trying to push the plug out of their arse. The silicone cone didn't grip past the sphincter muscles, and the stem just seemed too short for the plug to stay in during play. As my pony trotted, the plug slowly wiggled out, embarrassing them. Grooming the tail wasn't easy either, not only would brushing the tail make the plug slip-out, but it also tangled the beautiful curls. For my pony, this plug wasn't very successful. Whilst cute, it just wasn't functional, and we weren't able to play-out their pony fetishes and fantasies.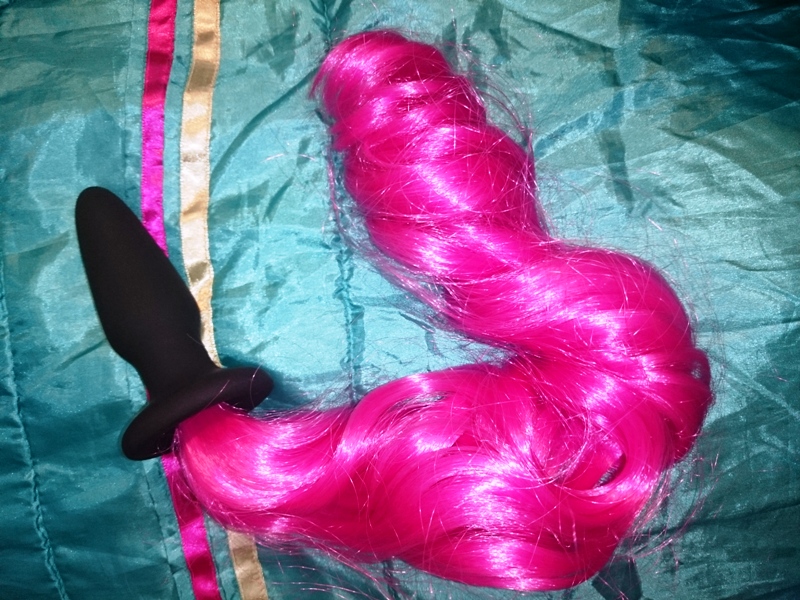 Now plug shape can be a personal matter. Some plugs work better for some than others. But, I've now tried this plug on a few people, including myself. Sadly it's just not a comfortable plug and doesn't stay in very well at all. I feel a rethink in design is really needed for this one, particularly as some people may decide to try pony play due to its cute appearance, as some pony plugs can appear slightly scary. But even though it's cute it may even disappoint those who aren't big pony play fetishists and hinder their desire to try the fetish further.
Cleaning the plug isn't very hard; simply wash the silicone in warm water and antibacterial soap. Maintaining the tail isn't going to be easy as it can't be brushed easily. I do love the idea of a curled hair plug, however, it doesn't look like it'll stay beautiful for very long.
Overall, I sadly can't recommend this Pony Play Plug. Plugs without tails added to them need to stay in, so even as a standard butt plugs go this one really doesn't work how it should. I'm not able to play-out a full pony play scene with this plug, it's just not functional. I really hope Ns Novelties do explore silicone pet play plugs more, particularly as I like how this one can help those into the fetish explore unicorn play and more, I'm just hoping the next version they make of these fantasy plugs, that the butt plug itself will be better shaped and functional for use.
Thank you to Lovehoney for sending me this sex toy to review. You can find out more, here.
Post contains affiliate links.