Officer's Mate Costume by Smiffy's
The Officer's Mate Costume by Smiffy's is a white and gold fancy dress outfit designed in a sailor's style for women. Unlike some female fancy dress items, this set is a little less revealing, giving a more sophisticated appearance to it.
The set arrives in a clear plastic bag with a cardboard insert positioned at the front of it showing you a picture of what the custom will look like when worn. Inside the packet you will find, a white jacket style top, a knee length skirt, and a sailor's cap. The garments are adorned with gold ribbon trimming. The skirt comes with a zip and an elasticised waist, allowing it to be slipped on and off easier. The top has two rows of buttons with a zip in the middle. The gold plastic buttons are adorned with anchor motifs. The top is fitted to show off the cleavage, with the addition of a collar around the neck line. The shoulders emphasize the wearer's posture and power, by having epaulettes. The sailor's cap is a simple cap with a wire rim at the top to offer some shape to the item when worn.
Notes on Quality:
Whilst the costume is more to more to my taste, it has some issues in regards to quality. The top arrived with a missing button. All three pieces had untidy thread sticking out all over the place. And finally, the hat really is far too big, and doesn't have a good shape to it all.
I feel that if the item arrived with all the buttons, it would've been a rather nice set to wear after tidying up the thread. The hat well, isn't worth wearing (although a sub of mine has taken an odd liking to it…).
The skirt is the best part to the item. It's well fitted and really helps accentuate an hourglass figure. The zip, whilst handy, can be a pain (but I find that with all female zips).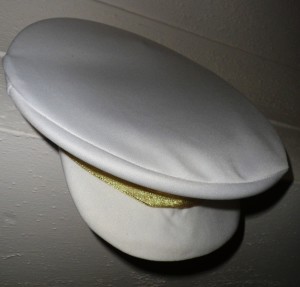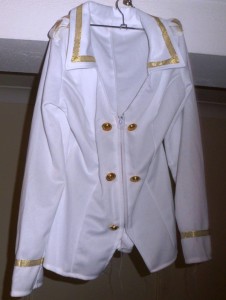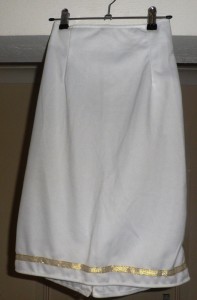 To wash the set, simply put the skirt and top into the washing machine (I recommend a 30° wash). The hat shouldn't need washing too often, but when it does, a hand wash would work best due to the wire insert. The white really does mark easily, although I know some who wouldn't mind getting an outfit like this a tad dirty through some playful fun.
Overall, I do like this style over other outfits; it's just a shame that it had so many defects. If you're looking for a fancy dress outfit with a longer skirt, it's something to consider, but I can't guarantee you'll get one without the defects.
Thank you to Jokers' Masquerade for sending me this item for my review. You can find out more about the costumes they stock by clicking here.