Maze Handcuffs and Leash from Bijoux Indiscrets
Sex toy review of the Maze Handcuffs and Leash set written by Ness
The Maze T-Restraints by Bijoux Indiscrets is a bondage handcuff set with leash. The cuffs are tension locking meaning that you simply thread them around your lover's wrists and pull the leash or chain to tighten.
Maze is unique due to it being designed with vegans in mind, the range offers people an option which is cruelty-free to animals meaning that the materials aren't made from animal products; they are also ethically sourced from recycled materials. While there are other options for vegans when it comes to BDSM gear I personally feel that Bijoux Indiscrets have done an excellent job with this range compared to others as the material used is more comfortable and far more natural feeling than other non-leather products I've tried. Many bondage items made from plastics have a habit of scratching the skin, feeling exceptionally cold to touch, isn't very flexible, and unfortunately has that fish glue smell. Bijoux Indiscrets Maze line if probably the closest thing I've found to leather (from texture, softness, and smell), that isn't leather at all. The material they have sourced for the range could even make some of my leather fetishist submissive convert.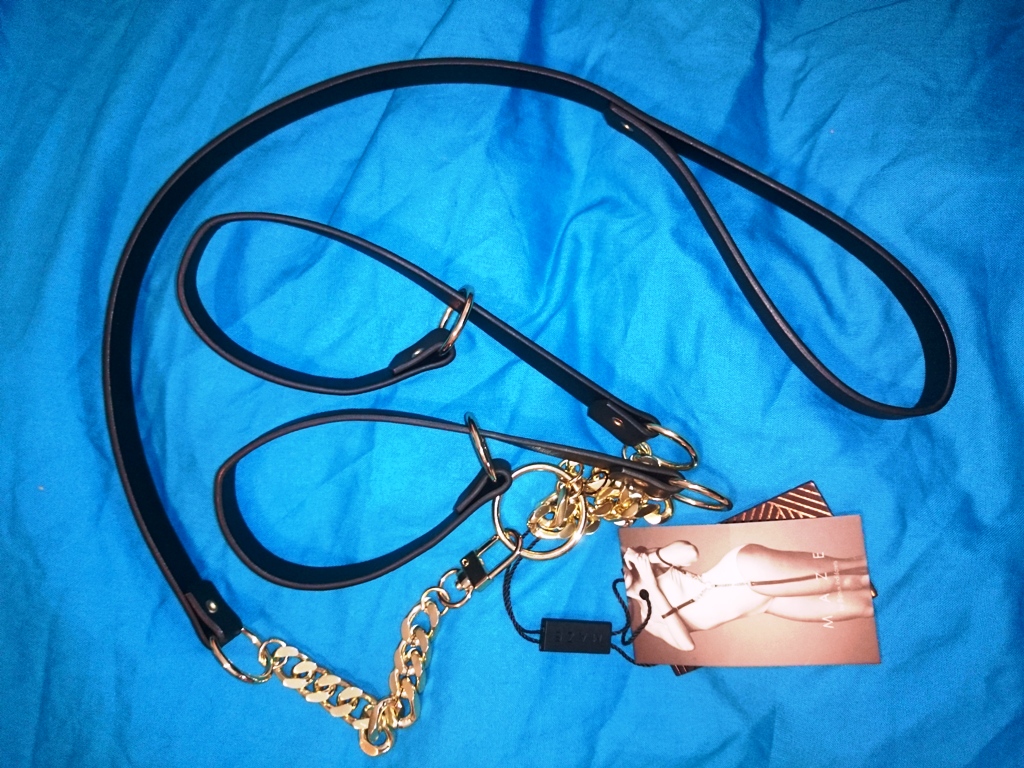 The cuffs and the leash are made from polyurethane. The lead is 24 inches in length and attached to the cuffs very a padlock style catch, I rather like this touch to this set as it helps make the product not only stand-out but fit into the BDSM theme more. You can remove the leash via the leaving you with the two cuffs linked together via chain and an O-ring at the centre which can be pulled by a finger to create tension in the cuffs straps and restricting your lover's movement. The metal has a gold tinge to it. I'm actually impressed by the strength of the chain and its appearance is similar to more expensive designer BDSM gear but being a fraction of the price. The cuffs can fit up to wrists of 10 inches circumference.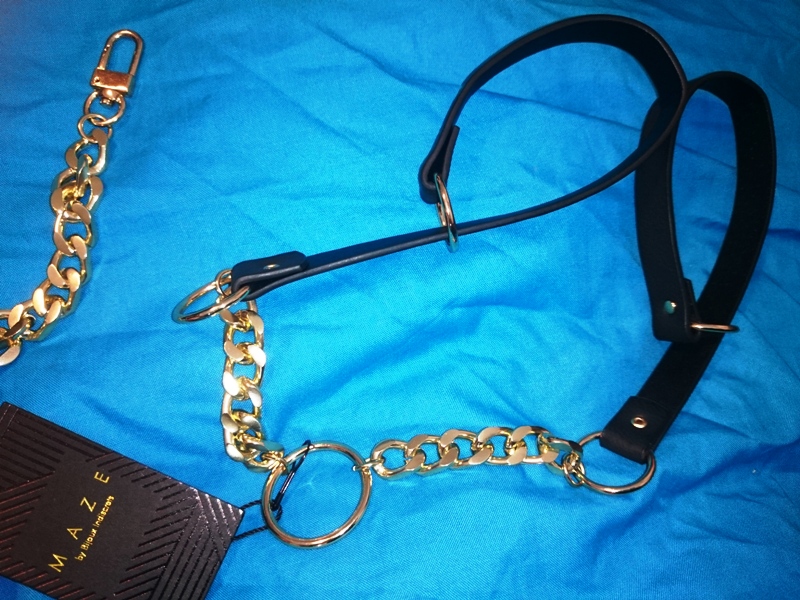 Using these on a submissive I found them very quick to fit around their wrists. I was able to guide them around the room with the lead whilst they were walking with a humbler in-between their legs, occasionally playfully adding motivational pulls on the lead to speed up their pace. I've even attached the O-ring to one of my ceiling hooks, the height and tension lock the cuffs around a submissive's wrists nicely and helps set them into position for floggings, whippings, and canings.
In the bedroom with a lover I've had great fun with these cuffs, taking off the lead before play, and simply using the main cuffs and controlling my lover's moves with the O-ring. This has lead to some very passionate and primal nookie where I've simply pulled them into different positions, moved them in ways to allow access to certain parts of their body, and even restricting their movements for a moment particularly when they try to kiss or play making them long for the action more.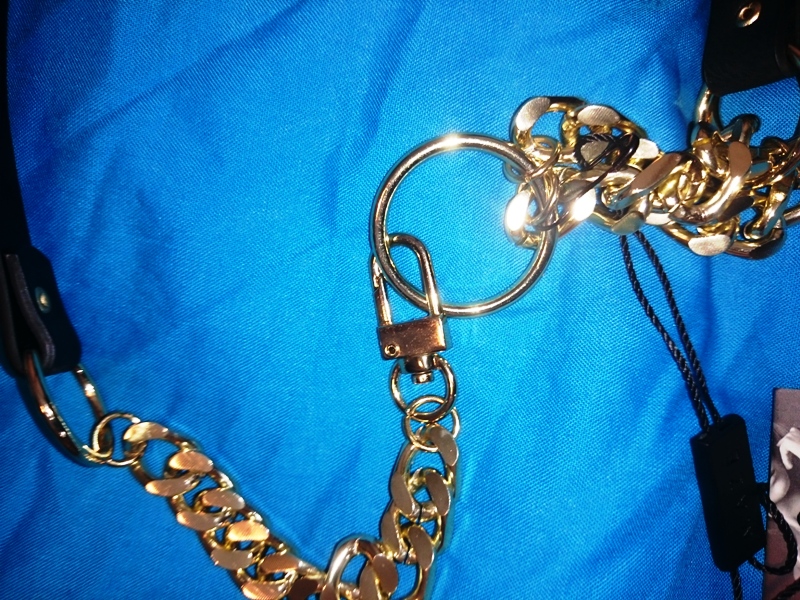 To clean the leash and cuff set simply use some antibacterial soap, water, and a cloth to wipe away any dirt.
Overall, I really like these cuffs. They are a lot stronger than I had expected plus the faux leather is excellent in quality and texture. They're a very playful bondage device and work well with Dom / sub play as well as during sex with a lover.
Thank you to Bijoux Indiscrets for sending me these handcuffs to review. You can find out more here.