Lovehoney Sheer Lace Top Hold Up Stockings
The Lovehoney Sheer Lace Top Hold Up Stockings, are a part of Lovehoney's own range of affordable lingerie. The stockings are a semi-dark black tone which helps enhance your legs natural contours. They are adorned with a floral lace top which brings attention to your thighs, neither region, as well as your buttocks.
With these stockings I was eager to see whether they would pass the few tests I often found many hold-ups failed.
The stockings are made of sheer black nylon fabric, with floral lace-tops and silicone grips, and have reinforced toes.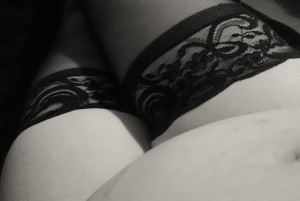 Length: Normally with 'One Size' stockings I find the length of them to be hit-and-miss, however with these I had no such issue. I have long legs (I'm around 5'10"), and was able to position these stockings right to the top of my thighs if desired. I was able to position the lace-tops lower if desired, without affecting the appearance of the overall stockings – I've found some which have been positioned lower to make the stockings appearance become baggy, but this wasn't the case with these stockings.
Fit: Right now I'm in the higher sizes of the 'One Size' category, and due to pregnancy my legs and thighs have become a lot less toned. Normally this would mean that 'One Size' stockings wouldn't fit my legs, even if they state they should, but with these stockings they fitted perfectly. I was even more surprised to find that the hold-up stops didn't dig in uncomfortably, or roll at the lace edging; they simply sat smoothly against my thighs rather attractively.
Hold-up Silicone: The hold-up silicone can sometimes cause various issues depending on the brand. Even with the most expensive stockings I've found some to really fail at the silicone grip bands. Sometimes the silicone bands arrive wrapped so when worn they don't sit right, however I found the silicone in these hold-ups arrived in excellent smooth condition. Other times the silicone arrives too grippy, yet these offered the right amount of grip, making sure the stockings didn't roll, warp in appearance during wear, or fall. I found the silicone bands to be some of the most comfortable I've worn, and found it felt like I almost wasn't wearing hold-ups at all.
Appearance: The sheer black material is sadly where this product is let down. Now it may just be the pair I received, but they appeared streaky and patchy. They haven't laddered yet, however the way they have been manufactured gives them a slight appearance that they have. In areas there are patches of different tones of black / sheer, almost as if the stockings have birth marks on them. I guess this isn't too uncommon with cheaper sheer stockings, and they aren't the worse in appearance when compared to some others I've had, but it noticeable to myself and my partner when I've worn them.
Feel: These stockings offer more of a velvet feel, and are slightly less smooth than some brands I've tried. I'm happy to report that they don't feel rough or scratchy when a hand is rubbed down them; unlike some I've had (particularly those under £5).
The stockings can be washed by hand and left to dry naturally over the side of the bath. You should expect a good few wears out of these stockings.
Overall, I like everything about these stockings other than the fact that my particular pair looked patchy. I feel the lace-top hold-up part is really comfortable, and I like how they sit smoothly, rather than making my legs bulge unattractively. Ill-fitting stockings can really ruin the moment and affect your confidence within the bedroom, however these avoid that. Also, it's great how comfortable these feel to wear for every-day use, and I rather like how I don't really notice I'm wearing them when getting on with my daily activities.
Thank you to Lovehoney for sending me these stockings for my review. You can find-out more here.
Post contains affiliate links.