Review of the Jett from Hot Octopuss
The Hot Octopuss Jett is a powerful sex toy designed for hands-free penis orgasms. The Jett boasts of two typs of strong vibrations, a trebble (buzzy), and a base (rumbly). When receiving the sex toy I was a bit concerned whether its claims of intense vibrations would be spot on, as the sex toy is battery powered, and often battery powered sex tech can be weaker than mains or rechargeable. Saying that, there are few sex toys for penises, designed with strong vibrations, so I was excited to see how my lovers and subs with penises found the vibrations.
Often neglected in sex toys for penises is intense and quick orgasms. Normally many looking for this type of experience are looking at expensive sex machines. The Jett is more affordable than these plug-in devices and can be put into your bedside drawer. One bonus is that there are two types of vibrations to choose from, as some can find buzzy or rumbly can do very little for them or can't wake up the nerves easily with just the one style of vibrations. Having both options, with a combination of patterns, covers all bases.
The Jett is made up of two egg shaped bullets that slot into a silicone sleeve. The bullets have a 24-inch cable, with two pins in the end to connect into the control panel. The control panel has two plus and minus controls, each one controls either the trebble or the base vibrations. Pressing the plus button on each turns one each independent bullet and the more you press it, the more it revs up the power of each. To turn off each bullet separately simply press and hold the minus button of the one you wish to turn off. Below these controls there is a little round button, pressing and holding this button will turn on both bullets at the same time. When you keep pressing this button you can circle through the 5 vibration combinations. To turn off both bullets at the same time, simply hold and press the round button for a few seconds. The control panel requires 4 AA batteries. The sex toy is not waterproof.
The silicone ring is a little wider than a standard cock ring. The Jett is designed to have the bullets rest under the frenlumin, but the silicone sleeve is stretchy enough it can be moved around the penis shaft.
Top Notes:
Can switch the treble and base bullet around if you prefer more rumbly or buzzy vibrations the opposite sides.
It can be experimented on other parts of the penis shaft, not just under the frenulum, due to the stretchy ring.
The Trebble and base egg bullet vibrators can be removed and used to emit vibrations to other parts of the body, or to tease a lover.
The controls can be used by a play partner to offer an element of surprise.
The length of the cord is ideal for self-pleasure, particularly if you have mobility issues, or wish to experiment with different positions
The silicone sleeve and strong vibrations can be great for those who struggle with orgasms, lack of sensation, and erection.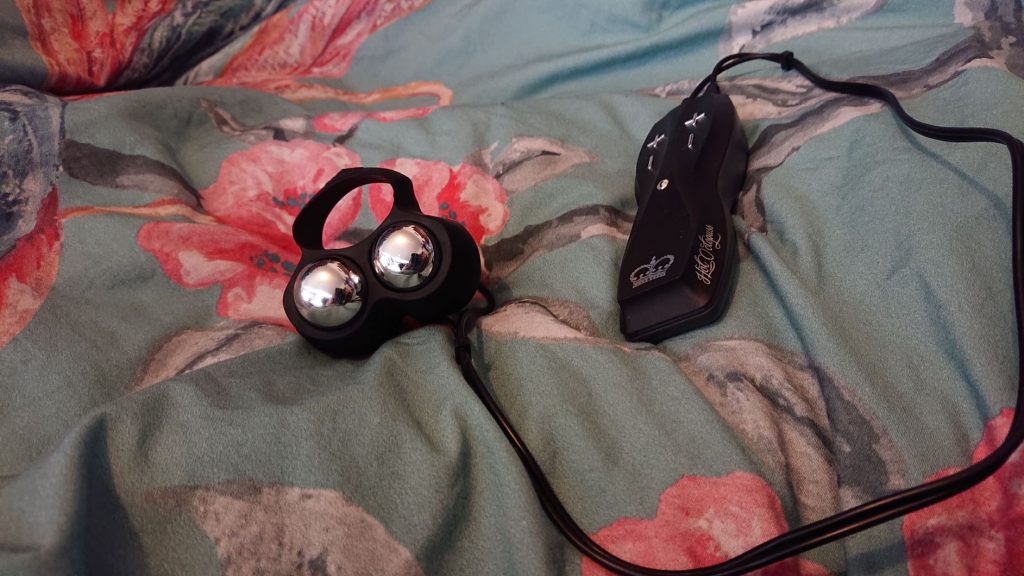 Troubleshooting: If the vibrator doesn't turn on, make sure both wires are connected fully as it will not work at all if only one is inserted into the control panel.
Warning: Do not insert the eggs into the anal canal.
Test Subject One:
One of my lovers decided to give the sex toy a go. They generally find it hard to orgasm and the vibrations from some devices just make them feel numb rather than pleasurable stimulation. So, it was interesting to hear their thoughts of the sex toy. They applied some of their favourite water base lubrication, and pulled the device over the head of their penis. He sat back and put on his favourite porn and rested the control panel in one palm. As he takes a long time to experience orgasm and ejaculation he normally spends sometime massaging the shaft of his penis and massage his perineum and scrotum. However, with the Hot Octopus Jett, he was able to orgasm and ejaculate quickly and didn't have much time to stimulate other erogenous zones. When I asked him which style vibrations he liked with the Jett, he told me that he liked a mixture of the treble, and base, with the rumbly vibrations being stronger than the buzzy ones.
Test Subject Two:
After plastic wrapping my submissive, I made sure there was still access to his cock. With his mouth gagged and eyes blindfolded, I headed down to his penis and pinged the Jetts silicone sleave over the shaft. I started with turning on the base suddenly and switched it to one of the pulsing patterns, whilst I explored a little mild CBT. After some time on the low rumbly setting I turned it off, and stroked my hand up and down his shaft teasingly and stopping as soon as he groaned. Allowing his erection to subside a bit before I turned the Jett back on. Starting with the tremble bullet this time, ramping it up to max then off again. Continually edging him close to orgasm, but stopping as soon as he came close to cumming each time. Each moment was short and intense, and a few times he almost came close to ejaculation as I teased as the bullet was so powerful. I could tell he was trying to bite his lip through the gag as he squirmed. Beads of sweat rolled down his face as he was trapped within the heated shrink wrap. Finally, he was exhausted from the teasing of inept pleasure, I finished off the session with deep smoothing and strong rumbles from the base bullet, and the orgasm was tremendously intense leaving him heady.
Experimenting by Myself:
When using the Jett on myself I found I enjoyed using the base rumbly vibrations clitorally. For a battery powered vibrator, I was able to orgasm fairly quickly using the base bullet by itself on my clitoris.
The two bullets out of the sleeve meant I could use one externally on my clitoris and one internally in my vagina whilst I wore a strap-on. Being able to control the bullets separately meant that I could pace my pleasure out, and when the buzzier vibrations became too numbing, I could switch them off.
When cleaning the Jett, remember that it isn't waterproof. Unplug the bullets from the control panel and pop them out of the silicone shaft. The silicone shaft can be washed in warm water and with your standard antibacterial soap, you'll want to pay extra attention to the raised logo and lettering as these areas can trap dirt. For the bullets and control panel, use a damp cloth with antibacterial wash to wipe them down.
Dislikes:
The buttons, I really don't like how uncomfortable they are to press. Also, batteries are a pain, but they do last awhile. It could benefit from a clip on the control panel too.
Overall, the Jett is a good sex toy that can be used so many ways, not just on the penis. It's a lot more powerful than I expected. It's power does have it's moments of being numbing when left on one setting too long, but with the ability to mix up patterns and types of vibrations, this can be overcome quickly.