Inside The World Of Miniature Dungeons
Lockdowns have introduced many to crafting activities that they otherwise wouldn't have the time for. Some are enjoying crafting as a way of coping with pandemic stress and others are just trying to tick off activities they have accumulated over the years but lacked time for.
It was lockdown that made me learn that there's a whole kink side to crafting, and many individuals are spending time making NSFW items. I was somewhat aware of people crafting kink bits before, but mostly, my knowledge was mostly BDSM items to use with another. But there's a whole new side to kinky crafting I've been introduced to, where there are many hobbyists for, particularly activities making things to display around their homes or appeal for them to wear. There's a big market for these items and some people have managed to set-up successful businesses in doing so.
I remember when I was younger, my aunt having the most amazing dollhouse made with a custom wallpaper, to miniature handmade furniture. As I child I wondered why an adult would have such an item, thinking it was something just for kids with Barbie's. When I became an adult and found myself in Hobbycraft, I learnt that adult Dollhouse hobbies were no joke, and actually costly and time-consuming.
Dungeon dollhouses are a way kinky individuals are expressing their love of all things miniature and BDSM.
I spotted Sara Ovington work on Facebook and found their miniature dungeon equipment amazing. Sara has always had an interest in the BDSM lifestyle and started combining that interest with miniature Dollhouse hobby when they couldn't own their very own lifesize dungeon due to children being around. It's been almost 20 years since Sara became a Dungeon Dollshouse hobbyist, and they plan on continuing adding pieces.
"I started off by making a room box dungeon.  I kept adding to it until, in the end, it was becoming rather full and needed more space.  I also made some in box files, that could be out on display, but which were easy to pack away in a hurry if you had unexpected visitors." Eventually, Sara's hobby expanded and led to commissioning a custom-made dollhouse, "I then decided I wanted to do a miniature dungeon over several floors, so commissioned someone to make the actual house for me, as I wanted open beams in the top floor area, which I couldn't find in regular dolls house kits."
Box file dungeons are a brilliant idea for anyone who is unable to keep their hobby on display, and I love this idea and how it reminds me of book nooks but ones that you close and hideaway.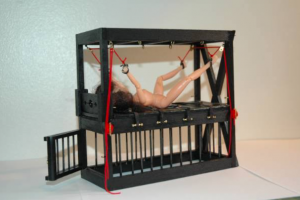 Sara's favourite piece is the bondage bed, and if I'm honest it looks better than the ones I've seen at some Dungeon parties so I totally get why they like it so much,  "My most favourite item in my BDSM dolls house is the bondage bed, which I modelled on one that I had seen in the London Dungeon Hire  (www.londondungeonhire.co.uk) whom I have done some embroidery work for in the past, such as t-shirts, cushions, towels and so on.   The model bondage bed took quite a long time to make and set up and involved a lot of work, but I am pleased with the end result."
Crafting and getting creative with fetish concepts and ideas is Sara's was of expressing themselves and keeping themselves happy, "I think making the dolls house dungeon, as well as the other fetish related items I have made such as fetish related embroidery work, fetish cards, and the erotic fiction I have written, make me feel happy and proud that I have been able to create them, as I have been able to express myself." She has made the miniature dungeon to how they would have their own dungeon if she could, "… I make it how I would like to make a real-life size dungeon look, and proud of the compliments I have received on it. " Sara then points out that whilst they are really lovely items to make and display, there are times they aren't acceptable to be out, "Although they are not really items you can show your great aunt or the Priest if they pop round for tea, they are all things that have given me a sense of self-worth, as when I was younger, I was often told I was never any good at anything.  These things have proved to me that I do have the capabilities to do things that are appreciated by others.". I'm so happy that Sara has found something that makes them feel they have achieved something great, and I believe they have not only in the skills they have shown but also by overcoming negativity from their past using miniature dungeons as a way to escape and express the real them.
They have loads of ideas on how to expand their dungeon, and I'm hoping they share pictures over on their Facebook page, "I'd like to do something using the ceiling beams, as that was one of the features I really wanted in the dolls house, but I've not got round to doing anything with them yet.  I also want to make a new spanking bench, as I put a box file dungeon up for a raffle at a fetish event and it needed a spanking bench in it but I didn't have time to make one, so I took the one from my own dungeon, that I now need to replace.".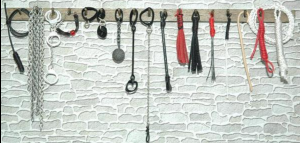 If you're hoping to get into making a miniature Dungeon Sara points out that there are bits you can buy, but many pieces they have in theirs are handmade by themselves. "Although I have bought some items for the dungeon, all the actual erotic items, such as spanking benches, toys, collars, leads, vibrators etc I have made myself.  It is time-consuming and very fiddly.  You need a steady hand and good eyesight, but if someone wanted to make one, I'd say good luck to you, just don't go setting up a dolls house mansion, as you will never finish it.  I look and see what sort of things I would like in a life-size dungeon and then scale them down." It can take time to learn how to make miniature items, but Sara's devotion shows that it is worth it not only because of creating something beautiful and unique but also how positive it can be on your overall wellbeing and happiness.
Zebra Rose used their time spent at home last year to start making a miniature dollhouse room, whilst they don't plan to expand into a full dollhouse, they may "decorate the 'walls' a bit more.", in the future.
They were inspired to start crafting a dungeon room to take a break from social media whilst having more time on their hands due to lockdown. The solution was to use their hands to make miniature dungeon furniture. "Crafting keeps me off social media during some of the darker times of lockdown when doomscrolling is the last thing I need. I was shopping for embroidery stuff between lockdowns one day randomly impulse-bought some modelling clay. I made some SFW stuff and all the time in the back of my mind, I was working out how I could make a dungeon until I was ready to have a try. I did break a lot of tiny dildos and floggers in the process!". Breaking miniature dildos kind of makes Zebra Rose sound like a Dominatrix of modelling clay.
Their favourite features they've added to their dungeon room are a buttplug and St Andrew's Cross "Ohhh that's a tricky one! I love the tiny buttplug so much, but I'm quietly smug about the St Andrews's Cross as well.".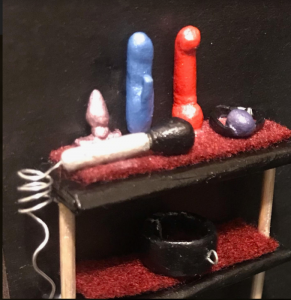 Their dungeon room makes them happy and that's one of the most important things when taking up a craft project, do something that makes you happy! "It's so cuuuuute! Also, it makes me laugh because it's so absolutely me – obsessive, perfectionist, kinky, creative hermit that I am.".
They're waiting for some more inspiration before adding more to their miniature dungeon room, so, for now, have started on a new kink-positive project "Not sure yet – I'm hoping for a flash of inspiration so I've switched back to kinky embroidery while I mull it over.".
When I asked Zebra Rose on tips for those who are considering trying out making a miniature dungeon their response was "Yesss! Do it!".