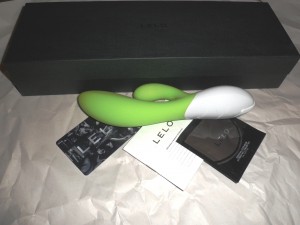 The Lelo Ina 2 is a dual stimulator vibrator, similar in design to a rabbit sex toy. The product is made from high quality silicone and glossy ABS plastic, and is rechargeable and waterproof. The Ina 2 is an upgrade to the Ina by Lelo, offering more intense power and a slightly modified shape – the Ina 2 has a slightly wider gap between the clitoral arm and insertable shaft. You can purchase the Ina 2 in a variety of colours, one of them being lime green.
The Ina 2 arrives in several layers of packaging; you are initially presented with an outer cardboard box featuring a picture of the vibrator in the colour purchased, and some basic product information. Once this thin outer box is removed you are left with a sturdy, inconspicuous black box, similar to a luxury jewellery gift box, with LELO discreetly embossed into the lid. Inside this box you will find the vibrator snuggled into a foam cut-out, with a compartment covered by a cardboard flap off to one side. Under this flap you will find the toy's charger, warranty, guarantee, instruction manual, a sample of LELO lubricant, and a plastic credit card style warranty card.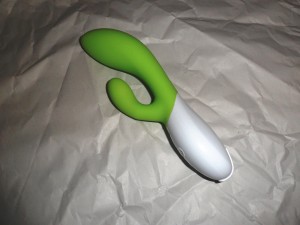 The Ina 2 is a silicone and ABS vibrator. It has four silicone buttons for controls, and a silicone tag covering its charging port. The product's main body is a bulbous shaft with a tapering tip. It flares out slightly at the front of the shaft, offering a wider surface area for G-spot stimulation. The main shaft is rigid, offering no flexibility or plushiness at all. The silicone used on the product is velvety smooth and causes very little drag when rubbed against dry skin. Towards the base you will find a silicone clitoral protrusion. This can be flexed away from the main shaft, but it has less flexibility than an average rabbit or other clitoral and vaginal sex toy. You are able to flex it away from the shaft up to 90 degrees, yet it will ping back forcefully unless wedged in place by the vulva or a finger. At the join of the silicone shaft and the ABS control unit is a small gap which may catch dirt. The handle houses four silicone buttons which control the various vibration settings.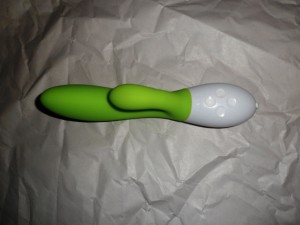 Inserting the Ina 2 is easy thanks to its tapered tip. A small amount of additional lubrication assisted in sliding it into my body. The shaft curved upwards into my vagina and rested on my G-spot. The bulbous head led to a satisfyingly filling sensation, which fitted well with my natural contours. The clitoral arm clamped too close to my vaginal orifice, and needed some repositioning to rest on my clitoris. The clitoral arm rested firmly in position. Due to its rigidness it helped pull the main shaft firmly onto my G-spot. Although I appreciated the intense pressure upon my G-spot, I found the clitoral arm too forceful, and it was rather painful compared to other dual stimulators I had tried in the past. The clamping nature of the product also meant I had difficulty applying any motions during masturbation. However, once switched on and at its maximum intensity, it induced a powerful orgasm quickly, causing my pelvic floor muscles to propel the toy out of my vagina. The vibrations of the Ina 2 were so powerful that I was able to feel them travel throughout my vagina and vulva, stimulating the maximum amount of nerve endings. Unfortunately I'm unable to appreciate the Ina 2 when using it on the lower settings because the probing clitoral arm is so distractingly painful.
I have tried the Ina 2 in the bath, but found it was too tricky to position the clitoral arm during aquatic use.
When cleaning the Ina 2, simply wash it under warm water with your standard antibacterial wash. The Ina's buttons have a tacky surface, so you may need to give them a little additional attention. Before recharging the Ina 2, make sure you have allowed the product to air dry thoroughly.
Overall, I really want to like the Ina 2, but I'm a bit conflicted about my feelings towards it. I value the strength of its vibrations when compared to many other rechargeable dual stimulators, yet it's probing clitoral arm means I'm unable to enjoy the product for long masturbation sessions. When positioned properly the Ina 2 does provide firm pressure on my G-spot, which would normally require quite taxing manual play, and again when on the correct setting ushers in a climax rapidly. I think the Ina 2 is one of those toys which will only work for some. If you are someone who requires intense clitoral pressure, firm pressure upon your vaginal anterior, and prefer short masturbation sessions, then this toy could work very well for you.
Thank you to Lelo for sending me this product to review. You can find out more about this product here.