How To Use Kegel Balls For Pleasure
Kegel Balls For Pleasure
Kegel Balls are regularly seen as a sexual health item, rather than a pleasure product, but it doesn't mean that you can't have stimulating sexual fun with this type of sex toy. Traditionally kegel balls have a free-roaming internal ball within them that sends vibrations throughout the sex toys and stimulate the vaginal muscles when inserted.
These free-roaming balls are designed for vaginal stimulation, unless they are made into a butt plug with a flare base. Kegel balls with only a string to retrieve them should never be inserted anally.
The vibrations from the free-roaming balls stimulate the vaginally walls and bring blood flow to the vagina, helping to wake up exciting nerve endings and even encouraging lubrication. With the addition of added weight to the kegel balls, they can help the pelvic floor contract.
Pelvic floor contractions can help build a strong pelvic floor which intern can result in feeling more sexual pleasure and stronger orgasm. The free-roaming balls can help bring awareness to the pleasurable pulse like contractions that the pelvic floor does as the genitals become aroused. As the pelvic area becomes aroused muscles twitch, tensing and relaxing, in response to stimulation. Internal stimulation and vaginal contractions can even make the vulva and vagina react and pulse with pleasure as the tissue becomes erect and exited.
Put them in place during kinky play
Explore the pleasures of power exchange and allow your partner to dominate you. Teasing you beforehand, bound in satin ties, and warming up your body before they insert the kegel balls then fully emerging into the realms of tie and tease with some light spanking. As they manipulate your body into position with the ties the balls will jiggle inside you. Adding light spanking into the mix, helps send a kinetic chain of vibrations throughout your body that are amplified as the rocks from the spanking hit and echo through the free-roaming kegel balls.
Wear them during mutual masturbation and foreplay
Masturbation together doesn't just have to be all hands, but sex toys can be used to help experience different sensations together. Having kegel balls inserted vaginally as you masturbate together can help make clitoral orgasms stronger. Also, every time you lean in to kiss each other you will feel the balls vibrate through your body, adding extra flusters of hotness to your play.
Use them during strap-on play
During strap-on play sometimes it can be nice for the strap-on wielder to experience some form of penetrative stimulation. Dildos and vibrators can be difficult to use due to the strap-on getting in the way, so kegel balls are a perfect way to explore hands free pleasure. As your hips rock back and forth the free-roaming balls roll around and send waves of vibrations throughout your body.
Explore double penetration with them
Kegel balls with internal free-roaming balls can be inserted vaginally as you explore anal penetration. When experiencing penetration anally from a sex toy or penis, the balls will also push closer onto the G-spot. With ever thrust received anally, the internal free-roaming balls in the vaginal kegel device sending rolling waves of pleasure over the G-spot and can lead to an intense climax.
Let them help you get ready for sex
As free-roaming kegel balls don't offer strong vibrations like a battery or rechargeable vibrator, they can be a good way to slowly get your body warmed up for sex. The soft vibrations from the balls moving can help your body become more lubricated if popped in just before sex. The stimulation from the kegel balls can also arouse you by giving you pleasurable reminders throughout your evening, or simply pop them in as you get ready for a date to help turn you on.
Top Tip: When using kegel balls for sexual pleasure you don't need to focus on going too heavy. The lighter the weight can sometimes even offer more vibrations as the ball can move more freely.
Best Beginner Free-Roaming Kegel Balls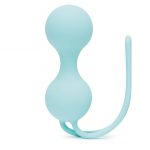 The Lovehoney Set The Tone Double Kegel Balls 60g is a double ball of mid-weight free-roaming kegel balls aimed for working out your pelvic floor whilst offering pleasurable vibrations. This set is made from smooth silicone. The kegel balls are small and easy to insert, so there shouldn't be any issue or discomfort popping them in when you want to play.