How to have a Pride Home Party
Pride Home Party Tips
The month of June is traditionally the month where many of us in the LGBTQ+ community celebrates Pride. Cities come alive with music and activities to support the rights of all sexualities and genders. Parades are run, and carnival-style parties fill the streets with rainbow flags and people dressed in colourful technicolour. Going to Pride isn't always possible, but having the LGBTQ+ rainbow flag gives many hope and reassurance. When you can't go to the festival, make the festival come to you!
Planning a home party is an alternative option for celebrating Pride, and it has been made even more possible, since Pride has started to being celebrated on online streaming and social media platforms.
With a selection of bunting, mini Pride flags, and a large Pride flag you can easily fill your home with the Rainbow Pride colours. The mini flags can be shared out amongst loved ones or placed in your favourite house plants pot.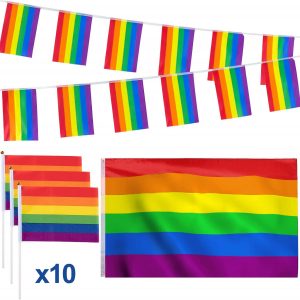 Rainbow Fan
Pride Partying can make you feel rather hot, the flattering flutters of this rainbow Fan can be used to help cool you down. One added bonus is that you could also use the fan to showcase a teasing seductive Pride inspired burlesques show.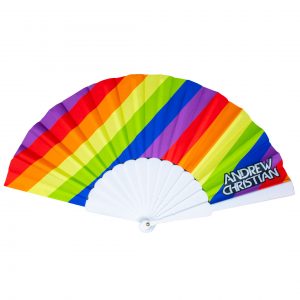 Rainbow Bandana
Wear as an accessory for when your out in the garden to stop sunburn onto your neck, or pop it over your mouth as a face covering whilst you're out at the shops. Or give it to your favourite animal companion to wear so they can sport the Pride colours too.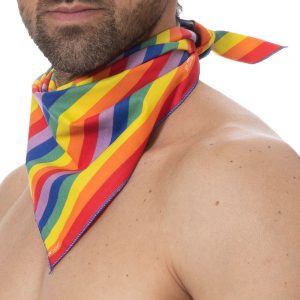 Pride Triangle Rainbow Necklace
Mixing two prominent LGBTQ+ symbols to make this distinctive necklace that can be worn out and proud, or, tucked underclothing whilst still offering a emotional reminder to who you are.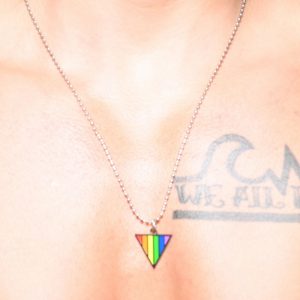 Pride Wristbands
I don't think I've been to a festival that doesn't have these style of wristbands for sale. With the Pride colours on one side, you can wear one either showing your true colours, or flip it over to hide them if needed.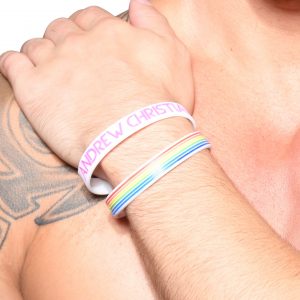 Pride Rainbow Armband
These striped rainbow coloured sweatbands have a heart in the centre of each one. The fabric bands can also be worn during your pride workouts to help keep sweat at bay.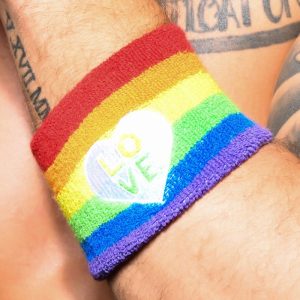 As with any party making sure you have enough snacks \and drinks for you can your household is important. To make your party accessible to your friends and loved ones outside of your household, you can always set-up a group zoom conference, or Facebook chat group so you can share the moments that you love the most between each other. If you don't have many people to celebrate within your network, there are many hashtags you can join in with via social media including photo ones over on Instagram to help bring awareness to Pride.
Getting involved with Pride themed Party Games such as Pictionary, Pride themed crafts, baking rainbow treats, can all be fun ways to celebrate. It's all about having fun and remembering LGBTQ+ history.