ElectraStim Prestige Metal Cock Ring
There are only a handful of electrostimulation cock rings available, and until recently, their quality has been a tad subpar. ElectraStim have now released a deluxe metal uni-polar cock ring which is compatible with electrostimulation control packs. The Prestige is a heavy weight ring, made from thick surgical stainless steel. Its aesthetics adorn the wearer's penis whilst also producing a prestigious erection. The added thickness to the device not only adds extra comfort when compared to thinner and older models, but also means, it will emit better electrostimulation due to more surface area for conductivity.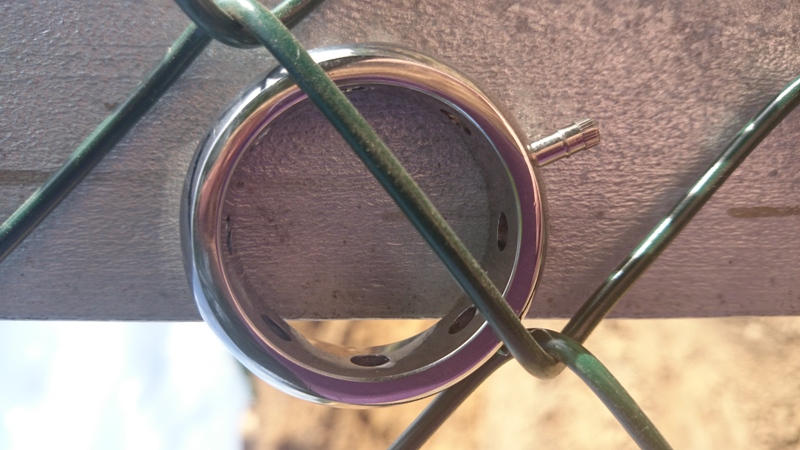 The ElectraStim Prestige Metal Electro Cock Ring is available in multiple sizes, meaning you are able to select one which will fit you or your partners anatomy comfortably. The diameters available are:
34mm / 1.3 inches
38mm / 1.5 inches
42mm / 1.7 inches
46mm / 1.9 inches
50mm / 2 inches
Made from 361 medical-grade stainless steel, it has eight circular gaps running around its band to help hold any applied conductive gel in place during use; this is to produce better conductive connectivity between the wearer's body and the device. Found on the outer rim of the product there is a metal protrusion used to connect a 2mm Elctrastim pin. The cock ring is uni-polar, meaning that you will need to link-up another ElectraStim device of your choice to the user or a playmate that will be performing body-to-body contact with the cock ring wielder.
The Prestige comes with a handy storage pouch.
When using the Prestige Cock Ring I hooked it up to my ElectraStim Flick pack with a 2mm connection lead. I ran ElectraStim Conductive Gel around the inner ring before slipping the item over my partner's flaccid penis. The metal smoothly slid down his shaft and rested at the base of his cock comfortably. I hooked-up an additional electrostimulation ring to fit around the top of my partner's penis, to link the electrical current. Still semi flaccid I flicked the device on and started to up the voltage. My partners cock quickly started to harder as the current pulsed through his shaft. The ring ebbed with throbbing sensations which led to a majestic appearance. Unlike thinner ElectraStim cock rings, my partner found that the Prestige's wider contact surface area led to great sensations. Due to the current being transmitted over a broader surface, he also found it produced less of a harsh stinging sensation than when compared to using thinner bands, meaning he was able to enjoy the buzz produced by the device more. Pleasurable grunts and groans hummed through his lips as he was connected to the device. Every time he upped the power his cock twitched with excitement, and he let out a sigh of pleasure. During solo use my partner really enjoyed the sensations produced from the Prestige Cock Ring whilst connected to an ElectraStim pack.
When using the cock ring with my partner, once positioned over his penis, I connected an ElectraStim pad onto my inner thing. With every touch to my partner's body an electric current flowed between us. During penile to vaginal intercourse, the current was most prominent on his shaft and within my vaginal walls, leading to my vaginal muscles to contract and clench randomly around his cock. Heightening the pleasurable sensations during sex and producing us both to experience intense climaxes. With the Prestige I found that due to its rounded edges, it felt more comfortable rubbing against the entrance of my vagina and vulva, when compared to squarer cut rings.
The Prestige is an excellent way to enhance the sensations received during oral sex. Blow jobs are normally mostly male focused, but with the ElectraStim cock ring, I was able to receive a pleasurable tingling sensation as my lips ran down the shaft of my partner's penis leading to greater connectivity between us. I loved how I could feel his penis throb within my mouth and pulse over my tongue.
The cock ring can be used by itself as a high quality metal ring.
Cleaning the product is easy. Simply disconnect the ring and wash it under warm water with antibacterial wash. Make sure the device is completely dry before you reconnect it up to an electrostimulation pack, ready for your next play.
Overall, the Prestige ring is an excellent electrostimulation compatible product. If you're looking for an electrostimulation cock ring to use with a partner, I highly recommend this particularly one, as it's one of the most comfortable and well fitting ones I've used with a partner during intercourse. On another note, this item is also excellent when used without being connected to an electrostimulation pack, as its shape and weight worked well as a high quality cock ring.
Thank you to ElectraStim for sending me this cock ring for my review.