Dear Ness, Why do I Queef? And how do I stop Queefing?
Dear Ness, Why do I Queef? And how do I stop Queefing?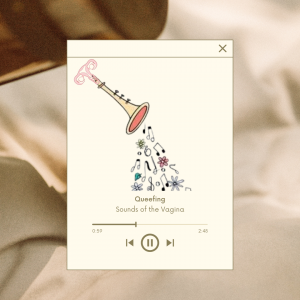 Vaginal flatulence can be unpleasant and inconvenient and can happen during sex, fitness, and even after a vaginal exam (don't worry, they've heard it all). Commonly known as queefing, it can happen to anyone who has a vagina.
Whilst most of the time queefing happens due to air being trapped and then expelled out of the vagina, folds in the vulva and labia can also trap and release air making flatulent noises.
There's still limited research on queefing, but studies show that it is normal for around 11% of individuals with vaginas to have air within their vaginal canal which can lead to the sounds some experience when it is released.
Sexual intercourse and penetration from sex toys and fingers can all cause queefing to naturally occur. Angled and different-shaped and sized sex toys can cause it more often for some. Sometimes when you're altering from different shaped sex toys it can encourage air to become trapped in the vaginal folds more as the toys stretch different areas of the vagina.
When I did Dominatrix work I found queefing more common after a vaginal fisting session, probably because of stretching the vaginal canal so much, and then later it taking times for the vaginal folds to return to normal where it is likely for air to become trapped and then released.
When having sex some people report certain positions can mean they are more likely to queef. Doggy is a popular one for triggering queefing, as well as ones that contort your body more. Some theories believe that different pressure in the abdomen can have a direct effect on vaginal farting, so when in a position with your stomach crunching it may trigger it more.
Pilates and yoga are very common activities where queefing can happen, so I can imagine that if you're attempting more adventurous sex positions such as those in the kama sutra that queefing may be more likely to happen. Science has proved that these fitness activities can cause the vagina to trap more air, but there's yet to be any reason as to why. I just know from my experience in teaching pilates that at least one student will queef or myself during class, sometimes we'd ignore it, other times laugh together.
The rhythmic contractions from the pelvic floor during orgasm can produce a queefing noise as the vaginal walls contract and release trapped air from the folds, too. Meaning the fart-like sounds can be drowned out by orgasmic moans.
Periods and ovulation, these times affect bodies in so many ways, and increased queefing during certain phases of your cycle can happen to fluctuation in hormones affecting vaginal tightness and size.
As you can see, there are loads of reasons why many people's bodies make interesting noises.
When queefing happens more regularly there can be some contributing factors to increased vaginal noises that may need looking into.
Pelvic floor dysfunction can make queefing more likely, particularly prolapse. Often after childbirth, it too can be more common due to increase pelvic floor weakness, although this will often resolve over time, and if not you should consult a woman's health physio. Some find the use of a pessary to help reduce queefing that may be caused by prolapse.
Queefing has also been linked to bowel disorders, where extra pressure from inflammation of the bowel can affect the vaginal chamber and make the air more likely to become trapped and later released.
Many people get confused by vaginal queefing and farting from the rectum, however, vaginal farting should not have a smell. If you start experiencing a smell and or strange discharge (often poo-like) when you queef, you should seek medical advice as you may be experiencing a fistula. This is where a tear occurs between the vagina and the bowels allowing poo and gas to leak into the vagina.
Some Really Get Turn-on By It
There are people who get turned-on by queefing, some become turned-on doing it and others enjoy hearing it. Some individuals like it so much that they class it as one of their fetishes. I've met some who even say queefing is a sign they've done a good job pleasuring their partner, whilst not always true, it's nice to think they feel like they've done something good and praise queefing rather than shaming it.
If your partner does shame you for queefing, then, maybe they're not the one for you. It could also be that they just haven't experienced it before and just need someone to finally educate them that queefing is very normal and happens to many.
If you're struggling with dealing with it you could try laughing it off and then continuing with the sexual fun you were having. If queefing is a mood killer for you, it may be worth investing in sexual pleasure-focused mindfulness where you can learn techniques to focus your energy on your sexual pleasure at the present and learn to divert back from unwanted distractions. Remember, sometimes we all worry about things going wrong in a sex session or mutual masturbation with a partner, but often, the other participant in moments of pleasure haven't even noticed them or are simply not turned off by them and are happy to continue.
So, yes, queefing is very normal and happens to many. Whilst there are some times queefing does need checking medically, the majority of the time it is just something natural that happens when you have a vagina.
Can you force queefing?
Whilst you can add extra air into the vagina, there isn't a guarantee that it will produce queefing. Plus, adding air on purpose to the vaginal chamber can lead to possible health complications, known as an air embolism, and if pregnant at the time can be very dangerous. Complications are rare, but it's best to avoid blowing into the vagina just incase.
Can it be stopped?
I personally think it's one of those things that just happen randomly most of the time, so being ready to prevent it from happening can be hard to predict. One of my pelvic floor teachers has said that they find some women find inhaling and taking a deep exhale to allow the vagina to "spring back up" after a speculum check-up can prevent queefing when standing up after a vaginal exam. However, I haven't found any evidence backing this, and these individuals may just be experiencing a moment when queefing wasn't going to occur anyway.
Pelvic floor exercises and kegels may also help reduce queefing for some.
Queefing is one of those natural things most of the time, and if I'm honest many would see it so if it was taught in schools as being so.