Dates for your Diary: Sex Positive Classes and Pop-up Shop
Two sex toy companies come together to bring you a series of sex positive events. During 23-26 November and 19-23 December, sex toy designers Bijoux indiscrets and Je Joue join forces to form a group of free sex ed classes in London which promote consensual, inclusive, and playful sex. During the events you will also be able to view and buy sex toys in the pop-up shop.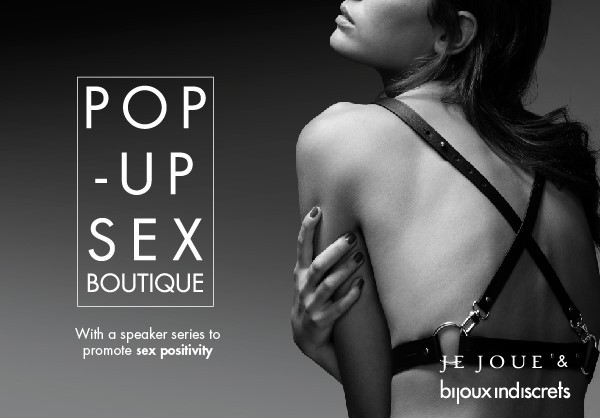 Je Joue makes luxury silicone sex toys and was one of the first companies to create a customisable shape G-spot vibrator. They have been developing sex toys since 2008, and have developed adult toys for men, women, and couples. They focus greatly on the contours of the human body with the aim of sexual satisfaction for everyone who uses their products.
"We want to encourage everyone – from complete beginners to those that are more experienced – to explore and understand their bodies, enrich their sexual experiences, and let themselves succumb to the pleasure of the moment."
Jane Welsh, Je Joue Marketing Manager
Why not watch Je Joue's video "A-Z of Sex Positive", here.

Bijoux indiscrets have been designing erotic apparel and cosmetics since 2006. They sell items worldwide and are commonly known for creating beautiful bondage attire such as cuffs and collars. They have just launched their new collection Maze which is set to showcase within the pop-up shop throughout the course of the events. Maze features 12 new vegan-friendly designs and plans to help make eroticism day-to-day with their wearable accessories which can be worn with clothing if desired.
"We are a chic erotica brand women founded company designing beautiful but affordable erotic products that we hope also inspire women all over the world to live their pleasure to the utmost."
Elsa Viegas, designer and co-founder of Bijoux Indiscrets
Pop-up sex education venue and shop:
45 Charlotte Road, Shoreditch, London, EC2A
Novembers schedule has already been released and are:
Wednesday 23rd 7.30pm: Intimacy – your guide to mind blowing orgasms.
Thursday 24th 7.30pm: The art of female orgasm.
Friday 25th 7.30pm: How to set your partner on fire with oral sex (for both men and women).
Saturday 26th 2pm: Sex Positivity – what it means.
Saturday 26th 6.30pm: Sex Toys – how to maximise your pleasure.