Bondage Boutique Stainless Steel Large Faux Fox Tail Butt Plug
Sex toy review for the Bondage Boutique Stainless Steel Large Faux Fox Tail Butt Plug written by Ness
The Bondage Boutique Stainless Steel Large Faux Fox Tail Butt Plug is a pet play sex toy which can help bring out the inner animal within yourself. Pet play can be sexual for some, others find it as an enjoyable way to be humiliated, and some just want to be cats (or other animals). This butt plug can be used to help bring to life not just a fox fantasy but its shape and appearance can reassemble one of a cat, wolf, or dog (to name a few). This particular plug if very large and rather heavy, however, there are lighter plugs out there if you prefer.
I was impressed by this pet play toy straight away, not only did it appear to look good quality but it also arrives in a reusable plain black velvet box – if I'm honest more pet plug plugs need to come with cases as the tails can become matted over time.
The plug is made from stainless steel and measures 4 inches in insertable length. The tip of the insertable part is tapered and develops into a perfect cone shape for anal insertion with a well-proportioned stem for anchoring the device in place. The Flared base is contoured slightly to offer comfortable wear. The foxtail is a total of 12 inches in length, and is a mixture of winter auburns and blondes in colour. In total, the butt plug ways an impressive amount of 420 grams.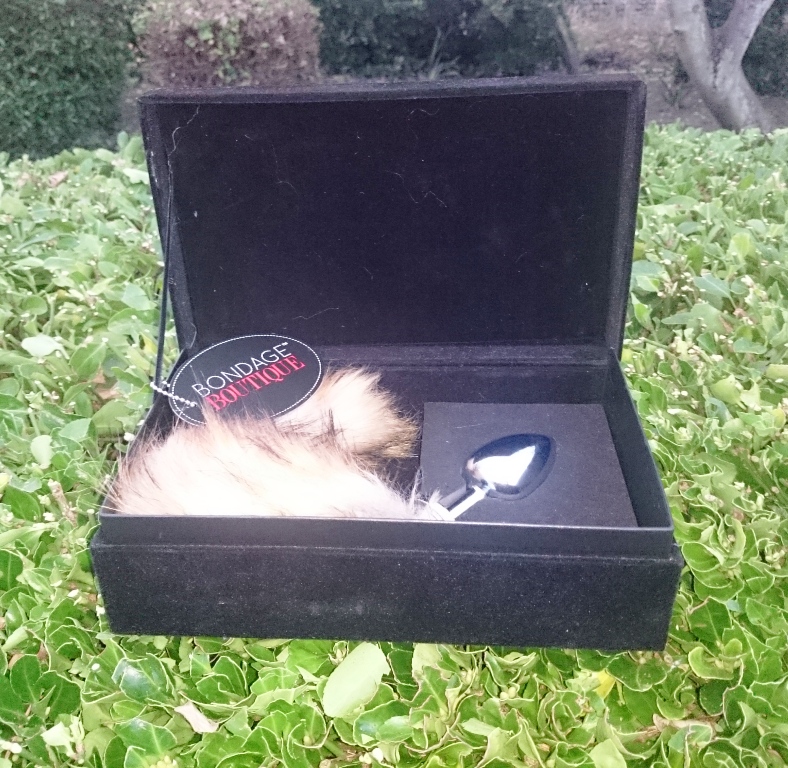 During use, the shape is easy to insert into a submissive, and while it is a very heavy sex toy it stays anchored in position nicely due to the length of the stem. The stem and cone shape of the plug can be controlled by the pelvic floor with concentration (and instructions) nicely and make the tail look as if it is wagging up and down when a submissive is on all fours. I've tried the plug too and found the shape to be just right, however, for extended wear both my submissive and myself agree that the lighter version may be a good option (such as all day pet play wear at a kink event).
I must warn you that if this plug does drop or fall out of your body it can cause a hefty bruise so you definitely want to make sure you can handle large heavy anal toys before giving this one a go (I dropped it onto my leg whilst inserting into another due to slippery lube hands and it was rather painful and caused an impressive bruise).
The base of the plug is a nice size and rests between the two butt cheeks comfortably. The tail mostly hides the actual plug, meaning that it looks as if it is actually growing out of your body, which helps make the fantasy of being a human pet more of a reality. I'm actually rather fond of the actual tail; not only is the fake fur very silky and sensual when it rubs against your flesh, but also I rather like how short it is compared to others which can allow a lot more movement during some scenarios.
I calmed my submissive's excitable inner animal spirit and relaxed them into a comfortable state perfect and ready for receiving the butt plug into their body. The plug popped into their lubricated anus nicely. At first they seemed a little startled, but as the plug rested into their body, it was almost as if the tail had become part of them. I stroked behind their ear and softly commanded them onto the ground on all fours. They started moving around and slowly followed various instructions, from wagging his tail, lifting his leg, and scurrying along happily.
The tail stayed in place during the session perfectly. It didn't whip around uncontrollably (some tails can whip between the legs and tail around chastity devices or penises and balls). It didn't get in the way of movement at all and was a lovely sex toy for this kind of fetish role play. Removing the plug was a little harder than some; this was only due to the stem being so long. Learning to relax your pelvic floor muscles can help pop larger toys out on demand, so I commanded my submissive to contract his to help removal.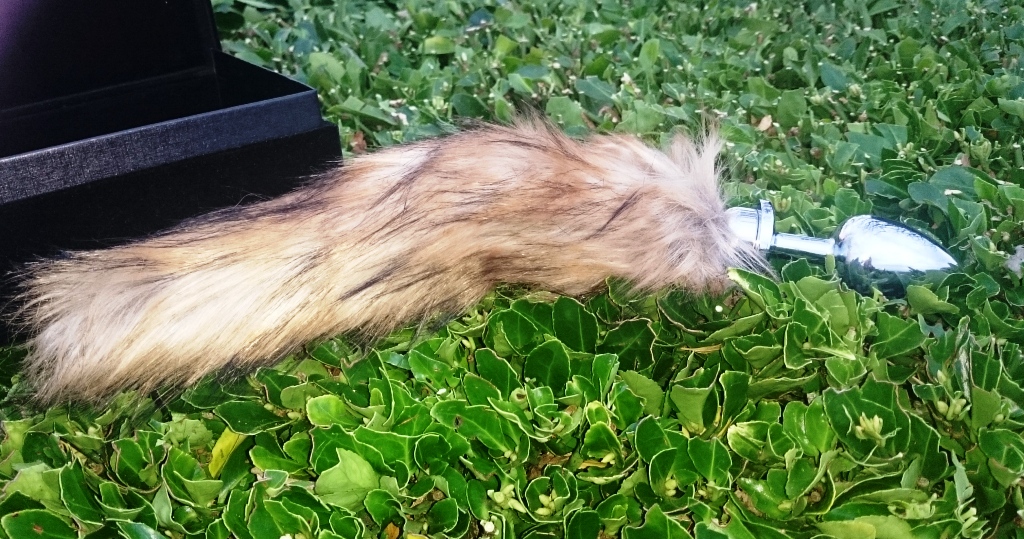 Cleaning the plug is easy, the fur is very silky and it means lube and dirt can be washed with a damp cloth easily, plus it doesn't take too long to dry. The metal plug doesn't have any 'dirt traps' and is very smooth and can be washed in warm water with antibacterial wash.
Overall, this is an excellent pet play plug. It's not just pretty, it's also functional. The only issue some may have is the weight, but it's something to work up to.
Thank you to Lovehoney for sending me this item to review. You can find out more here.